Home Depot had the Google Home Hub down to $99 for a few hours last night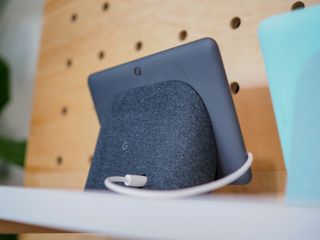 The Google Home Hub was announced just this last Tuesday at the Made By Google event, and while its $149 price tag was already quite attractive, Home Depot apparently didn't think it was low enough. Or someone made a gross mistake, but either way, the Google Home Hub was $99 on the Home Depot website (opens in new tab) with free shipping for a few blessed hours and I really hope you grabbed one while you could.
I know I wish I had.
Updated October 14, 2018 — Hope you grabbed the deal while it's lasted, because it's gone now!
There's a whole lot to like about Google's first smart display: it's got an attractive, petite design that comes in four colors, it's got a 7-inch touchscreen display for displaying YouTube or Netflix videos or monitor your Nest security cameras, it's got a speaker that can more than fill your bedroom or kitchen with music or cooking instructions, and it's got the latest and greatest of Google Home features, including being the first Google Home device to have Home View, Google's one-stop dashboard for controlling and managing the smart devices throughout your entire home.
Seeing the Google Home Hub down to $99 before it even hits store shelves was impressive — public release day for the Home Hub is October 22 — but the deal's gone now, and it is now the same $149 that Bets Buy and Google are offering.
Android Central Newsletter
Get instant access to breaking news, the hottest reviews, great deals and helpful tips
Ara Wagoner was a staff writer at Android Central. She themes phones and pokes YouTube Music with a stick. When she's not writing about cases, Chromebooks, or customization, she's wandering around Walt Disney World. If you see her without headphones, RUN. You can follow her on Twitter at @arawagco.
Done. Amazing deal! This is listed next to the price:
$99.00/Item
Save 34%
Price Valid:
10/13/2018
- 11/20/2018

Great deal, but I still am not seeing a personal reason to get this.

Got it. For that price, why not. Put in one of the remodeled rooms I'm finishing up. Move some Minis around. 4 total in house. ☺

Purchased. I was going to buy the Lenovo Smart Display because of the forward facing speakers and camera (Ill get a cover if not in use), but for $99 and the rumors that this device has a software difference, why not buy it?

Off topic but the Lenovo smart display comes with a cover built it. It's a physical sliding cover so you know your privacy is protectes.

The Google Home Hub does not have a camera.

I was gonna wait till Black Friday hoping it'll be $99. Since its already on sale I bought one.

At that price, wow! Got two. These are black friday type deals. Home Depot was the last store that I expect to see such deals.

The just fixed the price. Literally right now as the price changed while I was putting in my order

Yes, I've come to the same harsh realization that this maybe was a mistake I missed out on.

Literally the same thing just happened to me. UGH I'm so pissed!!!

I missed this deal by SECONDS....... I'm so annoyed now!!

I'm waiting for my "Your order has been cancelled" e-mail

If they do then waiting for a black friday sale. Almost certain the Hub will be on sale then.

Pulled the trigger on this while up with a cranky child last night. Interesting to see if they cancel it. Estimated arrival date showing 10/19?

Just check the website is selling for $149.00 not $99.00

I wouldn't buy this for $29. Have zero need for it and zero want for it but I've come in here to see if someone can explain to me why I'm wrong.

If you don't need it and don't want it, I suggest not buying it at any price. Your wallet will thank you, and you'll be happier. Cheers!

It isn't necessary to prove you wrong. Your lack of need for it is based on your personal situation and your lack of want for it is based on your opinion, neither of which necessarily applies to anyone else.

Not our job. Just don't get one, stop visiting articles about these type of products and save us all your irrelevant comments. I'll buy enough for the both of us.

If you don't need it, that's perfectly fine. The Google Home Hub makes more sense the more smart devices you have in your home. I have a Nest thermostat, two rooms of Hue Bulbs (depending on the fixtures in my next apartment, I may have enough bulbs to cover my whole home), three smart speakers (OG Google Home, TicHome Mini, Insignia Voice Portable Smart Alarm Clock and Speaker), a NVIDIA Shield TV, and an OG Chromecast in my bedroom. A Google Home Hub makes sense for me because the Home View options on it would enable visitors (or me) to easily control my thermostat or lights, as well as pull up music, movies, recipes, weather, and information. But since Home View is already in the new Google Home app, a Home View is absolutely a luxury item to me (and to most people considering buying one), and a luxury I don't need to spend money on right before I get ready for a cross-country move.

They corrected the error.
It's now back to regular price.
I'm glad I put my order in last night before they realized the mistake.
$99! Those of us who jumped on this for those few hours last night just got a ridiculously awesome deal! 😄

(jealously stares) Well, I'm happy you got one.

Ahhh man! I was too slow.

They probably ended the special preorder early because of overwhelming demand most likely instead of a pricing error. Google probably wasn't to happy as well as that price hurts sales at the google store. Will see if they cancel orders claiming pricing error or some other bull.

If they were going to cancel the orders, they probably would have done it at the same time they killed it on the site. I see them honoring the sale orders but still having to give Google full price. They take a tiny loss, a few lucky customers are happy, and Google doesn't stay too mad since the sale was canceled as soon as it was noticed and Google still got their money.

You are probably right as I think Home depot does normally honor the sale price most times even with a site error unlike some sites. Google still gets theres and since I got in on the deal like a few lucky ones hopefully i'll get mine. First Google home device for me since I've mostly have Amazon Echo's.

When the $99 was listed I got it priced matched with my best buy pre-order 😁

I'm waiting until Black Friday next month. I'm sure there will be some good deals on this.

An HD employee wanted to quit and went out with a bang.

Got mines for $99 and free shipping 👍

Fck that sht. Don't need one

These will be $79-$99 during holidays at Best Buy etc. I will get one then. Between Black Friday, Cyber Monday, Christmas Eve, etc. There is no reason to pay $149 unless you just can't wait a bit.

Check the first sentence of article?

Correction: Splash page leads with:
"The Google Home Hub hasn't even seen its launch day yet, but that apparently didn't Home Depot for offering it at $99 for a few wonderful hours Saturday night and Sunday morning."

Costco has a two-pack of the chalk color at $249. Not as good as the now cancelled HD deal, but better than regular price, if you're in the market for 2.

I just noticed that you can add a Google Home Hub to your Nest purchase for $99 on Nest.com. Just FYI

Order cancellations going out - beware...

I haven't received a cancellation notice yet. Says will be delivered by 10/22 but it is still in "processing".

I ordered it while the deal was available, but as of today it is still "processing". Has anyone else who ordered it received a shipping confirmation or a cancellation notice?

Nope, mine is still processing.

Mine's still processing too. Did an online chat with Home Depot a couple days ago and they said they were going to contact the vendor, but nothing's come out of that. My guess is they never ship.

Got the shipping confirmation - supposed to be delivered today, but UPS tracking shows only the label has been created. Will probably get it tomorrow.

Just got the ship notification!

Got mine yesterday. 99+ tax. Just set it up this morning.

Mine just got delayed and will arrive a whole week later Oct 30th

Shipping confirmation this morning!!!!

I just received this: "Unfortunately, the below item is still out of stock. It was originally estimated to arrive by October 22, 2018, but there's been an unexpected delay in getting it restocked. Our apologies for the inconvenience this may cause. If the item is not available by November 29, 2018, it will be canceled from your order." They've also given me a summary of my order at $149, where my original confirmed $99.

I just got shipping confirmation
Android Central Newsletter
Get instant access to breaking news, the hottest reviews, great deals and helpful tips
Thank you for signing up to Android Central. You will receive a verification email shortly.
There was a problem. Please refresh the page and try again.