Google holding event in India on September 15, Android One on the way?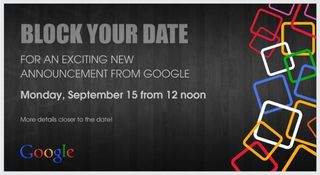 Google has sent out invitations for a press event in India taking place on September 15. The invitation simply says "Block Your Date" for Monday, September 15 at 12 noon, promising more details as the event approaches. Given recent reports of devices launching in India soon, the event likely revolves around Android One.
Android One is Google's attempt to make it easier for hardware vendors to make Android phones for emerging markets. Google will pre-select components and vendors in an effort to help hardware makers create decent devices at a lower cost. We've heard about a major advertising push in India surrounding Android One fairly recently, and three Indian manufacturers, Micromax, Spice, and Karbonn, have been announced as partners.
What do you think Google will announce on September 15? Let us know below in the comments.
Source: NDTV Gadgets
Get the Android Central Newsletter
Instant access to breaking news, the hottest reviews, great deals and helpful tips.
This +1 Posted via Android Central App

Im excited to see what they announce. Part of me wonders if the "Block" mention is a hint to maybe some Ara news. also... When's the Nexus Announcement? i know last year they didn't really make one they just let it fly.

Block as in Project Ara? AT&T Galaxy S III

Came here to say this. That was my first thought when I saw "block." Posted via Android Central App

I wouldn't have thought so without it, but "block your date" is just such an odd term if it's not something like that. Posted via Android Central App

Yeah it really screams Ara - plus with a Jan 2015 release date it's not a horrible time to announce so there will be time for modular manufacturers to reveal their products closer to January. Plus maybe convince some people to hold off on buying a Note or iPhone.

I may be wrong, but I doubt there'll be much crossover of note or iPhone users and Ara users. Posted via Android Central App

I'm a Note 3 user and my better half has a 5S and we are both very interested in Ara. Reducing e-waste ultimately being our number one reason.

maybe block your date is just a common expression in india?

Just announce android L and nexus also in the same event, we will be happy. Posted via the Android Central App

Block.... Phone bloks......project Ara?! Even if I'm way off....I'm excited! Posted via the Android Central App

The blocks are identical to one of Everest's book cover..
http://everestpublishinghouse.com/image/product/Learn-Business-Research-...

Lol!!!!!! Nice catch!!! Posted via Android Central App

Or a clue to Android Lotte (Square colorful bubble gums)

Block... I don't think it's Android One. I think it's Project Ara that will be on it's way!

Yeah yeah, google is gonna release project Ara in India , in 2 weeks no less. Fer some reason I just doubt it, but that would be sweet. I'm all about the blocks. Maybe that's where it all starts and I'm ass backwards . Posted via the Android Central App

I'm with you, Android One, not that I don't want something, that I can upgrade piece by piece, but this reaks of the standard, mid low end device. By reducing the development costs, a la nexus, on the cheap, flash, RAM, CPU/GPU, system on a chip. They can introduce incredible price performance, we all know that 128 GB of flash costs $7 wholesale, if it costs $40 for a 128 GB USB 3 stick. Mid range frequency, dual core chips, would probably only cost $10, they're probably only looking at standard definition screens, $12, a gig of RAM, $3, flash, 20 GB, $2.50. Standard radio, $3, mother board, $2, battery $4, assembly, $1.50, case $1.50, transformer $1.50, etc. With $25 profit a handset, $80, in a few days they'll deliver a Chinese phone for $85 AUD, including a 16 GB micro SD card, that was $10. Dual core, 500 MB RAM, 4" screen, less than standard definition, with 4 GB onboard, it will total 20 GB of flash. Not for me, I have a Nex 5 (32 GB,) 10 QHD, ready to sell, when Nex 6 and 8 come out, with 64 GB. You know things can be very cheap, I just got my sister a Nex 7 original, with 3G, 32 GB of flash, 4 cores, 1 GB of RAM, HD screen for $189 AUD. As I advised her, she got a Sim card for it, $99, 365 days, 10 GB, my Nexus 10, with 5 times the pixels of that, $300, both of them retail.

They r blocks of colored wood u can set ur phone on I'm gonna get a blue one for my n5 and a yellow fer the n7... Posted via the Android Central App

They said Android One was going to be premium. Or was that just hype of the media? Either or, this isn't it.

That's silver, one is supposed to be entry level devices primarily for "emerging markets". Posted via Android Central App

Someone needs to slap you for that comment!

Block = Square. The expression "Back to Square --one--". Emphasis on One. Android One. Posted via Android Central App

I am so expected to see when they wil enact. I don't think they will announce it on time.