Google Fiber service expanding to Olathe, Kansas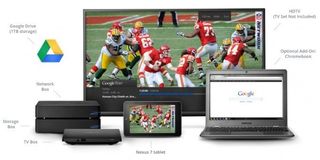 Google Fiber is a service lots of us would love to have, if we could. Besides the TV service of course, there's the small matter of a Gigabit internet connection too, or even a free, much slower service. The only drawback is that to be able to use it, you have to be a resident of Kansas City.
But, Google has now announced that Google Fiber will be extended, after the city council in Olathe, Kansas approved an agreement to bring Fiber to their city. It's not going to be an overnight process, and there's still a lot to be done before construction works can even begin. News on time scales will be coming in due course, but for the people of Olathe this is pretty big news.
So, are you in Olathe, Kansas? Excited for Google Fiber? Jump into the comments below and let us know your thoughts.
Source: Google Fiber Blog
Yes!! I live in Olathe and can't wait.

So do I and I can't wait. The mayor was very happy last night on the news!

I live in Shawnee, & I hate Olathe...

Please Oh Please come to St.Louis next. Even Sprint hasn't installed LTE here yet and their HQ is in KC and was the First to get LTE.

Really hoping that this service continues spreading outwards towards the coasts so that St. Louis gets it sooner than later.

I was thinking the same thing. Although I have 30Mbps with Charter so I'm not exactly hurting in terms of internet speed.

Also in Olathe ... was about to sign on with a new cable/internet comapany, but will definitely be waiting for this. I'm pumped

I get the feeling that you could be waiting a year or more...

After this service is done, what percentage of Kansas would be covered by google fiber Kansas City + Olathe? How big of an area are those two cities combined? Nevermind, just did a google maps search and those are some tiny cities. It will take decades for Google fiber to actually be available across the united states.

Is this something Google plans to roll out over the entire country, or is it just region specific?

Google will keep rolling out until they have collected enough user data to launch their next advertising based service, and then either cancel all the contracts or sell them to some other regional provider. Google is not (and will not be) in the business of being an ISP. They are an advertising company with increasingly unique ways of acquiring market research. If you don't believe me, look at the history of cancelled projects by Google. This Google Fiber thing is just GOOG-411 (look it up if you don't remember) done on a bigger scale.

Selling the contracts is likely, unless Google finds the data gathered and the profits from monthly contracts to further their other goals.

Of course the town is small. Why would you first launch it somewhere huge? Decades to get across the US? Get real, when has Google taken decades to do anything? I can't wait till this gets to Lawrence and hooked up at the University of Kansas. Thanks for the information AC.

Exactly! It only took them 8 years to create, grow, and then kill Google Reader. Surely this Google Fiber thing will play out pretty fast (note I am not holding out hope of it coming to a town near me any time soon).

You're right, it will be across the globe within 4 years, sorry.

"when has Google taken decades to do anything?"
Well, Google's only existed for about a decade and a half, so…
:P

Me too! Come to Boston guys, i promise we will love you

What I think is happening is that Google is learning a lot from these small scale "from the ground up" infrastructure build outs. In a few years, they will be ready to build in multiple areas simultaneously. The ultimate goal: Google knows that the current internet infrastructure doesn't cut it with Chrome OS. No one wants an operating system that's totally cloud (Internet) based because Internet reliability today simply isn't up to the task handling that kind of workload... yet. So, Google is trying to fix that problem themselves by building the infrastructure from the ground up For Chrome OS to eventually become as reliable as Windows OS, but with a hard drive (and co mputing capacity) being virtually limitless! Then, They could start charging people by subscription at different tiers. For example, Chrome OS with free cloud subscription: (50 GB + 2Ghz server side co mputing for apps) Chrome OS with $50 yearly subscription: (100 GB + 3.5 Ghz server side co mputing for apps)... AT least, this is what I believe they are aiming for. This way, the hardware can be more diverse. Imagine having the hard drive space and the power of an industrial server in a co mputer that is the size of a mac book air because that device has the cloud backing it up...

Waah. Ever since I heard of this I've been feeling deprived. There was a big push to get them to choose Baltimore, which is a f**ing internet DESERT, but it went to Kansas City instead. Inside the city limits of Baltimore, we have two choices: Comcast, which is radically overpriced, and Verizon DSL (no FIOS inside the city), which only runs over ancient overhead lines because there is no profit motive to upgrade them. There is something called Clear, which is wireless, but hardly anyone who's tried it has anything good to say about it. The best I can get there is 3mbps, which is third world internet. Unless Google comes along and brings a better solution, all the things the internet is becoming able to support will pass by anyplace that is stuck with 3mbps service, which is a large portion of the United States as far as I understand. Waah.

There is a reason they chose KC. Look up the types of companies that set up there and the amount of dark fiber running through there.

I live in Belton which is not too far east of Olathe. I hope Google plans on offering services in my direction. I really want Google Fiber because the other options around here are not that great.

I think Google will continue to expand only enough to get the cable companies interested. Of course, this is not a major profit division for Google, but the cable companies want to make excessive and offensive amounts of profits on anything they do. While I'm only paying $42 for my internet, I'm paying the rediculous price of over $100 for almost squat for TV. I could pay half that if I could get satelite, or if there was actual (any) competition in my area. If I didn't have TV, I would have to pay a surchage of about $20 just to get internet.

Oh, and my employer has an office in Kansas City where they do the same work I do. Sadly, I'm stuck in Cal to be near my elderly parents. (Tried to edit my response, but Central wouldn't accept the edit.)

I hope they bring this to Atlanta at some point. Where I live, I have data centers within a few miles of my house, because fiber lines have already been run everywhere.
Android Central Newsletter
Get the best of Android Central in in your inbox, every day!
Thank you for signing up to Android Central. You will receive a verification email shortly.
There was a problem. Please refresh the page and try again.