Google Duo now supports Android tablets and iPads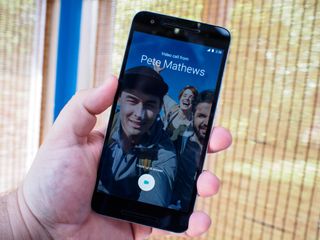 (Image credit: Android Central)
Google Duo, Google's big video chatting app that's been around since August 2016, is just now getting support for video calls on Android tablets and iPads.
The Duo Twitter account confirmed this news on August 27 and noted that the new functionality will be rolling out to users "over the next few days."
It's hard to believe the app's gone this long without support for larger form factors, and while it's great to see this is finally being added, it seems like a strange feature to put resources in before group video calling when users have been nagging for that pretty much since Duo's release.
If you're a Google Duo user, what do you think about the new support for tablets?
Joe Maring was a Senior Editor for Android Central between 2017 and 2021. You can reach him on Twitter at @JoeMaring1.
With phones duo tied to your phone number, how is it working on tablets?

You've been able to associate your email with your duo account for a while now

Been a two or three weeks since I've had this update on my tab

So people can now not use Google Duo on the Android tablets they don't use anymore? Awesome!

I use Duo really frequently, but the idea of buying an Android tablet just seems ridiculous at this point.

For those who use them it's useful but even updating to work on tablet like devices is good because chrome books are pretty much taking the place of tablets.

I agree. My only reason for considering an Android tablet is to use it for ebooks and other docs on the go. But, that would be just a consideration. If I were to get a tablet, I would likely get a Surface or other Windows 2 in 1 tablet for reading and other tasks.

My Fire HD10 with the Google Play Store is economical and excellent for consuming content and reading. The primary manner which pretty much what any tablet is for. 99 dollars on Prime Day. Can't beat it for value and Alexa functionality is growing on me.

I a tally had not considered the Kindle Fire. That's a thought

Why? I bought an Android Tablet, more specifically a Huawei MediaPad M5, about 4 months ago and I'm very happy with it. It has a great 10.8" display, very good build quality and execellent speakers. For the stuff I use tablets for (consuming media, streaming and web/social browsing) it's perfect. The iPad has a few great exclusive apps for creative work (Video and sound editing, drawing...) but I just don't do that kind of work. I do believe Chromebooks are the future, but currently they're just not ready to be used full-time as tablets. The interface and OS still need a few refinements. And, again, considering a tablet of "normal" size (about 10" to 11") and what I use them for, I just don't see the immediate advantage of using a Chormebook over a regular Android tablet. If we start talking bigger screen sizes, then, yes, Chromebooks start having serious advantages for work purposes, but at that point we are starting to enter into laptop use mode (complete with keyboard and mouse/trackpad) and leaving traditional tablet use (at least forme) behind.

Have been using it on an iPad for about 18 months now... Not sure how that part is news.

Still no support on the Pixelbook. i just don't get on why they never support their own hardware.

This is great to hear not everyone has Apple devices so both operating systems can do video chat.

Don't use Duo, but as an Android tablet owner I've got to wonder why this hasn't been on tablets when it's made by Google. I guess it's just evidence Google couldn't care less about tablets.
Android Central Newsletter
Get the best of Android Central in in your inbox, every day!
Thank you for signing up to Android Central. You will receive a verification email shortly.
There was a problem. Please refresh the page and try again.