Google drops unlocked Galaxy Nexus HSPA+ price to $349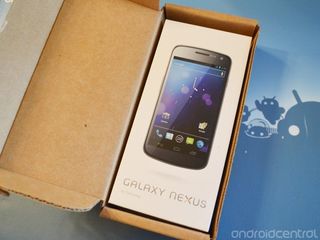 If for whatever reason you still don't own a Samsung Galaxy Nexus, Google has just now made it even harder to refuse. As we know it, Google is back to selling phones in the Google Play Store and they come unlocked with no contract. Previously Google had priced the device at $399 but with Google I/O having now kicked off they've gone ahead and dropped that to an even lower $350. you'll need to be in the U.S. to order one but that's one heck of a deal for the first device to get the freshly announced Android 4.1 Jelly Bean.
Buy Now: Google Play Store (opens in new tab); via: Verge
Android Central Newsletter
Get instant access to breaking news, the hottest reviews, great deals and helpful tips
Wow, that's pretty crazy.

I'm asking myself that same question...Nexus would be $200 less since I'm not upgrade eligible.

ditto for me too. Could buy a Nexus AND a Nexus 7 for same price as S3..I still think I'm getting the S3. Will put Cyanogenmod on there.

Damn shame about the specs. No LTE, 16GB and no MicroSD. Might be a good backup for international travel though.

I can't believe that i ordered a Galaxy Nexus yesterday night, when i woke up, my payment was required to confirm my Google Wallet, to procede... Soooooooo... I cancelled this transaction. And i would pay only $349 instead of $399.. And with that savings ill order the Car-Mount too! Hell Yeah!!! *Android Robot Dance*

I'm on T-Mobile, so it comes down to Galaxy S3, One S, or Galaxy Nexus (with the Galaxy Note coming). The S3 is the only one with expandable memory and has the best screen, the One S has the best build quality and camera, and the Nexus is unlocked, off contract, and naked Android (plus first to get Jelly Bean). All 3 are good phones, and I could live with them for a while but: The Nexus costs the same as the S3, but off contract (before the $50 mail-in rebate is received)....$349. I can then save my upgrades for the next round. I get an unlocked phone, HSPA+21 (plenty fast enough...about 10mb/s real world where I live), a big 720p screen, and faster updates than any other phone. Yep, that's my move!

do they sell Galaxy Nexus for Verizon unlocked($349)?

Where do they sell phones in the Google Play store? I don't see it listed lol

I know Im not gonna win this , but im hoping just to get my order in before they stop shipping, I really want this as my bday gift and if they fuck it up for me I'm gonna be pissed

Man, I *soooo* understand where you're coming from on that.

Now that apples got the us ban in place, why not stick those nexuses (nexi?) on the UK device store? I wouldn't mind one for what, £275? Cheaper than the shops here sell it offline and you continue to shift stock :-D

Tech companies should be competing via technological one-upmanship. These legal jokes are just lining up the wallets of lawyers with absolutely benefit to consumers nor the companies. In the end, these companies will still be making phones one way or another whether they get sued or not. The real losers here are us consumers, from the slowing down of technological competition and advancement.
Android Central Newsletter
Get instant access to breaking news, the hottest reviews, great deals and helpful tips
Thank you for signing up to Android Central. You will receive a verification email shortly.
There was a problem. Please refresh the page and try again.