Google+ dramatically improving RAW photo uploads, supporting over 70 camera models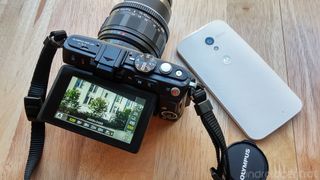 Google+ is increasingly becoming a place for photographers, and today's announcement of wider support for RAW image uploading helps solidify that point. Folks with higher-end cameras have had the option to upload full-sized RAW images to Google+ in the past, but now the ability is being significantly improved thanks to technology from Nik, which Google recently acquired.
Photographers can now upload RAW photos from over 70 different camera models (we'll put a full list after the break), and then edit them as much as they want in the new Google+ JPEG editor. Just as anyone would expect in a RAW editor, the original file is preserved and can be downloaded at any time, as can the edited JPEGs.
Full list of supported cameras for RAW uploads on Google+:
Canon EOS: 100D, 1000D, 1100D, 1D Mark III, 1D Mark IV, 1Ds Mark III, 1Dx, 20D, 30D, 350D, 400D, 40D, 450D, 500D, 50D, 550D, 5D, 5D Mark II, 5D Mark III, 600D, 60D, 650D, 6D, 700D, 7D, M
Canon Powershot: G12, G1X, S100
Nikon: 1 J1, 1 J2, 1 J3, 1 S1, 1 V1, 1 V2, Coolpix A, D300, D300s, D3000, D3100, D3200, D4, D40, D40X, D5000, D5100, D5200, D600, D700, D7000, D7100, D800, D800E, D90
Olympus: OM-D E-M5, PEN EP1, PEN EP2, PEN EP3, PEN EPL3, PEN EPL5
Panasonic: LUMIX DMC GF1
Sony: Alpha 700, NEX-5, NEX-5N, NEX-6, NEX-7, NEX-C3, NEX-F3, RX1, RX100, SLT Alpha 55, SLT Alpha 77, SLT Alpha 99
Source: +Google+
Andrew was an Executive Editor, U.S. at Android Central between 2012 and 2020.
I was so excited until I saw that the a350 wasn't on the list. I guess I'll have to get a new NEX. Posted via Android Central App

The reason that it has to be supported camera by camera is there is no standard definition of RAW. The physical characteristics of a raw file can vary from camera to camera even from the same manufacturer. There are a lot of cameras that don't even offer raw storage until you get to the high end models, if for no other reason than the amount of storage it takes.

I don't see why the camera makers haven't agreed on a RAW standard by now - or just use an existing lossless 48-bit format like PNG with a standard extra chunk that describes the gamma, color gamont, pixel aspect ratio etc.

Which doubly sucks because apps like Photoshop CS4 will support the Nikon D80's NEF, but not he Nikon D5100. Talk about forced obsolescence! (NEF is Nikon's RAW for the uninitiated.)

Now Google just needs to make the push into RAW image capture in Android!

Anyone else see this as a shot across Adobe's bow?

Yes that was my first thought too.

Indeed - it's not just a shot, it's a missile test.

Good. Adobe shouldn't be the only game in town.

Was getting excited till I saw that Sony Alpha 37 is not listed :( hopefully they'll keep on adding support for more cameras.

Congratulations on adding a feature available in Skydrive for years. By the description, you are also NOT describing a RAW editor. That is the standard approach for editing the embedded jpg used by the RAW viewer.

Last I knew, at least for the NEX cameras, they don't "embed" JPEG's in the RAW files.

So basically you're getting mad at Google for implementing a feature that someone already has? What the fuck is your problem? Posted via Android Central App

Whoa! Huge news. Hello Pixel, you've just jumped to the top of my wish list.... Posted via Android Central App

I can't think of any photographer who would use this. It's a pretty simple matter to take RAW plus a small or medium sized JPG that can be uploaded, manipulated, and posted when you need to get something online quickly. But huge RAW files from anyone who shoots more than just a few images? And we're all pretty touchy about our processing workflow... just a simple editor would rarely be worth the effort. My guess is that this is just as advanced as Windows Explorer is in displaying RAW previews... which is nothing other than showing and manipulating the JPG preview of an image. Certainly not in the moment RAW processing for display. I'd like to hear from any photographer who thinks this is a big deal and why. I'm trying to figure out what situation I'm regularly in that I would find this useful.

I know of a number of people who have decent DSLRs but don't shoot in RAW, mainly because they don't want to put forth the extra effort in post. So maybe this kind of feature would benefit those people. Google's Picasa software has had RAW editing support for a long time, and it's pretty good. I'd say better than the software most cameras come bundled with. So there's potential for the Google+ RAW editing to also be pretty good. But I agree, I can't imagine choosing to upload RAW images and edit them online over my current Lightroom workflow. I guess there's something to be said about having the source images backed up in the cloud, but that's really the only benefit I can think of for anyone who's already shooting RAW and has an existing workflow that works for them.

Given Adobe's most recent movement to the Creative Cloud, it's just a matter of time before Lightroom moves that way too. Why shouldn't Google move to the real cloud as an alternative to the Adobe stranglehold on post-process photo workflow? Whether or not I use it is to be determined, but I absolutely welcome competition in this space. It can only be a good thing. Posted via Android Central App

Only one model from Panasonic? :-( *sigh* "Ideas for life"

I work as a pro photographer and the ability to edit raw files in Google+ is pretty cool. I usually shot small raw with no jpegs. I haven't tried it yet, I knew it would be coming soon. Pixio has been working on the same thing. I'm not a fan of windows computers anymore, and Macs are way over priced. I looked at the chromebooks, but they can't run normal programs ie Lightroom and Photoshop. Posted via Android Central App

Not a pro photographer but heavy hobbyist that spends most of my time in LR and I am in the same boat. Refuse to buy an overpriced Mac, not a windows fan, but no LR for Linux means I have to keep a Windows box around. Would love for an alternative to LR that would allow me to dump Windows.

Are you aware of AfterShot Pro that runs on Win/mac/Linux. I am not a pro (I'm not charging for pictures/time). Each RAW file from 5D MkIII is around 20MB. I can shoot over 500 in one small event (like kids dance performance, etc.) and I just can't see myself uploading that much data to google. Even if I sort it out and discard bad images, I'm still usually left with ~100 that I actually keep and edit for the event album. Uploading to google and editing them would take forever.

Cool, but the big problem is UPLOAD speeds from broadband providers. It takes much longer to upload content to the cloud than download it. And from here in the wet U of K, Google Drive/+ is very slow at syncing and uploading, unlike DropBox that is a lot faster.

Hold on, D40 is on the list but not the D60? Do they use the same RAW format by any chance? This is an awesome new feature. Hope they've got some seriously good deals with hard-drive manufacturing places...
Android Central Newsletter
Get the best of Android Central in in your inbox, every day!
Thank you for signing up to Android Central. You will receive a verification email shortly.
There was a problem. Please refresh the page and try again.