Google Chromecast can be yours for just £18 in the UK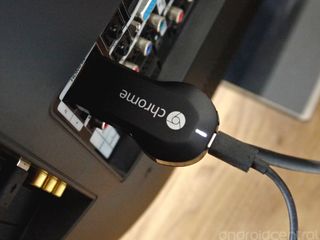 Google's Chromecast is quite the popular product, which launched in the UK for £30. If you thought this price was a little too steep for what was included in the box, it's now possible to pick up the Chromecast for just £18 – that's almost a 50 percent discount.
It's not known whether these new prices are a permanent change or simply a temporary sale, but Check out the following retailers to grab one for yourself:
Some retailers, including John Lewis, are still selling the Chromecast for £30 so be sure to have a shop around for the best prices from your favorite store. Seen better prices elsewhere? Let us know in the comments!
via: The Next Web
Awesomeness if you live in the UK Posted via Nexus 7 2013 or Galaxy S5

I'm currently watching something on my Chromecast which I bought a few days ago at full price, then I saw this. Darn.

I think I see some very early xmas presents in the making.

Damn, I ordered a Chromecast from Currys just yesterday at £20 and today its down to £18. Hmm I wonder if I ask nicely...

As a poor student £2 is a lot of money. Nah I'm really just a bit annoyed that it went on sale for £20 and then it was dropped less than 24 hours later to £18.

Yeah I ordered one for £20 this morning, not too fussed about two quid but it is sort of annoying lol. Posted via Android Central App

Its £20 in store and £18 online from Curry's. Says so on the website..
https://www.androidcentral.com/e?link=https2F2Fcrea...

Yeah, it's £18 online now, I assure you it was £20 eight hours ago. Hence the minor irritation. Posted via Android Central App

Tesco are offering Clubcard Boost too. so if you have any loyalty point it only costs £9 worth of clubcard point. Absolute bargain. Plus they throw in £5 of credit on their movie store. They are practically giving this away!

thanks for the update got it for £8 from Amazon had a gift card on my account Posted via ACA on my LG G3

John lewis. "Never knowingly undersold" Hmmmm. .... Posted via Android Central App

You just tell them. They'll drop their price to match any competitor Posted via Android Central App

Yep. They did! Expect a price drop there tomorrow as well apparently. Posted via Android Central App

Ordered mine! Be foolish to miss out. I would be miffed if I had picked one up recently at full price. Posted via Android Central App

Nice affiliate link there. Would be nice if you made people aware of that in your post. For those who want to get it from John Lewis they do price match, you'll get much better customer service there.

There's one such link in this post. If it offends you you'll find everything you need to know here: http://www.mobilenations.com/terms-and-conditions.html

Excellent I can finally complete my "chromecast in every room in the house" dream :-D

Your kitchen? And your bathroom? Posted via Android Central App

well every room with a TV then!

Google still give you £5 for every chromecast you buy as credit on the play store... so its even cheaper.

Are you saying, if i buy it from tesco, they will give me £5 credit and so will google ?

Second chromecast ordered! I actually ordered from curry's this morning while it was at £20, after looking at their cancellation process I won't be ordering from them again on principle. They be tricksy. Posted via Android Central App

I get the feeling something new is coming from the Google Chromecast team soon. :)

Preposterous price. I'm getting another one.

"that's almost a 50 percent discount." It's exactly 40%, I wouldn't call a 40% discount "almost 50%" myself. But that's just me. Posted via Android Central App

At checkout the price dropped to £15, I wonder why.. Posted via Android Central App

Brought one, really is missing the UK demand apps like Itv player, 4od and demand 5.also screen mirroring is nice but wasteful when playing a video. The tablet or phone screen should turn off if your playing a video through mirroring. Makes no sense and is just a battery waste having both the TV and Tablet playing a video. Posted via Android Central App on nexus 7 (2nd gen)

But people are so enthusiastic about it... Posted via Android Central App on LG G2

Is there any point if I already have a smart TV? Posted from my 2013 nexus 7, yeah baby!

If only I had a second TV for my bedroom or somewhere I'd well be on it. Posted via Android Central App
Android Central Newsletter
Get the best of Android Central in in your inbox, every day!
Thank you for signing up to Android Central. You will receive a verification email shortly.
There was a problem. Please refresh the page and try again.