Google Camera update brings interface tweaks, dedicated slow motion video mode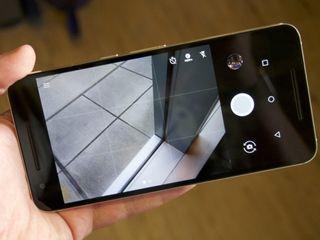 A fresh update is now rolling out to the Google Camera app, bringing along a slew of interface tweaks and more. Of note are some interesting icon tweaks, with the shutter button losing its blue accent and the camera switcher changing to a circular design. Eagle-eyed users will also spot some slick new animations.
Meanwhile, there's also now an option to launch directly into a dedicated slow motion video mode (on the Nexus 5X and 6P) in the slide-out camera menu, with a quick toggle to choose between recording speeds on the Nexus 6P. Previously, slow motion video capture was an option in the main video recording interface.
The Camera update is rolling out now, and we've so far seen it land for two of our Nexus 6Ps. As with all Google app rollouts, however, this one could take a while to land for everyone. In the meantime, here's a quick look at just some of the changes in action.
I got it.. Nexus 5/9 Posted via the Android Central App

Got it on my nexus 5... Maybe it's time for an upgrade

Time to hang up that Radeon 9700 pro eh? Posted from my Nexus 6/Nexus 7 2013/Surface Pro 3

Don't do it! Nexus 5 forever. Mine still runs buttery smooth.

I'm still using mine and I've had it since launch day. Still runs perfectly fine...except for the camera which has always been terrible. Posted via the Android Central App

Got the update on Nexus 6p. They also solved the problem with the Bluetooth selfie stick, with which u were able just to take one pic before it going crazy. Posted via the Android Central App

Finally fixed the delay from portrait to landscape Posted via the Android Central App

So it do not have that lag when going to landscape?
After 4 years they fixed this, well done google.

If the button is no longer blue, how do you know when you can take another shot while it is slower processing buffered photos?

I guess I can say I got it on my Nexus 6 Posted via the Android Central App

Any idea how to get rid of the zoom and burst icons on landscape mode? Sometimes you can't even access the pictures you've taken from the camera app because it's in the way. EDIT: Looks like it's a ScreenWise issue. When it's enabled, those settings are visible. When it's disabled they go away. Makes no sense to me why that would happen.

Didn't the Google camera used to have exposure compensation? Posted via the Android Central App

The older version did under advanced settings, but it was removed when they revamped the app for the Nexus 6, 5X 6P and 9. If you need it, I recommend either Manual Camera or Camera FV-5. Both use the newer Camera 2.0 APIs and can take RAW format.

And then features will be removed and taken back and removed again. That's Google consistency for ya :/ Posted

There's a "manual exposure" option in the advanced settings still - does that not bring up the exposure compensation option? Posted via the Android Central App

You still have the oider version of the app. If you have a newer Nexus device that supports Camera API 2.0 then it should be using the newer Google Camera client which removed that in favor of auto-HDR+. You can still use the old one, but it won't be updated anymore. I use it on my Note 3 to do PhotoSpheres. The older client is still the default camera app on my Nexus 10 tablet as well.

Yep got it on my Nexus 6P, going to have to give it a go. Posted via the Android Central App

Oh, also got it on my Nexus 9. Posted via the Android Central App

I downloaded N today for the hell of it on my 6. Very stable. Is this update for all Nexus or just N preview? Posted via Nexus 6 running on any data plan I want

i didn't get it on the 5x with N.

Google should be ashamed of that awful camera app. Posted via the app ~ GS7

The Google camera app disappeared from my G4 and I can't find it in the playstore am I missing something? Posted via the Android Central App

You do seem to be missing an app Sprint LG G4 ZVB, soon to be N5X

Yeah I noticed the same thing on my s7, but found it in "my apps" and just re-downloaded it from there. It's not the updated version though. Odd. Galaxy s7 edge

I believe the update was only for Nexus devices

I just wish they had HDR for non nexus devices Posted via the Android Central App

I wish they had adjustable NR (noise reduction) and sharpening for Nexus devices, or at least a quick toggle to switch these off.
I do not understand what is the benefit of NR and sharpening when most people do not look at the photos at full resolution anyway. And those who do are often pixel peepers like me who find it annoying with sharpening halos and watercolour effect from poorly tuned NR and sharpening. Having said that, the stock Camera app on the Nexus 6P does a fairly good job. NR still preserves a lot of detail, even in low light. I only wish they could tune down the sharpening a bit.

About damn time! Posted via my Nexus6P

Does the camera still crash at 240 fps during slow mode Posted via the Android Central App

Item not found Posted via the Android Central App

Should I even bother with this camera if I have the v10? Posted via the Android Central App

This app is finally decent. I switched to it. Posted from my Nexus 6.

Could still use manual controls Posted via my glorious Nexus 6P

Still missing a lot of features. Especially pro mode.. Posted via the Android Central App

Has anyone else noticed an improvement in macro focusing with this update? I have a 6P and the biggest complaint I've had about the camera is that it refused to focus on close-up objects, and that does not seem to be a problem anymore.

What version number is this new release? Posted via the Android Central App

What is the version number for this update? Posted via the Android Central App

On my 6P it shows as V 3.2.042 (2770680-40)

An update to Camera arrived today on my Nexus 6

Has anyone noticed that flash works with HDR in auto mode? Is this new? It allows you to take pictures in the dark without them looking like they were flashed. It's pretty neat. Posted via the Android Central App

This feature has been present for a couple of months now, if I'm not mistaken Posted via the Nexus 6P!

Just got it on my 5X. It's a great update! Posted from one of my various Nexus devices.

Bummer. Hoped for something new for me, but this is what Android N is having. Posted via the Android Central App

Got it on my 6P Posted via the Android Central App

Any ideas why the camera app disappeared a while back. Is it only for Nexus users now? Posted via the Android Central App

Got it on my 5X and Pixel C. I didn't see any changes/additions specific to the Pixel C though.

This was recently released? I got my 5x a week ago and did all the updates and this is how the camera was presented from the get go.

I'm still waiting for the app to roll out onto my motorola Moto e. I have the Google camera app installed and to be honest with you, it's done me no favors. The Motorola camera is by far the best of the two. Google's camera app is very limited to for those who don't have a nexus device. Even those of us who have a play edition device—such as myself—will find that the app is lacking. Motorola's camera app let's you take panoramic photos, has a QR codes scanner, and has a plethora of other settings that can be used.

The camera app is really slow but it's the developer preview so it's to be expected. Any chance that they could implement the slow video mode on the Nexus 6? Or does the hardware not support it. Posted via the Android Central App

Can someone post the version number. Have it side loaded on my rooted g3 along side stock camera. But the app doesn't show update if I go to play store. Just open/uninstall Thanks. I would like to just get the apk for the newest version. Posted via the Android Central App

On my 6P it shows as V 3.2.042 (2770680-40)

I'm glad to see they finally released an update for the camera, unfortunately it still lacks the only feature that I was hoping they were working on, 1080p 60fps or even 720p 60fps and all the changes they did bring are pretty much worthless for me.

Still no raw support. Posted via the Android Central App

If you need raw support then you shouldn't be using the default google camera anyway since it has 0 features. I've used Camera FV-5 in the past for RAW support and it worked just fine.
Android Central Newsletter
Get the best of Android Central in in your inbox, every day!
Thank you for signing up to Android Central. You will receive a verification email shortly.
There was a problem. Please refresh the page and try again.