Google Camera port now supports RAW images and full HDR+ control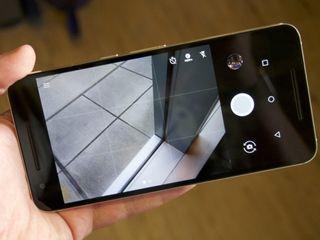 Last month, a developer in Ukraine created a forked version of the Google Camera app that allowed it to be installed on a lot of other Android phones not made by Google. The port's been riddled with quite a few bugs and missing features since its initial release, but the latest update takes this from being an experiment to something that's daily driver material. This port of the Google Camera app already supported Zero Shutter Lag and HDR+ functionality, but you now have the ability to customize exactly how HDR works. Note that when we say customize here, we mean really deep tweaks.
By hopping into the settings page for the Camera app, you can choose the HDR+ burst frame count, calculation HDR+ imagereader image count, buffer size, and more. This essentially lets you tweak the algorithm for HDR photos that you take, and it's recommended that you reboot your phone after making any changes here to prevent any crashes from happening.
Along with the new HDR customization, the Google Camera port now also supports RAW image capture. Having RAW image files is great for those that like to really tweak and adjust their photographs after the fact, but what's nice here is that the app will simultaneously capture both a RAW image and JPG one with HDR+ effects.
Add all of this together with serious performance improvements and a lot of bug fixes, and you're looking at something that could very well replace the stock camera app that's currently on your phone.
If you want to give the Google Camera port a shot, you can download the file from Android File Host. The app currently works on devices like the LG G6, OnePlus 5, Galaxy S8, and most phones with a Snapdragon 820/821 processor, but as with any app that's been created or modified by a third party, be aware that you may still run into some issues even with all of the improvements that have been made.
Update: We've corrected the broken downlink link. Enjoy!
Android Central Newsletter
Get instant access to breaking news, the hottest reviews, great deals and helpful tips
Joe Maring was a Senior Editor for Android Central between 2017 and 2021. You can reach him on Twitter at @JoeMaring1.
Finally works without any issues on my Huawei P10 with Kirin SOC despite saying it wouldn't and failing to launch on every version up til now. Not seeing a great difference with HDR+ compared to the stock camera so maybe that's not working but the app in general and all it's other features work flawlessly

Really good to know, thanks for your comment.

Most features do work on the P10 but the HDR+ feature doesn't work (you can see from the Settings that HDR+ option is set to "No HDR+"). Still hope that it works soon ;)

It said that in the Setting for me too (GS8), but it was still there in the camera.

If you're using an exynos s8 I don't think you can get hdr to work unless you recompile the halide routines to target ogl.
Have you tried comparing the pics with hdr on and off?

I'm in the US, so I have the Snapdragon variant.

It's probable that HDR+ is not working for you because Google uses halide for image processing, and I'm not aware of a halide target for the kirin DSP. I've actually had a pretty hard time finding any official details about the kirin isp/DSP, and no official docs.

Great news. Someone is gonna mess around and get the new new with the Pixel 2 camera software. I'd like to see if the Pixel 2 and Pixel will receive the same software updates in terms of camera.

So, I guess this Google camera thing is open source, huh? Otherwise, how would you fork it. Meanwhile, I thought Google was keeping goodies like this to themselves for their Pixel devices - and somehow that was the death of open source Android. Which is it?

Thats the point. This isnt open source. Google hasnt released it. Someone figured out a way to port it to other phones with the same SOC.

Oh. So the code hasn't really been forked then. Just the environment faked out enough so that the code won't refuse to run?

Any chance this app would help the BlackBerry KEYone (which has the same sensor as the Pixel) take some better photos? From what I've ready its the KEYone's Snapdragon 625 that is holding it back lacking post processing features.

The link appears to be broken, like the dev pulled the download

Go to the XDA link in the story

The only thing stopping me from using this is the fact that it will duplicate all 2600 or so photos and video I have from my current camera into another folder/folders on my phones internal storage. You delete them and they will be be back in about 30 minutes, repopulated.

What? Either I don't understand what you're saying, or this isn't happening to me.

Yeah, what's up with that!

Link to the file is a 404

XDA has the correct links here (Make sure you download the correct one for your device): https://www.xda-developers.com/google-camera-hdr-customization-raw-support/

Had the original last month, worked better than my updated Essential app. I used the rec settings in the GCam update, and looks to be even better. File size is GCam 5.1mb vs. Essential 1.5mb...both HDR+ auto, low light...point & shoot.

When I try to install the download, it asks if I want to install the upgrade. I click "yes," but it then it says that the install was unsuccessful because the file conficts with another file with the same name. I have a v20. What am I doing wrong?

We're you running a modified Google Camera APK? If not, try downloading the GCam 4.xxx version for your 820 processor. Then try the upgrade.

When I click on the link for the version enhanced for the 820 processor, there is no gcam4.xxx file listed, no gcam files whatsoever. The file to download starts with mgcb...

https://www.androidfilehost.com/?fid=889764386195922284

Once you install, restart your phone, then download the update, install update, restart phone, then suggest you try the suggested settings, then restart phone....let us know if it worked.

https://www.xda-developers.com/google-camera-hdr-customization-raw-support/

https://www.androidfilehost.com/?fid=817906626617934890
Android Central Newsletter
Get instant access to breaking news, the hottest reviews, great deals and helpful tips
Thank you for signing up to Android Central. You will receive a verification email shortly.
There was a problem. Please refresh the page and try again.