Google buying Frommers, should fit nicely with Zagat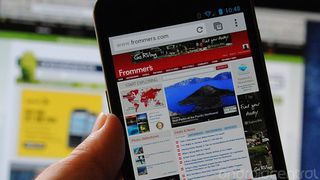 Google's already helping you find out where to go -- now it's going to help you get there. Publisher Wiley & Sons has agreed to sell the travel publication to Google for an undisclosed sum, the Wall Street Journal reported today. It isn't clear what el Goog will do with Frommers -- it could be folded into the Zagat end of things, the WSJ opines, and that's certainly a possibility.
Google has made some pretty big strides in the travel sector, with the Zagat purchase as well buying flight scheduler ITA and integrating it into search results, which has been bolstered even further in Google Now.
Source: WSJ
This isn't where I parked my car!

Oh, here's a fun fact - you made out with your sister. That film was my very first thought as well.

Same here. It was on HBO/Starz this weekend as well.

Being an Ultima nut, I think I just figured out what Brommers was in reference to. Thanks, Phil, for filling in another piece of my youth!

-whatever dude.
- I'm a girl.
- OK dude.

+1 for all the Eurotrip quotes! That movie was hilarious!

Lay 4000 off, buy a company. Classy :-/
Android Central Newsletter
Get the best of Android Central in in your inbox, every day!
Thank you for signing up to Android Central. You will receive a verification email shortly.
There was a problem. Please refresh the page and try again.