Google Assistant won't be compatible with your Android tablet any time soon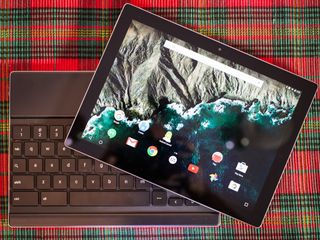 Sad news, Android tablet users. Not only are Android tablets sort of scarce these days, but Google doesn't appear to be committed to equipping them with Assistant, either.
Android Police noticed that in last month's blog post, Google avoided mentioning that any Android tablets would be seeing the update that enables Assistant on Android 6.0 and above. When the site's editors reached out to Google, they received the following response:
It's certainly a bummer that we won't officially see Assistant on Android tablets, especially considering that some tablets tend to be considered the household computer. Wouldn't it be great to set up Assistant so that anyone who plops down on the couch can summon a Netflix binge on the living room Chromecast? (If you're especially desperate for this to happen, you can root your device and try this XDA Developers trick.)
For now, there is no word whether Google will ever bring Assistant to Android-powered tablets.
Get the Android Central Newsletter
Instant access to breaking news, the hottest reviews, great deals and helpful tips.
Florence Ion was formerly an editor and columnist at Android Central. She writes about Android-powered devices of all types and explores their usefulness in her everyday life. You can follow her on Twitter or watch her Tuesday nights on All About Android.
Well, that's some exclusionary BS.

Good. Now on Tap is better.

how is it better if GA can still do now on tap? if u activate GA and scroll up u get now on tap feature. now google is alos testing a now on tap button on google assistant

No. You get limited screen recognition. You can't select text, you can't keep the text open with now on tap just taking up a third of the screen to look something up quickly. And you have to talk to the effing thing. Assistant is garbage at this stage. Why not make it opt in for now?

Wait, what? Android tablets are still a thing?

To the extent that they ever were, yes.

That answered my question about my pixel c

Why the F not? (pardon my French) I can think of no possible reason not to... Sometimes I think Google is more backward than Apple, Inc.

I think this means only one thing - Tablet days are numbered...:)

This along with the Nexus 6 software downgrade, make me glad I moved to Apple late last year. Hate if you want I loved Android I owned every Nexus since the first, owned a Nexus 7 and 9, waited to buy a Pixel and the price point ruled me out. Randomly I was able to buy a 7 plus just before xmas for a brilliant price and I took a chance and yes it's restricted but it's fluid and the battery life is unreal my nexus 6p wouldn't even come close to this! Google just are a mess at the moment!

As an Android lifer I'm slowly leaning that way too. Google is letting me down far too often lately. Taking way too long to roll things out they promise to, or just not making things available in Canada "because", I'm close to going fruit myself.

I recommend trying out a iPhone if you can, I'd be lying if I said it's all rosey but the price I got the 7 plus I couldn't refuse and it was worth the gamble. Won't rule out a return to Android but I like that I've a phone that will be regularly updated on time, and supported for about 3/4 years and iMessage is perfect.

No hate from me, glad you are able to make it work. Having been an avid root freak for years I'm far too accustomed to the customization that I do to my devices to ever want to go back to iOS and have to work with jailbreaking to accomplish the same things (some of which are damned near impossible to achieve on iOS). The doors have slowly been closing on the root community and I wonder when they'll be fully shut (hopefully never). I fully realize that I'm in the minority though, so I can appreciate the desire for users to see consistency and commitment from developers rather than segmentation and abandonment.

I can very much understand where your coming from a big pull of android is rooting and customisation, I admit I never rooted after soft bricking my nexus 6 and crapping myself I never tried it again. Saying that I loved to customise and change launchers etc it's what kept me involved in Android for years, I think maybe it's just me as I get older I just want a phone that's reliable, works and the urge to customise isn't important anymore my priorities have changed I prefer good battery life, long term support, quick updates, and Apple Pay (thought I'd never use it but I love it)

Apple has their issues too. They have been known to push software updates to phones until it degraded phone performance to the point that people need to upgrade. I say this as someone who uses both platforms.

Android tablets aren't all that good anyway so no big loss.

Get lost. Tablets are better than phones at everything that benefits from a larger screen. Reading, browsing, watching videos, viewing pictures, you get the idea. Phones are better at making phone calls, texting, making vids and pics (but not viewing them), and fitting in your pocket. So if the social media stuff is all you use your hand held computer for, then yeah, tablets wouldn't be much use.
I don't see what the difference between phone and tablet is regarding Google Assistant.
I think its because Google is admitting that Assistant isn't that revolutionary over G. Now for tablets because you can read the cards and see the search info rather than needing a conversational voice to relay the information due to the stupid tiny screens.

I personally think it has more to do with the fact that most tablets don't have an always on internet connection.

True, but G. Now also uses internet data (WiFi) and my tablet would be crap without G. Now.
I also don't buy mobile data (cell tower internet) on my phone, so it act's exactly like my tablet (WiFi) in that respect.

Still have my Nexus 7 2013 still use it sporadically

That's interesting, because I have Google Assistant on my Huawei MediaPad M3 running 6.0. Works fine...

Isn't that just a giant phone though?

Well...it does actually look like a big phone ...

Ever since I got my Asus Flip my Android tablet has gathered dust. Even offered it to my nephew and he said no thanks. Tablet market is dead.

Well, the manufacturers that make the tablets keep making phone screens larger making the tablet go bye bye. Why walk 20 feet to get my tablet when i can just pick up my 5.7 inch phone and do what i need?

Shame. And I was planning to buy the highest end version of Lenovo's latest Android tablet.

No big loss in my view... Cool on my 6P, don't need it on my K1.

Well, I don't know. I have a 5.7" Note 5 and just bought a 10 inch tablet. Thought I will never do so but watching movies and doing some graphic games on the tablet is a whole different world. And the Note's screen isn't bad or small! So, for me, tablets are very much alive now!

Android tablets seem to be imo garbage anyway. I wouldn't dare buy one as google has no focus or vision for what they want their tablets to be. Just like there messaging scatter shot of crap.

I've had Assistant on my Samsung tablet for about 2 months already FTW!!!!

If that can enable to them to actually focus on rolling this Assistant thing internationally, then be my guest. I dont live in the boonies (Im in a EU country) and most of the new, exciting stuff Google creates is nowhere to be seen (Assistant, Google Pixel, etc.). Heck, there's not even support for Google Now here.

My tab 4 (SM-T533), is still rocking Lollipop 5.1.1. Can't see that being updated to Marshmallow 6.0, let alone Google Assistant! Lol! 😜

Not really surprising. After all, they want to sell that overpriced Google Home device. I was kinda hoping that at least the Pixle C would get it. With the microphone array on it, it would seem to have been designed for it.

no love for android nutmilk tablets ...

So they've officially given the finger to android tablets... not really surprising tho