Google Assistant may soon get customizable hot words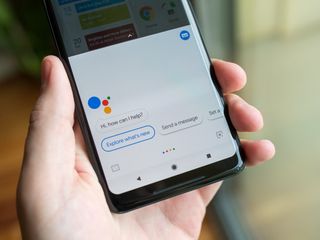 (Image credit: Android Central)
Before the Google Assistant came about, one of the best voice assistants on Android came from Motorola with Moto Voice. Moto Voice was able to search the web and perform basic actions, and starting with the 2nd-generation Moto X in 2014, Motorola allowed you to use whatever hot word you'd like to get Moto Voice's attention. Now, it looks like Google Assistant may finally get something similar.
Our friends at 9to5Google recently conducted a breakdown of the Google app (version 7.20), and while doing so, discovered a string of code suggesting that users will soon be able to replace the "Ok, Google" and "Hey, Google"prompts with whatever you choose.
\"%1$s\ is used to reference the customizable hot word, and it's found in lines of code such as "You'll be able to access your Assistant directly by saying \"%1$s\"" and Teach your Assistant to recognize \"%1$s\".
It's unclear when Google will roll this functionality out, but I certainly hope it's sooner rather than later. I don't have a problem with the current "Hey, Google" command, but being able to change this to something more personal would be a really welcome touch.
If/when Google enables this feature, what will you name your Google Assistant?
Amazon Super Bowl teaser hints at new Alexa voices
Android Central Newsletter
Get instant access to breaking news, the hottest reviews, great deals and helpful tips
Joe Maring was a Senior Editor for Android Central between 2017 and 2021. You can reach him on Twitter at @JoeMaring1.
It'd be interesting if we could give different name's to different devices, so that we could speak to specific ones.

That is probably the only reason I would do it

I sure hope so, it's frustrating that I can't set an alarm on my phone with my voice when I'm at home, cause my Home picks it up and sets it on the Home instead. I submitted a feedback to Google a while ago about this.

Yep. I really liked when"Hey, Google" only worked on the Home, so I could avoid that kind of mishap.

That only worked when you were trying to only talk to the Home because your phone didn't recognize "Hey Google". But when you are trying to target only your phone the Home would pick up on "OK Google" and take over. Also, you still have the option to not train your phone for the "Hey Google" phrase.

Yeah, I haven't trained my phone for that.

That would be cool, so I can talk and get responses from the device that is closest to me.
Timers, alarms and reminders should be customizable as to where they alert from. I would set all GH devices to ring the same alerts at all times, so I can be alerted no matter where I am. They have a 'broadcast' feature, so why not 'broadcast' the alarms?
They should also make the mic sensitivity adjustable, so it will only hear me if I'm close to it, so the one in the other room doesn't respond.

I don't think that's always due to the mic sensitivity. I've spoken directly toward one GH speaker, only to have the other respond from another room. I think what I'd want is to use the GH's name as a keyword, and "Hey Google" as a general command to get the nearest device.

Besides the obvious Jarvis, I've always wanted to call it Noodle.

Keeping the female voice and saying "OK, Ms. Know-It-All" ;) Or as my children call her... " Google aunty" :D

I think I'll call mine "phone". "Hey phone, do the thing."

I think I'll use "Computer", like in the old Star Trek series.

But you HAVE to say it just like Sir Patrick Stewart.

I use 'computer, respond' as my hotword on Moto actions. Still love the reactions I get when I use it because I trained it with a hint of Patrick Stewart in my voice. Still entertaining and I've been using it for years.

I'll go with "Hey, Cortana"

I'd probably name it "Now", so I can say things like "Hey Now! Turn the volume down"

I think i'd go with KITT ....

I just wish it would let me pick my time zone. It's an hour behind and there is no way to change it at all. It says I don't understand when I say to change the time..

That's weird, as I thought the time should be based on your location. Maybe the time is wrong on your router? I could see that affecting it.

I couldn't. Many (most?) routers aren't NTP servers.

I think I'd have to go with "HAL"

"Hey Jude"... don't make it bad
Take a sad song and make it better
Remember to let her into your heart
Then you can start to make it better

t!ts migee would be my assistant of choice.

I'm going to call it 'Dude'. Nobody says that anymore, so it wouldn't get triggered by accident.

Dude, you don't know what you're talking about. :-P

Great! It will finally respond when I say Hey A__hole. ..my google home and I have been having some issues understanding each other lately.

I think they'll never make it completely customizable. Some people would just set it to "Yo *****" and other non-PC stuff, which is unaccaptable to the Google of 2018.

I still haven't been given the option to change from "OK Google" to "Hey Google" on my Samsung Note 8 running on Verizon.

Ditto with a Verizon Note 5

Either "Mother" or Khaleesi.

Mia. Hands down. This can't come FAST enough.

Nice. Hope they do a better job than Moto. I had to turn off the custom voice because it was nothing but false activations, all day, for anything, every no sound. Never a false activation with ok Google. I'm thinking ''bixby is an idiot" but that might be too long.

Curious what hot word you used on Moto to randomly activate? Mine has been 'computer, respond' and I've been using it for years without any problems or accidental activation. I would switch if I could use custom hotword on Google.

Very much want this feature!

I'd probably go with "Hey phone" or "Hey LG".

Mine will be... hey boo-boo.

My Bluetooth hands-free set is a Star Trek Communicator. I really need my phone to do something when I flip that communicator open, push the voice command button and say "Kirk to Enterprise". Right now Google gives me some useless search results for that (at least the Google Assistant gives a funny answer to "Beam me up, Scotty").

Not yet. Beta version 7.21.19.21.arm on a Moto Z2 Play. No joy. Not even "Hey Google".
:'(
Android Central Newsletter
Get instant access to breaking news, the hottest reviews, great deals and helpful tips
Thank you for signing up to Android Central. You will receive a verification email shortly.
There was a problem. Please refresh the page and try again.