Google Home and Google Assistant finally offer the same experience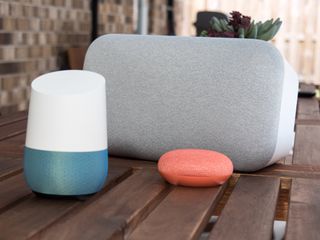 (Image credit: Phil Nickinson / Android Central)
Once upon a time in 2016, Google announced their next foray into a connected home and an AI assistant with the Google Home featuring Google Assistant. Google Home was shiny and offered hands-free commands that would work across a crowded room and give us control of our media and services, but they made an even more tantalizing proposition. Google promised that the same AI magic would be available in each of our pockets with Google Assistant, offering the same features and functions as the homebound Google Home.
And at long, long last, they've finally given it to us.
When Google Assistant debuted with the Google Home, the features were quite different between the shiny new home speaker and the phones that it became available on. Google Assistant on phones felt hobbled, with many of the most practical and desired features being reserved for the Google Home.
This was particularly painful with respect to media controls. For a time Google Assistant on phones couldn't even turn on songs or albums the way Google Now had allowed users to do for years. Meanwhile, Google Home allowed users to call up most any song, playlist, or album we wanted, and to not only change tracks but to fast-forward and rewind within tracks, hands-free. I confess that the primary reason for purchasing a Google Home was this media control, which allowed me to control my music while I was in the shower, with Google's voice recognition prowess making out my commands over the sounds of the shower over 90% of the time.
It took far longer than I would've liked, but this control — along with so many other features — has finally made its way to Google Assistant on phones. This is a major feat for Google to produce consistent commands across a wide array of devices, and with that feature parity comes another fun idea: if we all have the same Google Assistant as a Google Home in our pockets, what fun things could we use it to do while we're away from Google's smart little air freshener lookalike?
For instance, Google Home has advertised telling stories to our kids, even going on Disney adventures with Mickey Mouse or Lightning McQueen, but we don't all need or want a Google Home in our kids' bedrooms. Using Google Assistant on phones, we can still take them on adventures and Google can tell them wonderful stories, and even better, we can take it anywhere, from the bedroom to backyard camping to long car rides.
We can ask Google Home about calorie counts and recipes in our kitchen, but with the parity of Google Assistant on phones, we can also ask it about calorie counts while we try to figure out what to order for lunch, or while grocery shopping. Hey, if people can talk on their phones through the whole store, what's wrong with you talking to your phone while you shop?
Now, admittedly, there are still few holdouts here and there. New features, like waking up to music instead of a generic alarm seem to start on Google Home as a test group before coming to other platforms. Think of Google Home as the Google Assistant text bed before features come to millions of phones. That said, Assistant is improving and updating all the time, and these few holdouts will hopefully come around soon.
What Google Home tricks have you enjoyed bringing to your phone? Are you still waiting for more feature parity on watches or Chromebooks? What features are you hoping Google announces for Assistant at Google I/O? Share with us in the comments.
Ara Wagoner was a staff writer at Android Central. She themes phones and pokes YouTube Music with a stick. When she's not writing about cases, Chromebooks, or customization, she's wandering around Walt Disney World. If you see her without headphones, RUN. You can follow her on Twitter at @arawagco.
Google Assistant on phones can definitely cast Netflix to a Chromecast now. I've been doing it for several months at least.

Huh. It doesn't want to work for me with multiple commands. Maybe it's because the only Chromecast I have hooked up right now is my Android TV.

Same. And I'm in the UK to boot.

FYI GH assistant will not work with Netflix and Android TV. GH is actually limited with the commends it can tell you Android TV. I learned that the hard way. I had to put my Chromecast ultra on my Sony Android TV to have is fully work with my Google echosystem like the rest of my TVs

BUT IT'S A CHROMECAST I scream at my Shield TV.

how do you tell it what Netflix profile to use??

- turn on and off - The ability to announce calls - who is calling - answer or reject - or reply back with text. The ability to announce who is texting you - option to read message - and an option to reply. At least on the mobile phone... I was thinking this would be cool with 'Home' too - but I would suppose it would have to be a - read notification option - with 'Home' - with a priority list to where you could select what would go through... ???? This could get annoying if watching a movie etc. So rules or some sort of exceptions would have to be implemented.
I would like that - don't know about anyone else...

Considering Android Auto has the ability to announce new messages and ask for replies, there should hopefully be a way to turn that on at home... I swear my Moto X used to do this...

I have a third party 'announcer' app that I use at work and at home that announces who is calling or texting. This works well at work especially when I'm waiting for a particular response on an item that I am currently working on... That way I don't have to be constantly looking at my phone when I'm busy. I have always liked how 'Jarvis' interacted at home in the movie Iron Man.

If we could just get Assistant to add things to a list in Keep the way the Now still can, I'd be happy.

Yeah, Keep integration would be awesome.

Still doesn't seem to identify music... It says it does, but almost always results in an apology for not being able to identify the song.

I want this: "Hey Google! Shuffle my music library"...want this more than anything. Right now, it can only do playlists, albums or stations. I want my library (both uploaded and streaming) shuffled on voice commands.

It's a bit if a workaround, but you could make a "Full Library" playlist and add all your music to it (start an all songs shuffle from your phone and save the queue to playlist). Then you could shuffle that.

I found this out too after purchasing a Nvidia Shield TV for the living room to replace my version 1 Chromecast. Is the issue with the Google Assistant not being able to play Netflix due to lack of development with Netflix, Nvidia or Google? I have left feedback within the Google Home app but not sure how to voice it to Netflix or Nvidia in a meaningful way.
Android Central Newsletter
Thank you for signing up to Android Central. You will receive a verification email shortly.
There was a problem. Please refresh the page and try again.