Google apparently gave up on creating a 'Pixel Watch' years ago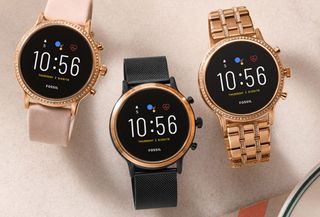 (Image credit: Fossil)
What you need to know
A new report claims that Google scrapped plans for a smartwatch back in 2016.
It's noted that the watch had syncing issues and other performance hiccups.
A fabled "Pixel Watch" will not be released this year alongside the Pixel 4.
Ever since rumors started circulating about the original Google Pixel, a hype train for a possible "Pixel Watch" started moving along at full steam. Google's 2016 hardware event came along, and no Pixel Watch was released. 2017 wasn't the year of the Pixel Watch either. For a while, it was looking like 2018 would be the year Google finally launched a self-branded Wear OS watch, but that dream was also shot down.
The saga continued with a claim this past February saying that the Pixel Watch would actually come out in 2019, but now, that's also being countered. Thanks to a report from Business Insider, Google is not launching a Pixel Watch this year alongside the Pixel 4. In fact, Google gave up on making its own Wear OS watch a long time ago.
Per this report, Google was working on a smartwatch for the Pixel series, but the project was ultimately canceled in 2016 leading up to the company's first big Pixel hardware event. Rick Osterloh, Google's Senior Vice President of Hardware, was the one responsible for shuttering the smartwatch endeavor.
It's noted that Google's watch had issues syncing with phones, with one former employee saying it "didn't work that great." Furthermore, the report goes on to say:
In other words, Osterloh deemed Wear OS to be too much of a dumpster fire to put the company's new Pixel branding on it. And, honestly, you can't blame him for that decision. Wear OS had its fair share of problems back in 2016, and many of those continue to persist here in late-2019.
Business Insider says that Google's plans for a smartwatch were "salvaged," with the alternative being the LG Watch Style and Watch Sport that launched a few months following the Pixel's release in February 2017.
While it is possible that Google could change its mind down the road and end releasing a Pixel Watch at some point, that doesn't seem very likely. Fossil has proven with its Gen 5 Smartwatch that you can craft a decent wearable out of Wear OS, but the platform as a whole likely needs to see a major revamp before Google feels confident enough to include it in the Pixel family.
As good as it gets
(opens in new tab)
Don't wait for a Pixel Watch — get this instead.
We may not get a Pixel Watch anytime soon, but that's OK. The Fossil Gen 5 is one heck of a smartwatch, and you can buy it right now. It's got a crisp AMOLED display, surprisingly good performance, and ships with a speaker for spoken Google Assistant responses and on-watch phone calls.
Get the Android Central Newsletter
Instant access to breaking news, the hottest reviews, great deals and helpful tips.
Joe Maring was a Senior Editor for Android Central between 2017 and 2021. You can reach him on Twitter at @JoeMaring1.
To be honest I think that's a poor showing from Google, so the reality is it's really only Samsung competing with Apple in both the Smartwatch and Tablet market now.

I'm with you but that said the apps on the galaxy watch are not as good and wareos. I had the moto360 and now have the tic watch Pro and for me these two were the best android watches the os has had to offer. I feel like Google are starting to becone Microsoft of old and expecting others to lead the way with there is ext but I see a break away happening over the next few years especially with others making there own watch os and some mobile os.

Very true this news to me pretty much gives the impression that Google have all but given up on wear os if they can't be bothered to produce hardware to showcase the software I don't see much point. On a side not for all the grief Apple get in here they are killing it in the smart watch category! and Tablet market as well to be honest.

I'm not sure exactly how to feel about this, I do wish they would take WearOS more seriously. I have a Misfit Vapor 2 and would like to jump over to a Gen 5 Fossil but I'm hesitant to say the least.

So I did a search for Fossil collider and can I point out that they apparently set up a page to give out the instructions for this watch that right now delivers a 404. ( https://www.androidcentral.com/e?link=https2F2Fcli... ) The google search response identifies the page as: Watch Instructions-Collider-Fossil and they appear to be under the connected_diana group of watches.

Here is the problem with WearOS: Its running a modified version of ANDROID, it's not an actual Android Watch OS. That's why it has problems syncing between Android devices. Both Apple and Samsung made distant itself from its main Operating systems so there is no confusion (ie: IOS is different from WatchOS and Samsung uses Tizen) between their devices. Google needs to write WearOS from scratch. Hardware set aside ... WearOS isnt bad and it could be better if syncing was better.

That is why I will NEVER buy anything else that runs wearOS.
Should be called WhatOS, cause it's
NowhereOS.

That was... Without a doubt the lamest thing I've ever read on the internet, ever and I've been around since BBS days and seen some junkers.

They own Fossil so they kinda already have their watches.
I use my watch for notifications, GPS directions, checking bus times, keeping track of my health and excersize, home automation interaction, pill reminder, and other assorted things.
My Huawei Watch 2 does all this for me, even though its CPU isn't as fast anymore, I enjoy having it with me.
The WearOS store gave me the apps I needed and they work well. Some apps can do with updating from the devs. The hardware is there, the devs just need to get fully committed.