Google announces the Pixel C Android-powered tablet with detachable keyboard, starting at $499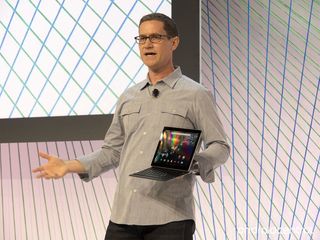 Though Google enthusiasts know the Pixel name in relation to the two generations of high-end Chromebooks, Google today announced a new Pixel C tablet that's actually powered by Android. Distinctly separate from the Nexus program, the Pixel C isn't built with a hardware partner — this is all Google.
The Pixel C is a 10.2-inch tablet running Android 6.0 Marshmallow and is built to use a detachable keyboard. The keyboard aligns with the tablet with strong magnets whether it's closed together for storage or open for use, and when the keyboard is attached you can swivel the screen between 100 and 135 degrees depending on how you want it to be set up.
The keyboard connects to the tablet over Bluetooth and offers two months of active use, but you'll never have to charge it separately because it charges inductively from the tablet itself. Google designed the keyboard to match the one from the Chromebook Pixel as well as it could, with a similar key spacing and the same 1.4 mm of key travel. The Pixel C also intelligently knows when the keyboard is attached for use, and switches the interface between taking input from the hardware or software keyboard.
Back to the tablet. The 10.2-inch screen has a 2560x1800 resolution, which is a rather tall aspect ratio but Google says it's ideal for productivity considering its relation to standard A4 paper formatting. On the inside it's powered by an NVIDIA Tegra X1 processor — the same as you'll find in a Shield Android TV, as well as 3GB of RAM. The tablet has an array of four microphones for cross-room audio pickup, and stereo speakers for audio output. Naturally it has a USB-C charging and data port as well.
Google is also talking a big game with software updates on the Pixel C, saying that the tablet will be updated every six weeks, not unlike its Chromebooks — that's interesting primarily because that update schedule wasn't discussed on the new Nexus 6P and 5X smartphones.
The Pixel C will be available for "the holidays," with prices starting at $499 for the 32GB storage model and an extra $100 to bump up to 64GB. The keyboard isn't included in the price, despite being an integral part of the experience — it'll set you back another $149.
More: Google
Android Central Newsletter
Get instant access to breaking news, the hottest reviews, great deals and helpful tips
Andrew was an Executive Editor, U.S. at Android Central between 2012 and 2020.
This threw me for a loop! I love the concept! The awkward nerd with a passion for old man sweaters.

Umm have you ever heard of a surface 3?

but it is not the same X1 as the one in the shield console, this one is a quad core, so is it cut down or is it a return of denver???

Great question. Thought I saw Maxwell architecture listed somewhere.

Maxwell is the GPU architecture

Cost? Availability? Come on Andrew!

Google didn't reveal when it would be available. But its $499 plus $149 for the keyboard.

Cost is listed in the article. Posted via Android Central App

Now it is, it wasnt when i commented. He updated it but didnt say that it was edited.

He edited the article now to include the price as well as more photos. Thanks.

It can never be surface tho Posted via the Android Central App

Yes.. I agree Posted via the Android Central App

This. While its a good concept, considering its price the Surface as it beat.

While I agree on the 'surface', I do think Google is on the right track with a play first and light productivity model where the Surface is more productivity first. Each has its place for sure. I really like the fact there is no kickstand. No sure what SP4 will be like but this is better than the SP3 in that regard. Posted via the Android Central App

I like the no kickstand as well.
this is infinitely better imho because I can use it on my lap instead of having to sit at a table. having to sit at a table to use the kickstand , defeats the purpose of a tablet / keyboard combo.
might as well just sit at my desk with the laptop I already own.

I can't tell if you are joking or not. The kickstand on the Surface is optional, meaning you can choose to use it or not, depending on your mood and environment. This Surface-wanna-be Android clone offers you NO options. How is that better?

What he's saying is that with the Surface, you have to use the kickstand against another surface like your lap or a table to get it to sit upright on its own...whereas this provides a surface against which the kickstand can sit. Try putting your Surface kickstand out and then setting the Surface on the edge of a table where the kickstand isn't being supported.

it's not optional if you want to use the keyboard. unless you lie it down flat on your legs which is super weird. the use case I'm talking about is using it on the sofa arm or lap. like a laptop using the keyboard.
you can't do that easily on the surface because it's needs the kickstand to support it while you type on the keyboard.
and your legs move and the sofa is too soft. you really need a table to use the keyboard attachment well.
because the keyboard doesn't support the tablet in any way, that's what's missing for me that this has. that's makes it a non-starter for me.

Wait.. stop and think through what you're actually saying. If you buy a Surface - you still have to buy a separate keyboard - you're not restricted to JUST Microsoft's keyboard (it just happens to be a very good keyboard designed to be used with the Surface..) There are lots of other choices out there that give you what you want. That being said - the Pixel C will have *exactly* the same problem you think you have with the Surface. It's not going to be a great 'lappable' experience because it's *not* going to be a clamshell. It has, essentially, a kickstand built into the keyboard side - look at the photos of it in 'open' mode and you can see it.

If you do not like the kickstand on the Surface you do NOT have to use it. It is optional. And it is nice to have. I use it with and without. No option with this guy, which makes the Surface much better. And lets be frank, cant compare Android to Windows 10. There is no compression. You can do everything with Windows. Android is a limited mobile OS.

Definitely no "compression".

Yup...if it's one thing that decades of crashes and blue screens and rearranged apps sold as new ones from MS has taught us is that you get way more from Windows....ROFL.

As nice as this looks, like the remix tablet, its absolutely blown away by the Surface three. Blue screens? That shit died with Vista and Jellybean. Get things done? Desktop OS versus mobile? Be serious. What can you get done with windows 10? ANYTHING.

I don't have a issue with the kickstand and MSFT has improved the stability of the it on your lap. I like what Google is doing here from a hardware perspective. It will be interesting to see what the SP4 looks like in a few weeks. Pixel C would be a good option if it was lower cost and included the keyboard. Posted via the Android Central App

Surface 3 for the win. Good thing they didn't load this with Chromebook Posted via the Android Central App

I'm totally digging this!!!!! Posted via the Android Central App

Love this announcement. This is the tablet that I have been holding out for.

Just get a Surface 3. Same price and can do WAAAYYYY more with it. And it looks better

We have 11 SF3s at work...my $129 Chromebook can start and shut down in 3 seconds and do all the office things I can do at work...except that it won't work with our encryption or virus scan software. Browsing is WAY faster than with the SF3s, even when they're not encrypted.

The thing I didn't like about the Surface 3 was the weight. It'll be interesting to see what this weighs.

The keyboard on the SP3 is dreadful. If your main use of the machine is writing, I don't recommend the SP3. In addition, Windows blows. Every 20 minutes, "I've found new update files!" Truly, I had a SP3 for 4 months and every single day it had to download more updates. I sold the device and have been trying to buy a Pixel but am not in the US so had no luck. I'll certainly go for one of these devices though.

My N7 2012 can finally be put down mercifully! Posted via the Android Central App

I was just thinking the same.

I was just about to buy a Nexus 9, I will wait for this

I suggest you check out the Surface 3. Much better value

Agree. There is basically no reason to buy anything android other than a phone. It's total waste of money.

Fuck MS and you trolling fanboys.

God you're starting to bore me now Posted via the Android Central App

We get it don't care Posted via the Android Central App

Are these prices for LTE or WiFi only? Posted via the Android Central App

Want want want Posted via the Android Central App

My eyes just popped out of their sockets like a cartoon... Posted via the Android Central App

At the price tag? Posted via the Android Central App

Crying over my Nexus 9 right now... Why couldn't I wait 5more months! Lol Posted via the Android Central App

Try selling it on Swappa Posted via the Android Central App on my DROID Turbo

It looks really nice. But I am sick of companies charging 100+ dollars for a f***ing keyboard. At least when Asus did it, they gave you a battery in it that DOUBLED your batter life. If it was so integral, then why not only sell it as a package.

The keyboard charging the tablet instead of the other way around. Plus it added a USB port and SD card slot, i think. Those were the days. Posted via the Android Central App

I'm happy with my Nexus 9. This is way too expensive for me, $149 for a keyboard? Get outta here. I guess being a pixel, it isn't meant to be a mainstream product. If they'd thrown in a stylus, which Android does support, then it would have been better. Posted via the Android Central App

Wow! I have never owned an Android device (IOS and Windows only for me) but I am thinking about getting an Android phone to replace my Iphone 5. I would PAY the APPLE RANSOM for the 6S if they put a REAL battery in it. If Apple is going to charge a premium, they should at least put a BIG BOY battery in it. Even if it hurts Jony Ive's feelings. I think the Pixel Tablet is the most exciting thing they talked about today. Looks like Google is ahead of the curve on integrating a keyboard with a tablet compared to Apple and Microsoft.

Um...how do you come to the conclusion this isn't offered by either of those companies already?

Well, I am not aware of an IOS nor Windows keyboard for a 10 inch tablet with the kickstand/magnet combination that makes it convenient for using on a lap or desk, easy integrated charging, space between keys, etc. as what Google announced today. If there is one, please let me know.... I have to give Google credit for the integration and form factor of the Pixel Android tablet. Not saying it's the best tablet on the market, thinnest, fastest, etc. -- I am impressed with the entire package.

The Surface 3? And when you don't want to use the optional keyboard you can literally flip it behind the tablet (accelerometer in the kb to detect this) and no keys are touched so that you can use t on your lap.

I don't think the Surface 3 will work WELL on ones lap with the keyboard attached. Also, I think the space between keys on the Surface 3 keyboard is narrower -- the Pixel has normal size keyboard spacing. Kudos for the Surface 3 for backlit keyboard, though... My original statement wasn't that the Pixel is the most productive device -- I just think it's really clever how they have integrated the keyboard with the tablet. I also like USB Type C for power. I am tired of having to lug around a different AC adapter around for each device. I look forward to all devices -- laptops, phones, tablets, MP3 Player, Garmin Edge bike computers, etc. being powered by Type C.

Neither will this. But with the surface pro you can put the stand to any angle and just use the software keyboard. Or us the pen. On a full desktop OS? You can't be serious. I bought a Nexus 9, its a tucking E-reader.

Well...this is a confusing product.

Not really, no. Posted via the Android Central App

Called a Pixel... doesn't run Chrome OS.

...for the easily confused.

Yes please! Super stoked. Posted via the Android Central App

Yeah that's to much 499 plus 149 for keyboard? These are not going to sell very well at that price point. Posted via the Android Central App

Oh yes they will. Posted via the Android Central App

When you can buy a really good Chromebook for $250 or less that already comes with a keyboard or an Android tablet with a third-party keyboard for much less? Nope.

I am EXTREMELY excited for this, this is what I've been asking for for years. They hit nearly every mark I could have asked for. GG Google.

How much does it weigh? It looks like it might be too heavy. Looking kinda think is why I say that. If it is too heavy then it can't comfortably be used as a tablet. That is the problem with the Surface Pro 3.

I think I'll just stick with my Asus Transformer tablet, as well as my Nvidia Shield Tablet!!!! Posted via the Android Central App

Day 1. Day 1. Posted via the Android Central App

I'll wait to see what happens with the Surface Pro 4 announcement next week. In terms of functionality and productivity, Windows still has Android beat.

And here I was holding breath for an affordable tablet option, like maybe a re-fresh of the N7 2013 model to compete with Amazon's new fire line. All they'd have to do is maybe toss in a 64 bit CPU and price it around $100, or maybe a mid-ranger for $200 or so, not everyone has $500 to spend on a tablet, /sigh guess I'll be sticking with my Sero 7 LT for awhile.

Amen. My $129 Acer Chromebook 11 is just fine for this kind of use. This is great hardware, but a waste of money for most users, since the software isn't useful in all situations.

Hey look at they copied Apple Apple did it first Apple is better Posted via Android Central App

For those prices you can do yourself a favour and buy a Surface 3 with a proper OS in it. Android tablets are great for media consumption. But if you attach a keyboard to it, it means you want productivity. And if you want productivity, you use a real OS for that, and that's Windows. Sorry, Google. I love Android but to Caesar what's Caesar's.

Actually, my $129 Acer Chromebook 11 is faster and more productive for every day activities than any of my PCs. Having said that, I'll never be able to use it or advocate for it in our business environment, due to the lack of real encryption, virus scanning, and overall buy-in. That's where Google should spend their time/energy and dollars. Otherwise, this is just useful for everyday non-power users....the folks that don't bother spending $600 for gadgetry that's really aimed at power users that would otherwise care.

Depends on your needs I guess. My Dell Venue 10 7000 completely displaced my Thinkpad on the go. Android obviously isn't as strong as full Windows from a productivity standpoint, but depending on your needs it can work

Looks great...have to resist impulse buy since I'm pretty sure it won't be that useful to my personal use.

So basically for about $600, I can get a chromebook with a nifty keyboard....as opposed to a $129 chromebook that already comes with a keyboard. Or...I can buy a cheap android tablet and keyboard combo for way less than $600. Hmmm..... Why not focus more on the ability to actually do any real work on a Chromebook in a corporate environment, instead? This currently isn't very realistic as an option in the workplace and that's the only reason iPhones started becoming popular. It wasn't until people started using them for work and home that they became such a hot-selling item...otherwise...it's just gimmicky. Wasted opportunity.

It's not realistic, why would an IT person ever buy a chromebook with full windows 10 available at about the same price??????????????????????

Only one thing to say about this: LOL! Stick to fun and leave work to Microsoft. Why would any one ever buy a chromebook with all the win 10 devices coming out. Google, go back to cars.

Because there are a lot of people out there that still want to be productive but don't want to touch anything from Microsoft or Apple with a ten foot pole.

Don't feed the trolls. Posted via the Android Central App

I would take a Surface 3 over this any day.Funny thing is I could run Bluestacks on it and get the Android apps anyway xD

Saw the $499 number in the title was got excited, I wanted something like this! Clicked on the article and saw that the keyboard was an extra $150. HARD OUT! Waiting on Surface Pro 4 pricing details now. Then again we may luck out and on Black Friday have a deal for $100 off this tablet and that'll make it fairly tempting to me.

Kinda looks like the square aluminum placemats I have. Just thicker. It looks even more square an ugly than 4:3.

Let's be serious here... What kind of real productivity can you do on an Android tablet?
The only thing I can think of is Microsoft's office apps.

I just don't understand the marketing behind this they act like it's a Chromebook but it's another tablet. It at least looks like a solid machine. Posted via the Android Central App

Can we preorder this now? Also, will this have a Nexus-like experience regarding updates?
Android Central Newsletter
Get instant access to breaking news, the hottest reviews, great deals and helpful tips
Thank you for signing up to Android Central. You will receive a verification email shortly.
There was a problem. Please refresh the page and try again.