Google announces Fiber internet pre-registration, tossing in a free Nexus 7 to top tier customers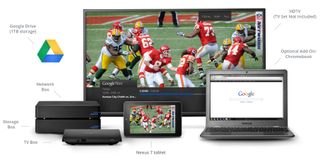 Google's Fiber project will soon be going live in Kansas City after a lengthy preparation period. This means high-speed internet access will be available to residents for $70/month, or $120 if you want TV access too. Google will even toss in a free Nexus 7 tablet if you go with the upper tier. Best of all, they also have a free 5 gigabit option, so long as you're willing to cough up a $300 construction fee payable in full or in $25 installments.
Pre-registration is available for Kansas City residents here with a $10 deposit until September 9. Service access will be dictated whether particular areas meet pre-registration goals or not. Full pricing options available after the video. If you're in the neighborhood, Google has kicked off a blog specifically for the Kansas City project.
How comfortable are you guys with the idea of Google being in charge of your internet service? They already control so much of the online experience, so the expansion makes sense, but one can't help but get a little nervous that they're relying too much on a single company. But hey, free Nexus and insanely fast internet. After this, how far away is Google from providing wireless service?
Source: Google Fiber Blog
Gigabit + Google Fiber TV: What's better than a gig of Internet? A gig plus TV, designed for how you watch today and how you'll watch tomorrow. Google Fiber TV carries hundreds of channels (including your local favorites) and tens of thousands of shows on demand in crystal clear HD. With eight tuners and 2TB of DVR storage, you'll never have to miss a show again. You'll also get a brand new Nexus 7 tablet that you can use as your remote control. Gigabit + Google Fiber TV will cost $120 per month, and we'll waive the $300 construction fee.
Gigabit Internet: With a gig, you can do everything you love on the web at speeds more than 100 times faster than what most Americans enjoy today. This package will include a gigabit-enabled network box with advanced WiFi and 1TB of cloud storage on Google Drive. Gigabit Internet will cost $70 per month, and we'll waive the $300 construction fee.
Free Internet: We know that not everyone is ready to commit to a gig just yet. But we want to make sure you have the opportunity to upgrade when you're ready. So if you pre-register and your fiberhood gets installed, you'll have the option to get a 5 megabit per second (Mbps) connection for zero monthly charge, and your home will be wired and ready for the switch. The Free Internet option will cost $0 per month, although you will have to pay a $300 construction fee (which can either be paid at once, or in $25 monthly installments).
Simon has been covering mobile since before the first iPhone came out. After producing news articles, podcasts, review videos, and everything in between, he's now helping industry partners get the word about their latest products. Get in touch with him at simon@futurenet.com.
All of a sudden the Motorola acquisition makes a lot more sense.

Motorola is one of the top manufacturers of cable boxes/modems.

I'm pretty sure Google already knows I watch porn. I'd be perfectly happy having them serve it to me too. And what's this about an 8 tuner DVR with 2 TB of storage? Might this be the fruits of the SageTV purchase? -Suntan

Free 5 gigabit? Sign me up haha, I think its supposed to say 5MB :)

Free Internet: We know that not everyone is ready to commit to a gig just yet. But we want to make sure you have the opportunity to upgrade when you're ready. So if you pre-register and your fiberhood gets installed, you'll have the option to get a 5 megabit per second (Mbps) connection for zero monthly charge, and your home will be wired and ready for the switch. The Free Internet option will cost $0 per month, although you will have to pay a $300 construction fee (which can either be paid at once, or in $25 monthly installments). The free is 5 megabit.

The fiber website says 5 mbps for free.

The one thing i've never understood is why Kansas City?

because many people showed interest in gigabit network.
that's one reason why there is pre register. if people show enough interest it will come to your city too.

dig a little deeper and you will find we have a huge market for tech here in KC....i love it here :)

1) The city of Kansas City, Kansas merged with the surrounding county (Wyandotte County, Kansas) and all of its included municipalities. That means one Mayor, one city council, and most important, one franchise board for a huge area. If you suspect that sort of thing, it's fewer palms to grease. There's almost nowhere in America where that small a government covers that many people that close together. And they gave them everything they asked for. 2) KCK is mostly above-ground utilities on poles. No trenches to dig. 3) They moved across the state line into Kansas City, MO for many of the same reasons. Once KCMO saw KCK getting fiber, they lined up and gave them a pretty easy time of it, too. The above-ground utility in KC, MO gave them a sweet deal, too. Notice the giant hole in the "Fiberhood" map? That's Johnson County, Kansas. Even though there's a LOT of money there, it's all underground utilities and literally dozens of franchise boards governing thousands of easements. I suspect Google's choice of KCK and KCMO is a giant middle finger to every greedy franchise board in America. --Qfg

Despite what people on the coasts may think, Kansas City isn't some backwater hick town with tumbleweeds going across the streets. It's got a pretty dang strong IT community and industrial base (heck, Sprint is headquartered here, among other technology giants, like Cerner).

Sprint would hurt your case there.... haha!

It was a joke dude, relax. -Suntan

KCK is a pit. It is home of the metropolitan's lowest household incomes, lowest education levels. 21% of the county is below poverty level. Note the post above mentioning the 'giant hole in the fiberhood map, Johnson County. Johnson County is the home of the Sprint campus / headquarters. Cerner is all over the city. http://quickfacts.census.gov/qfd/states/20/20209.html

Inner city KCK is, indeed, a pit. Western KCK, which includes the Legends shopping area and Kansas Speedway, is actually quite nice. It's where my family is from. From the 'Let's do this for Kansas City' video, it looks like they're making a push to get cheap Internet into lower income areas with the 5mb option. Adding free gigabit to inner city schools for fiberhoods who qualify is even more icing on the cake. Good point about Sprint being in Johnson County (Overland Park, I believe), I hadn't thought about that. My comment was toward the 'why Kansas City?' remark, just pointing out that the KC metropolitan area (which includes Overland Park, Olathe, etc), isn't some little podunk town. I'm hoping they'll eventually expand the infrastructure to surrounding suburbs, as my house is about two miles west of the far western fiberhood, JUST out of reach /sadface.

Sprint Nextel runs a large part of the global internet infrastructure and one of their largest internet backbones originates out of Kansas City. Fiber is easy in KC, that's part of the reason they were chosen.

ya, why wouldnt i want google. comcast can suck it. at&t sucks, verizon is just down south. but it needs more places.. NOW

If they bring this to Canada im gonna be this soooo fast

This. I pay $120 a month (including taxes) after signing onto a one year agreement with Rogers for just tv and internet. And neither is in the same ballpark (or even galaxy) as what Google is offering. At conversion rates and taxes, I'd still pay $150 per month to get this.

I'm with Teksavvy ($70/month, no cap), but it's nowhere near Google Fiber's speeds. Bell's upgrading to fiber soon, and they came around the other day trying to sell me 25 Mbps down (max) with 100 GB cap for $60. And that's on promotion. It is to lawl.

if they brought this kind of fiber to my house (I was hoping for FIOS one day but I guess that's not happening now) I would sign up in a heart beat. This kind of competition for the cable companies is great!

Verizon gave up on Fios expansion, too expensive and not enough customers signed up to pay for it. I live in a Fios market but to be honest with you, I am supposed to get 25mbps down and 25mbps up and it's usually running around 11mbps down and 5mbps up. My cable internet with Road Runner was faster and more reliable than Fios. Our only hope at this point seems to be Google Fiber.

More competition is always a good thing. I'd go Google in a heartbeat.

I'd switch tomorrow if I could. Today if possible.

OMG!!! I'm not in K.S., but I signed up anyway just to show interest in it...and hopefully it'll come to my neighborhood. I pay $120 right now for internet & TV, but I get 30Mbit speed and basic digital tv, hbo & showtime. If this can give me internet 30x faster than what I currently have, and even close to the same TV, I'm all-in!! there's one more ace I see in el-goog's pocket with this: a live TV android app. To the best of my knowledge, no one else has that. If google can pull that off they will have a grand slam on their hands!!! Comcast, Time Warner, Charter & Verizon...you'd better wear a cup, because google's about to start kicking your asses!! If you don't change something in your business model very quickly, you're all about to lose a major percentage of your customers!! .....and I'll be the first one out the door! (i will be anyway...who am i kidding?!?!?!? lol)

Wish I could get this instead of my only option being Service Electric Cable. I can't even get Verizon FiOS!

Service Electric! Someone's in Jersey/PA.

I love living here :) now to get it into the burbs! <3 google!

F the burbs(jk)... KC, MO ROLL! (in my best tech n9ne voice)

If this ever comes to Orlando, I would sign up immediately.

I'd want to know that Google would be regulated like any other ISP and not using anything I put in that cloud storage in any way. (I'd rather they deployed it as zero knowledge encrypted storage like SpiderOak. Other than that, I'd be up for this because Google has a better privacy policy than my current ISP.

I'd rather have Google as my ISP than TWC or VZW. At least we know they are totally for uncencored, unbastardized internet.

End game for internet and tv service providers! Now if only Google Fiber became nation-wide in a couple of years...and hey, why not buy a wireless carrier while your at it and start offering bundled internet, tv, and wireless services?! (no one will have a home phone soon anyways). Maybe I'm being too much of a Google fanboy...but I can speculate/hope, right?

Don't worry. Crapcast will petition the Government to block google. Same crap, different state.

For those of you that wonder why Kansas City got this is because they were selected by Google as the start up point in the US. This was for Kansas City, Kansas as Kansas City, MO wasn't added until later. Kansas City Power and Light worked out a deal with Google to provide the service throughout the KC MO metro area with Google piggybacking on to KCP&L towers. Unfortunately for me I am in an area of Kansas City that they will not be offering the services (or the option to pre-register) as I live in Kansas City North and they are concentrating on Kansas City, South. I really want these services but it looks like I am going to have to wait like the rest of you. Just the 1G/sec upload and download speeds (with no data limits) alone are well worth the $70 a month and for an extra $50 a month to get everything you get on cable (including your local channels) with 6 tuners and in HD is even better. Right now I am already spending $120 a month for basic cable and 5M/sec cable. I really hope the come North within the next year.

I would have no problem with Google doing this. Gigabit internet for $70 or a free version with the speeds I have right now? Awesome stuff I wish it was in my area.

I really hate everyone in KC right now... dang I'm jelous.

Am I really going to have to move to KC? Dang it!

It is really bad when you live in a suburb of Kansas City, MO and will watch your friends and coworkers get the service. I think I might just sell the house and move, did that sound to desperate?

I'm seething with envy right now. Sorry KC, nothing personal.

I want this in Chicago right now please!

I wonder if the people of KC know how lucky they are.... I really hope this roll out is successful for Google so they expand to other markets.

Yes we do! Here in KCMO (not KCK, lol...people who live here will understand) we know technology, just like we know BBQ. Time to sign up!

Kansas City always gets technology first, like with Sprint's LTE, and now this Google High-Speed Internet. Plus 5 GB of data will be used up in like a few hours.

Super excited to get this @ my house! I'm going to be so bummed if my neighbors don't embrace this, although I'm pretty sure I've already convinced 10-15 people to pre register today...

>"How comfortable are you guys with the idea of Google being in charge of your internet service? They already control so much of the online experience, so the expansion makes sense, but one can't help but get a little nervous that they're relying too much on a single company." You answered the question for me. Nope, would never allow Google to be my ISP.

Yah because Comcast is your damn friend. I swear. The ignorant just keep getting more so when it comes to how Google operates with your data. Seriously. You people need to educate yourselves. When it comes to Google protecting your info. Crapcast and most of the other ISP's are more likely to hand over your data to the gov then Google is without a warrant.

Pre registered already, can't wait hope the neighbors sign up so sick of TWC. And want big Nexus for my little Nexus.

Trying to convince my wife to move from the suburbs to downtown KC... Think she'll go for it over some google love?

The internet service looks unbelievably good for a great price. The TV, on the other hand, looks pretty lacking. I notice no ESPN, no HBO, no CNN, Fox News, FX, TBS, TNT. Looks like they need to work out a few more deals with Disney, Fox, Turner and a few other media companies before the TV lineup can be taken seriously.

No Faux news is a feature, not a bug.

You guys let me know when the Seattle metropolitan area (specifically around Tacoma) starts the pre-registration. Hell. I'd prolly sell my car and push in an extra 7grand just to help Google get the network going.

I may have to ocnsider moving. KC is just three hours south of me.

I hate every living thing in Kansas City right now. People, dogs, cats, hamsters, ferrets, snakes, rabbits, mice, birds, ants, hornets, bees, trees, flowers, grass, plants in general, weeds, bacteria, viruses, single celled organisms. EVERYTHING.

1. Do their TV Boxes include the Android (Google TV) capabilities? If not, that would be a tragic missed opportunity on their part... 2. Are the specs listed anywhere for each of the three boxes (TV, Network, Storage)? 3. Does their system use MoCA inside the home? 4. Do they include (or even require) a router of any sort? Or, is it a bring-your-own-router (BYOR?) situation? Whatever the case, it looks promising! :)

I'd be all over this if it was available in my area. The only options I have now are Cox and Century Link, both of which suck.
Android Central Newsletter
Get the best of Android Central in in your inbox, every day!
Thank you for signing up to Android Central. You will receive a verification email shortly.
There was a problem. Please refresh the page and try again.