Goals in Google Calendar will help find some time for yourself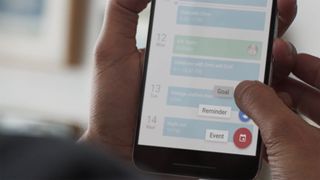 Google Calendar's latest feature for those on mobile is Goals. This handy addition to the cloud-based service will automatically book time out of your day to achieve set goals. Should you want to learn a new language or get fit, Calendar will be able to work around meetings, scheduled events and more to ensure you stick to it. You'll be able to configure these goals and set how frequently you wish to set time aside in any given week. Calendar will then monitor your list of events and re-arrange goals accordingly.
Deferring, editing or even removing set goals will provide Calendar with better understanding as how to approach that specific goal around your busy life. It's a neat feature and is one we're sure many will take full advantage of if they rely on Calendar (or similar apps) to free up some time and get stuff done when out of the office. There's no longer the excuse of "I just don't have the time to do it," as Calendar will ensure you have that set time aside for any life goals or self-improvement sessions.
The feature made good timing too as Calendar turns 10 years old today.
Android Central Newsletter
Get instant access to breaking news, the hottest reviews, great deals and helpful tips
Not available in the UK? Or maybe update not done yet :S Posted via the Android Central App

Will definitely be trying this out. Posted with my LG G4 6.0 via the Android Central App

Really, Brad had to be gay and not a normal man? Good commercial up to the part where Google promotes "gay" as normal. Disgusting.

Are you normal? Then you might be gay? One thing is for sure, you're a big idiot ... Posted via the AC App

But, but, but... being gay is "normal" in most civilized countries :-) Are you from Russia, or what? :D

It's not normal, it does however happen and if you are then you should be able to live your life as you please, but it is in no way normal (biologically)

People are born with their sexualities. It is NOT a choice and is completely normal and natural. Stop projecting your own insecurities onto others Posted via the Android Central App

After decades of research there is absolutely NOTHING that conclusively supports your statement. I couldn't care if you a gay, "straight", bi, sexually fluid or whatever else - just don't don't say crap that's not true. FFS you have google. Yes there are genes that indicate you are more likely to be gay (may have a propensity toward it) but these genes are also in some straight people. Anyway - back to technology / gadgets

If you read again your comment you will find out that you contradict yourself...

Too bad you didn't figure out he was gay from the first two seconds, when his boyfriend broke up with him. You could have avoided yourself some irrational butthurt. Sexual preference and gender identity are not choices, nor are they immoral, disgusting, or abnormal. You likely interact with gay people every day and don't know it. Try to respect that they are just other people, with their own lives and relationships that have nothing to do with you. Especially fictional characters in commercials. The reason Google chose to use a gay man as the focus of the commercial is because it's part of reality. Get used to it.

Looks like somebody grabbed the "learning" code from the Nest thermostat and decided to have some fun seeing what else it could do.

Hah I need to see what kind of goals they offer, I would love to have something like "Define your own goal" :-)

Yay! Something else nagging me about something I 'should' be doing!! Kidding, this is great.

Downloading Google Calendar app now..... Posted via the Android Central App

Any idea if this is a server side change or an app update? I don't see it yet... Posted via the Android Central App
Android Central Newsletter
Get instant access to breaking news, the hottest reviews, great deals and helpful tips
Thank you for signing up to Android Central. You will receive a verification email shortly.
There was a problem. Please refresh the page and try again.