Getting acquainted with the new Google Photos on Android and the web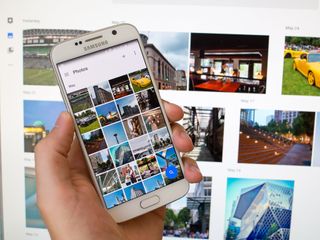 After being tied completely to Google+ (woefully) for some time, Photos has finally been broken out into its own apps for Android, iOS and the web. Google Photos, as it's now known, adopts the same icon as the old app (which was really just a stub to the Google+ back end) as well as many of the same features, but is also developing its own identity since gaining independence from Google+.
That means you technically no longer need a Google+ account to use it, and your photos now get a first-class experience with their own apps and website.
Google Photos on Android
If you pick up your phone right now and look in the app drawer, you may be saying, "oh look, I have the new Photos app!" Well, here's where a little confusion comes in — that's the old Google+ Photos app, and you're going to need to hop into the Play Store and download an update to the Google+ app that breaks it away from Google Photos. After that, you'll either receive an update to Google Photos in the Play Store, or you can simply go searching and downloading it manually (opens in new tab). After the updates are handled, you'll be looking at a familiar icon and name, but when you open it you're getting a refreshed experience.
Opening the new Photos app, you get something familiar and easy to understand, but with a fresh take on the interface. Your photos are grouped into a vertically-scrolling list, sorted by day, and you get a look at every photo taken that day on any device that's signed into Photos. As you may guess the app is already populated with photos that were previously uploaded to Google +, and in the settings you can toggle the ability to view your Google Drive photos here as well.
You can pinch in on the interface to reach a "comfortable" view where you're looking at a scrolling list of images that each take up the full width of the screen, and another pinch in gets you to a single image view (the same you'd get by tapping an image). Zooming out instead gets you to a month view — again showing every photo — and another pinch out shows entire years of photos. The point on the screen at which you pinch determines where in the day/month/year you "zoom in" to, which is a clever addition.
Google is doing some trickery here to make it seem like all of these photos are local, but they actually aren't. Your device is caching recent photos in lower resolution sizes that are applicable for your screen, so you have access to practically any photo at any time (within reason) without loading up your phone's storage. Unfortunately unlike Drive or Play Music there's no way to "pin" specific pictures, albums or months in full resolution to your device, and there's actually no way to view what pictures are local and which ones aren't. In practice it's not a problem (I even turned on airplane mode and browsed, finding most pictures viewable), but the first time you're somewhere with slow network speed and a photo you thought was on your device actually won't load, you may not like that idea so much.
And because you're viewing all of your photos at once rather than just your device's photos, you need to keep that in mind when "deleting" things. If you delete a photo on your phone, that means you just deleted it from your tablet, your other phone and the website. If you go to delete a photo on one device that was captured on another device (and therefore saved locally on the second device), you'll see a pop-up indicating what you're about to do, but if you're deleting something that isn't saved locally anywhere, there's no warning — that photo is gone from everything. Thankfully the "trash" bin in the app keeps a history of photos for you to restore for up to 60 days, but some people are still going to learn this the hard way when the move to Google Photos.
Beyond that, the rest of the main interface is simple. You have a search button that lets you query images by date, location, people and even subject matter — for example you can search for "cars" or "dogs" and see a pretty remarkable lineup of those kinds of photos. You can also use the + button at the top of the interface to manually create albums, movies, stories, animations or collages — and if you select images before choosing those options, the action will be performed with those images only.
There's also a neat somewhat-hidden feature to select photos — just long press on a photo then drag in any direction to select all photos in that range. Naturally you can choose to share any image, group of images, story or album with any app you have installed on your phone. You can also edit individual images with a set of basic editing features, but they don't directly match what was available in Google+ Photos before, nor do they match up to what you can get in third party apps.
The slide-in panel from the left edge is pretty familiar, with quick availability of your "collections" (albums, movies and stories) and app settings. There's also a new "assistant" pane that shows you what's happening inside Photos, such as new stories that have been created, notifications that photos are backing up (or waiting for power to do so) and the like. It's kind of like a Google Now interface, but just for items relating to your photo library.
Google Photos on the web
When it comes to Google services in 2015 it's a fair bet that the web experience for any given product will be tightly integrated with mobile apps in terms of design and functionality — Google Photos is a great example. Much like we've seen with the Google Play Music redesign on the web, the Google Photos website (found at photos.google.com) is very much the same experience as the Android app.
You get the same basic view on the web, but you're limited to just the day view, with no option to zoom out to a month or year view. But considering how quickly you can scroll on a computer and how many more photos can fit on the screen, it makes sense. The sidebar is here, with the same assistant and collections options, and even the settings are nearly identical to those found on Android.
You also have instant sharing buttons for Google+, Facebook and Twitter (as well as just shareable links), but unlike the Android app it always shares a public photos.google.com link where anyone can view the content you shared, rather than sharing the actual photo(s). Unfortunately that means that networks like Twitter and Facebook won't automatically pull that image to view natively on that site, but it means when someone clicks the link they can see everything — and if they're signed into Photos they can add them to their collection. You can view and delete any links you've previously shared as well, which is a neat feature and gives you control over the items you've put out there.
The web view has the added bonus of being able to quickly manually upload photos, which you can do by pressing the small upload button next to the search bar, or simply dragging photos over the page and dropping them. Google also has a slightly-redone desktop app for uploading photos on Mac and Windows, which you can install on your computer and use to automatically upload from specific folders, cameras and memory cards.
The big picture of Photos
Google has made some big changes to Google Photos as a product as well, including the ability to upload unlimited images up to 16MP (four times what Google+ Photos offered) and videos up to 1080p in size for free. You'll be presented with the question of whether you want to upload at "high quality" (free) or "original images" when opening up either the Photos app or website for the first time, and the choice isn't as easy as it first seems.
The Google Photos support docs indicate that if you choose the free version any photos that are under 16MP in size will be uploaded at full quality and anything above that will be toned down a bit, but it also uses phrases like "essentially look the same" and "larger than typical printing sizes," which indicates that they're still messing with things a bit to cut down on storage costs. If you're worried about what Google is doing to optimize your photos when they're uploaded, just choose the original file size option, and get ready to pay for additional Drive space — it's incredibly cheap nowadays.
Perhaps one of the biggest (and also not highlighted) changes of the move to Photos is the removal of Google+ integration with the service. Of course it's very easy for you to share images from Photos to Google+ directly, but you also no longer need a Google+ account to take advantage of all these photo features or apps. You can also disable the Google+ app on your Android phone and continue to use Google Photos, including automatic backup.
So much of the new Google Photos experience still feels like it's holding on to old vestiges of Google+ Photos, though, and it's clear that Google will be working to improve some aspects of the service over time. There still needs to be a better explanation of where photos are living, how they're shared and what happens when they're deleted, and the Android app still needs a little more work with finer-tuned settings for uploads and managing on-device photos.
That being said, this is a great step toward a unified photo service that "just works" at bringing together all of your photos no matter where or how you take them. It also very gracefully steps away from being a part of Google+, which I think is hard to argue was a bad decision. And while this isn't going to be a choice for those more advanced users who want ultimate control over their photos in a regular folder structure that only they control, the vast majority of normal people who take photos on a few different devices and want to show them off will greatly benefit from trying out the new Google Photos.
Andrew was an Executive Editor, U.S. at Android Central between 2012 and 2020.
Thankfully this app can be used just like the old gallery I have been sideloading on my Nexus 5. I backup to One Drive so really I just want a simple gallery that I don't have to sign into to view the pictures I've taken. It's simple, gets the job done and I don't have to sideload it.

QuickPic is my fav gallery app.
https://www.androidcentral.com/e?link=https2F2F...

I think I tried that but it still relied on another app for the editing or something. I can't remember.

QuickPic's biggest advantage is speed, if you have a large locally stored collection of photos it'll almost certainly load them faster than just about any other gallery app... I've gone back and forth on using it as my main photo browsing app (it's currently not), but I still keep it around for things like browsing a 128GB SD card stuffed full of M4/3 photos, etc.

+1 for Quickpic I've been using for a few years now. Very simple, loads super quick, and just works for viewing photos. Posted via Android Central App

+1 as well... Great app... i don't understand why google+ nutered their app

Same here Android All Day Everyday!

I'm keeping all of my photos in the original version. With 180+ gbs (don't ask me how I got all that storage because I honestly don't know) of space just for pics and documents I have no worries about running out any time soon.

That's a lot of pictures. I have 2.8 TB of video Posted via the Android Central App

You can find out how you got that much space. Then tell us.

Promos from 2 HTC phones and a Motorola phone gave me the majority. I got 2 gbs from doing the security check from Google. October of next year I'll be down to 17 gbs once the promo time runs out. Good cops aren't good if they aren't turning in bad cops

I have 108 gb that I don't know how I got either, weird. Posted via the Android Central App

If you click the buy more storage link on the bottom of Drive and other apps, you will be brought to a page where you'll see your current storage represented as a pie graph. If you hover over that pie graph you'll get a breakdown of exactly where all your extra storage came from and more importantly when it will expire.

I downloaded the app and then realize I don't really need its functionality right now. I deleted the app, but the sync function for sync Google photos in my account settings has not gone away. It keeps restarting no matter how many times I turn off the setting which has been killing my battery all day. Any ideas for a fix other than uninstalling Google play services or my Google account and re setting up from scratch? Posted via the Android Central App

Really. This is BS. If you uninstall Google Photos it still backs up your photos to the cloud (Google Photos website) even though the app is not on your Android phone anymore! Google Photos Backup still remains on the list of Sync items. wtf And you're right, every time you remove the checkmark on Google Photos Backup it comes back after a restart. wtf

Okay, an update. It seems that Google+ has it's own Auto Backup settings which must be deactivated as well. All this fragmentation with all these different Google Apps is a pain in the ass. You would think they could have just one cohesive way to do things. Google+ blows.

I totally understand! I messed with the new photos app all day yesterday. If your not careful it's an auto upload nightmare. Long story short if you don't want this app to take over your life don't sign into it. I'm personally using it as a stand alone gallery app, not signed in. Android All Day Everyday!

I have Google+ disabled on my phone as well, any other ideas? Posted via the Android Central App

they blew it by dropping the auto-enhancing feature, total let down...

Yeah, I loved that feature. I also dont understand why they put the "Video, creations, and google drive" into the search page rather than keeping it in the side menu.

yeah seems like there's room in the sidebar for that.

I just installed it. Not sure what it did before, but within a couple minutes of uploading my camera roll, the "assistant" suggested an enhanced photo. Is this different than before?

In the past it would auto-enhance each photo and allow you to toggle the enhanced from the original if you didn't like it. I thought it worked extremely well and was so simple to use. There must've been some technical issue with continuing that feature in this release, so they dropped it.

Yeah, when Google first showed off the Auto Enhance feature, I assumed it would be a neat trick that doesn't work all that well in general practice. I was wrong, though; it really did a surprisingly good job. Posted via the Android Central App

I also miss the Auto Awesome feature, I hope they bring it back. Posted via the Android Central App

Yeah, what the hell happened. I tried auto creating a movie and sure it'll slap something together, but the ability to trim individual shots is absent. What the heck! Posted via the Android Central App

Totally agree! What the hell happened!?

I still have Auto Awesome on my mobile, but it has "disappeared" from my desktop. I'm going to be pissed when I lose that on mobile. Auto Awesome has been my favorite aspect of Google Photos. I don't understand the divergence as yet. Is it not going to update to the new one? I need to manually download? If that's the case then I'm sticking with the old until the 1s and 0s fail.

Oh man I just realized that they dropped this feature too :(. The auto enhancement of every photo I backed up was the only reason why I went with Google Photos instead of other services. And that toggle button to compare the edited version with the original worked great. Overall I'm very disappointed with the update. Posted via the Android Central App

I'm going to try it out, but my expectations are low. I have 64GB of storage on my phone, and I often find myself without a signal (not a carrier limitation, it's a location limitation). If I can't store locally, I don't use the app. I'd love to find a cloud storage provider on par with Dropbox, Google Drive, One Drive, etc., that actually allows your phone to sync in the same manner (both ways, automatic) like a desktoop, subject to the user choice of WiFi-only or carrier network. Until then, I use my cloud storage of choice, and Foldersync to force it to sync (not as effective as the real thing, but adequate).

Used foldersync in the past to do this, it can sync to a lot of providers, dropbox, google drive etc. https://www.androidcentral.com/e?link=https2F2F...

Once in a while you can get the premium version on Amazon for free too. Posted via the Android Central App

Does this mean I can disable Google+ now? Posted via the Android Central App

"You can also disable the Google+ app on your Android phone and continue to use Google Photos, including automatic backup."

Yrs you can disable Google+ but if your signed on to photos it will still upload everything to Google+. They are heavily connected. Android All Day Everyday!

Andrew, I shared a few pix to Facebook and it behaves just like sharing to Facebook always has. Pictures are viewable right in Facebook, not by following a link. Have I misunderstood your comment there?

Except we've now lost the ability to tag anyone like we had in the old Google Photos and in Facebook

Hm let me clarify that in the post. The behavior is different depending on whether you're in the app or on the web.

Hmm, I see...I was using the Android app for that.

Yeah thanks for the catch, i crossed my lines. Sharing from the Android app shares the actual photo, while sharing from the web just does a link. (Another issue with the system).

On the Android app, the People feature is sick. It can tell our kids apart back to the newborn stage! It must incorporate age estimates and the dates photos were taken. Either that or it refines its face recognition parameters backwards in time in order to figure out which squishy-faced infant corresponds to which preschooler.

The People feature is amazing! it works on the web too, not just the Android app. It found pictures of my niece and nephew (currently ages 6 and 4) dating back to 2011. It recognized them in bike helmets, as tiny toddlers, etc. It identified one of my friends in a group picture with 33 people in the shot. And it got pictures of me in a fake mustache (don't ask :-)).

For some reason I can't search on faces in the search area. I have places and things but not faces?? I've got about 10,000 backed up as well. Posted via the Android Central App

Same here. I try to figure it out but there is no clue at all.

same here i can't search by faces any work around?

Are you outside the US? The Google Photos twitter mentioned this is a US only feature. :( I don't see it here in Canada either.

Yes, it's a US only feature.

It's still uploading all my photos.... Again
I was trying to put photos on my chromecast, I have to share it to google + before I can upload. How do I share privately?
The new photos app needs a "year" view and ability to view geotagged photos on a map. Posted via Android Central App on 1+1

Where did the auto awesome go?

It's part of "Assistant" now.

You can see automatically created items under "collections" and you can manually create them with the + button in the top bar.

Okay, but the dropped the sub menu, that brought up all of the Auto Awesome files Posted via the Android Central App

Thats under creation on the search page

Andrew can you verify about the situation with the photos already uploaded into Google+? Will it stay over there? Will there be some future option to remove those pic completely from G+ but still have it in Photos?

Dont know how they're gonna handle that. Right now, they seem relatively linked.

Is it intended that when you take a screenshot it doesn't show up in the main photos page? It's really irritating, because when I tap the screenshot notification I also don't get the edit option.

Screenshots should show up there, provided you have that folder selected in the settings.

Is there a easy way to back up all folders, without manually selecting each one?

Just selecting the folders manually is the only way. It's just a one-time thing though, once you turn a folder on, everything in that folder will back up until you turn it off.

Then remember to continually go in and add new folders? The old photos app did it without having to check off each folder. Also, when I go to turn on the back up for each folder, after two or three, I get an error saying Google play services have stopped. Never saves the few I've managed to checked off before that and I have to start over.

Actually, after sitting down to mess with it, I've noticed that it only seems to get the play services have stopped error message, when I turn on back up for any picture folders on my SD card. Folders on the phone, I can turn on back up and not get the message.

I have the same problem on android. When I take a screenshot it shows on "album" the basic photo app but does not show in "google photos" this is really irritating. Anyone's got a solution ??

I lost the old eating tools there isn't many editing options in the new update. Me no like

the old editing features can still be found via Google+ (yes even on mobile) It's a bit hidden, but go to your G+ profile, hit photos, scroll scroll to the shot you want, tap it, tap the ..., tap edit. Also going to Google Photos on web, is a different editor than Google Plus editor!
Even though the Google Photos URL is https://plus.google.com/photos
and the Google Plus URL is https://plus.google.com/"username"/photos #fragmentation

Man this got complicated lol I lost my hdr editor what if I want go edit a picture on my phone and want to use the hdr feature where do I go?

I agree, and even posted about it on G+ (https://plus.google.com/+SteveDouglasphoto/posts/DuMEsogM2g2) I don't have an answer to your questions.
But from the web if you go to https://plus.google.com/photos there should be a a dialog box that pops up on the top right to force you back to Google+ photos, and all the traditional edits are there. To edit on mobile, within the Google+ app, the photo must have been shared via Google+ first. If it isn't shared it isn't in the Google+ "system" and can only be edited with the new filters via the "Photos" app.
It really is a mess

Auto enhance hdr and other editing tools are gone. There is a option to edit on snapseed which has some similar tools but not as good as the ones on the old photos app

Thank you for your info. I don't like the new photo app at all and uninstalled it after a few minutes, hoping to get the old one back. Is there a way to do that? The new one sucks and hate to have snapseed installed as well. Any ideas?

or you can download snapseed

Talk about fragmentation - Don't forget about Picasa:
https://picasaweb.google.com/home?noredirect=1 Also don't forget pictures are accessible in Drive. 4 different places to access photos, with 4 different feature sets.

That's true. But at least they don't have 4 different photo storage back-ends. Otherwise we'd be uploading these photos all over again every year when they change their product. They must have planned ahead and built their back-end to handle just about everything so they have freedom to rework the front-end without ticking everyone off. Now Panoramio I'm not sure. I think they plan to allow a migration.

Can someone explain this to me - I must be hungry/tired or something, because this from the article above: "If you delete a photo on your phone, that means you just deleted it from your tablet, your other phone and the website." ...directly contradicts a feature Google mentions in the Play Store description: "SAVE SPACE ON YOUR DEVICE: Google Photos can help you clear safely backed up photos and videos from your device so you never have to worry about deleting a photo to make space." Doesn't that imply that deleting photos on your phone doesn't affect those backed up on the service/website?

Google is going to delete photos off your phone behind the scenes I think. They want to take away management so you don't have to think about it. Just keep adding pictures. But yeah, probably confusing for users. And what if I want to clear all my pictures out to make room for music? How do I do that without actually deleting my photos? Through a file manager?

Maybe. Some clarification would be nice - statements like this (from Mashable) don't help clear things up: "Another brilliant feature Google has incorporated into Photos is Instant Delete. Once your phone begins to run out of space, the app will suggest deleting all the photos stored locally that have already been stored to the cloud, potentially freeing up gigabytes of data."

if it specifically says locally, that's not too bad. I just answered my own question as well, deleting from "Device Folders" will not invoke the "delete all from everywhere"

What I'm wondering is if they delete the photo from everything when you do a delete, how do you keep a backup? I guess it probably doesn't delete automatically from a computer running OS X, Windows, or Linux, but it kind of made me think when they said that.

I think it depends on what app you use to delete the photo. I've deleted apps via QuickPic and Google Photos still keeps a backup...but delete the same image via the Google Photos app and you lose the photo everywhere.

They mean that once something gets uploaded to their service, the full resolution photo is no longer saved on your phone, which saves space on the phone while still giving you access to it when you want it. But if you hit "delete", that photo disappears from everywhere, even the online service. (Of course you do have 60 days to restore it if you want.)

I must be completely dim today, because this doesn't make any sense, either. I've all of my full resolution/original photos from yesterday still on my phone (I'm looking at them via QuickPic) and I've also confirmed that they're on Google Photos in "high resolution".

I think it works the same as the old photos app. You can manually delete from the device, and still have a copy in the back up. But, if you delete from the back up, it will delete your photo on the device, too.

^ This. I just tried it: 1. Trashed a photo on the website, and sure enough, it deleted it from my phone (no longer viewable via QuickPic). 2. Restored it, then deleted it via the Google Photos app on my phone; also gone from QuickPic. 3. Deleted the photo from my phone via QuickPic; photo is still available via Google Photos. So to clarify, I think it might be worth revising the article a smidge to read: "If you delete a photo on your phone *via the Google Photos app*, that means you just deleted it from your tablet, your other phone and the website." It's a minor thing, and maybe it doesn't matter to others, but it would have saved me a little bit of time in wondering/worrying.

Does it do the same thing for the desktop uploader? I've currently had it running on my Mac for 3 days uploading 70,000 photos so I'll be a bit upset if it has replaced my local copies with low res alternatives.

what that means is when you go to delete photos if you go into local photos those are the ones that are on your device, if they are backed up you can safely delete them "locally" and they will still be in your staroge, wherever that maybe.

It's a little frustrating that they started all the at Drive integration... and now albums are missing Google Drive folders. Searching will actually pull up the folder names on mobile, but they are not treated as albums. Though, you can probably argue they shouldn't be, but then I have to recreate albums? There should be an import option or something. Or maybe I should start importing directly into Photos again.

I noticed that Google+ and Google Photos now have different editors. Different filters, settings, etc. The current "Photos" editor has no HDR, no spot selection, etc This is a good example of why it was a bad idea to split the Photos and Streams team. I posted about this on G+ and tagged Andrew in it. I'd love to hear Android Central's take on the fragmentation (or lack of?) Images of what I'm talking about here: https://plus.google.com/+SteveDouglasphoto/posts/DuMEsogM2g2

I like the new app, but it seems like a confusing mess. I don't know where my pictures are any more (cloud-wise). I don't know where to delete them any more. I still have 12gb of Google+ Photos which easily fall into the new Unlimited guidelines, but they still count against Drive storage.
I think I'm going to have to delete two years' worth of Google Photos and just start over. Ugh. Posted via the Android Central App

I really never used cloud backups but the app has improved in usability more than before Posted via the Android Central App

Can this be used as a poor man's Mylio?

Let me get this right so:
1) I take a few pictures on my device. Some are good, some are bad, so I want to delete a few.
2) Google has done me the favor of backing them all up to the cloud as I was taking them.
3) So now I am on my phone and I delete some photos and - FEATURE - they are still on Google +, in my photos. Do I need to go to a browser on a computer to manage my photos? To me this is another Fail. Maybe I'm not getting something- but there are some basic picture/photo management use cases that they have really, really wrong. Bad enough I can't really organize my photos- I can _add_ them to albums, but not actually move them to get them categorized and out of my main photo view. And bad enough that Google tries to categorize them for me with miserable failure and there's no way (not that I can see) to tell it no, that's not FOOD, it's a piece of PIPE. Now this 'feature' too which backs up every photo taken everywhere, regardless of the fact that maybe I want to erase a few of them while working right there on the device and NOT have every photo ever taken backed up to the cloud. Bah.

The things this app has categorized as food.. Smh.. Posted via Android Central App on The Nexus 5

Yes, not being able to organize my photos (or have them ordered by date, as I could a couple of days ago) automatically made me miss the plus sign on the app. This is really a bummer.

I also noticed that it ignores the dates of the images for images that are manually uploaded through the website. I have images going back to 1998, and the properties of the file say's 1998, but once I upload it, the system applies the upload date to it, and the original date is nowhere to be seen.

disappointed that chromecast capability not available...:(

This is a ridiculous omission, send feedback from app to complain. Posted via the Android Central App

I was wanting photos to be completely separate from Google+. I love Google+ but I do not use it to store pictures. The GREAT NEWS is you don't have to sign into photos in order to use it as a standalone photos app. I manually store my photos in folders I created in Google Drive. The new photos app (even when not signed in) has cool editing and sharing features. Yes you can disable Google+ in order to save space on your device and photos is still there. This is a great app but for those who only want to use this as a standalone photos app you don't have to sign in. If you do want to sign in rest assured that this app will auto upload everything including the kitchen sink. Android All Day Everyday!

I truly hate photos and galleries on Android. Why do adverts from apps and games show up in the gallery??? Is there any way to prevent it? Posted via the Android Central App

What phone and carrier do you have? There are no ads in either Gallery or Photos on my Nexus 5 or 10.

That's a bigger problem and you have some kind of shifty app putting ads on things. Google has no ads in its Photos or Gallery apps.

You forgot to mention the huge step backwards in terms of filters and effects. Why cant they just embed their own snapseed is behond me.

Select 'Edit in Snapseed' from the overflow menu. Problem solved. Posted via the Android Central App

Thanx for the writeup. Great job. I can't find any direction on this anywhere: what happens to all of the photos I *already* had uploaded to Google in their (old) standard res? You know, the previous free one? I have the (old) desktop uploader on my file server. Will it re-upload all of them from my file server at a better resolution? And if not, is there any reason I shouldn't just delete everything in my "Auto Backup" folder and then kickoff the (new) desktop uploader?

You need to download the new desktop uploader, it installed over the existing version. It then proceeded to re upload all my photos again, not sure if it did same with videos. Posted via the Android Central App

When I go into search, all I get is places and types. I don't get the people or things like in the demo? Anyone else have this or?

Same here, I think the faces feature is US-only just now? :(