Gear S3 gets Tizen 3.0 update with enhanced UI, fitness tracking, and more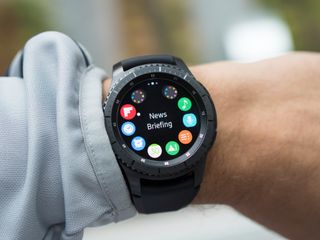 Samsung's Gear S3 was widely considered to be one of the best smartwatches around when it debuted in late 2016, and that's a point that's still often associated with it to this very day. Tizen 3.0 is now being rolled out to the Gear S3 as part of Samsung's "Value Pack Update" (opens in new tab), and there's a lot that's included with it.
Tizen 3.0 ships on the Gear Sport out of the box, so while the features here aren't entirely new, they are things we haven't yet seen on its older brother. One of the biggest improvements with the 3.0 update is an even heavier focus on fitness tracking. With Tizen 3.0, you can use the Gear S3 to continuously monitor your heartbeat with improved accuracy, add food eaten throughout the day to keep track of calories, and use Samsung's Health Fitness Program that allows you to control workout videos on your smart TV and even see your heart rate in real-time on the big screen.
If fitness tracking really isn't your thing, the update also allows you to now create contacts and events right on your watch, view and edit checklists, as well as edit how often you're notified of web and video reminders.
The UI as a whole retains the same look, but there are a few smaller updates that make interacting with it all the more enjoyable. Widgets have been reworked to showcase more information on the Gear S3's circular display, rotating the bezel quickly will allow you to see more options at once when changing your watch face, and you can go from a text message notification right to the reply field by just rotating your bezel as well.
Top this off with the ability to reorder apps based on how recently they've been used, swipe up or down from any screen to access the new Moment Bar, and a more modern look for the companion Samsung Gear app on your phone, and you're looking at a lot of new goodies.
Samsung's Value Pack Update with Tizen 3.0 is available to download now through the Samsung Gear app.
Samsung's Gear Sport is currently the best alternative to Android Wear
Joe Maring was a Senior Editor for Android Central between 2017 and 2021. You can reach him on Twitter at @JoeMaring1.
I have not been able to download it on my Verizon Gear3. Has anyone else been able to?

Anyone? I'm on T-Mobile and I can't update my gear S3 either...

I'm on TMO and updated at 09:00 MST on 11/21

I talked to T-Mobile today, and they said it will roll out this week!

I downloaded it to my phone over WiFI in about 10 seconds, it failed over mobile data...its still sending to my Gear over bluetooth, and at 257MB its gonna be awhile.

We'll probably be waiting for a little longer on the carrier variants. They usually take longer to come out.

I just did it and it worked fine. it is finalizing the update as I type this.

Also, there's a new Gear VR Controller app after you update (you have to search for it in the app store, though).

Its so great now I have the galaxy app store on my watch and my samsung connect so now i can control the stuff around my house from my watch :)

Downloading it now. 258 MB.

Downloading now. Awesome. Tizen FTW

Does it require wifi to update? Got the message this morning about a new version. It stopped on getting connected. When I check it's still on the old version and tells me I have the latest... Don't have my gear connected to wifi.

Nope. I downloaded and installed all while away from the house yesterday.

Just chatted with AT&T - they haven't even received it for their tweaks - ETA - 7 to 20 days- booo

I had zero issues downloading or the long update but my battery life has dropped considerably alresdy. I lost 5% of a full charge in 30 minutes. I will report back tommorow after i recheck all my settings. I am with Telus in Canada.

Hey I also encountered bad battery drain 10% in an hour...and overheating problems on overnight charge, watch stopped charging. Hard reset maybe in order.

The update was ready to download at 7am pst for me. I have been checking for it every day and usually several times a day. You can use songs stored as your ringtone with a couple options of where they start from.
The weather app is super sexy now too.

I guess this T-Mobile version will take a while.

All, or the author... I would like to know, before this weekend holiday sales/discounts if it's worth an S3 or the new sport.

Generaly S3 is better than Sport (except waterproofing). On other hand it is bigger so if you want smaller watch or plan to use it for swimming pick Sport. Otherwise I think S3 is better.

I agree with @dgebauer. You also won't get Samsung Pay with the Sport. The S3 is waterproof enough for me. I shower with it on and have even gotten in the pool with it (for short periods of time). You need to compare the features of each, and then decide what you need/want and purchase the one that meets those needs/wants.

You actually do get Samsung Pay with the Sport, just not MST transmission. NFC only.

Thanks all for the answers...

I've got t-mobile and can't update. I got an update earlier today for the gear app but not a software update

It's still horrible at counting floors

Thinking of buying one for Christmas. Should I go with Verizon LTE version or just the Bluetooth one?

if you always have phone on you just go with BT. LTE is great if you run out without phone. Actually using LTE does drain battery quickly if using as a phone.

Thanks. Gotta think it over. 😁

I run with the BT version...since it has GPS, that's all you need. Will sink up your data with phone, including location after the run. You can download almost 3 GB music to watch for offline listening while on a run using BT headphones. Personally, I dont see the need for the LTE version bc the only real time I would like to leave my phone at home is during a workout or run.

I would have the Bluetooth version if I could do it all over again. The phone application is ok but really do you want to pay 100 bucks more and 1p bucks for service that you rarely are ever going to use? If u hate carrying your phone then I'd say go with one with phone service. If you don't plan on going without your phone, get a Bluetooth version.

No update for me yet in Australia. Might be a while yet...although I'm not linked do any carrier.

no update for me yet either on verizon lte version.update received today wasnt the update i hoped for, probably one to get it ready for this one.

Nothing here in Australia. Mine is a grey import sourced through an Australian company. Others with non-grey imports in Australia also report no update yet.
I wonder if this will effect Samsung Pay. Grey imports like mine are not supposed to work with Samsung Pay using Australian cards even though they they did. Then Samsung Pay in Australia stopped working altogether with the Gear s3 after an update. A critical update was then released to fix it but I didn't get it.
Samsung Pay should be universal.

Can you finally control the shutter of the native camera app?

I wish Samsung would add Bixby to the gear S3. S voice is a disgrace to technology worldwide.
Has anyone heard anything about Bixby coming to gear watches?

Agreed. Or even better....Cortana or Google Assistant.

agreed, Bixby is far better than S Voice and to be honest I like Bixby more than OK Google but they were never meant to be competitors more like companion apps for one another, OK Google works on the simple quick stuff while Bixby can go into the actual settings of the device and change things whereas OK Google cannot. I use both but I would love to see Bixby instead of OK Google on the S3 and get rid of that god-awful S Voice entirely on both devices LOL it's always sucked

Nothing here yet in Canada on the Bell network.

Update it yesterday and I wish i didn't. A few apps doesn't work anymore, and in apps widget when I click on an app it takes forever to open the selected app. I suggest to skip this update...

Check the apps in the Gear app on your phone. They may need to be updated. When I click on the an app in the widget, the app opens immediately. Other than that, just because you are having some issues, suggesting people skip this update is not the best answer. Maybe a factory reset is needed for you. I didn't after I updated and I don't typically recommend a factory update, but the are times when something just doesn't download correctly and a factory reset is the way to go. Also, you need to specify which variant you're using so other users can assist you better. BT, non-LTE version for me.

same here! It gets real hot while charging
It seems to be dying at a faster rate
The apps take a long time to open
The notifications are delayed too
WORST OF ALL ... I HATE HATE HATE not being able to SWIPE DOWN go back a screen!! Now i have to press a button on the side ??!! arrrgghh

QUESTION with new update...how do you go BACK to the previous screen without hitting the button on the side? Before the update I'd just swipe down from the top and it would go back, now that just drags down the quick settings panel (which it would do before only if you swiped from the very top of the screen). Anyway, know how this is done? Also, anyone know if there's a way to disable the long press on the home screen? It gets accidentally pressed all the time (folding arms etc. as my watch is on my right hand (I'm left handed)) and it annoyingly prompts to change faces.

Annoying isn't it???
- gets real hot while charging
- seems to be dying at a faster rate
- The apps take a long time to open
-The notifications are delayed too
WORST OF ALL ... I HATE HATE HATE not being able to SWIPE DOWN go back a screen!! Now i have to press a button on the side ??!! arrrgghh Has anyone else seen the if you go to change watchfaces and rotate that bezel all the way to the right .. the faces get smaller and smaller ... almost to the point where you can't see the watchface ... HOW STUPID!!!

Not sure about everyone else's experience, but battery life on my S3 has been awful since the update yesterday.

On which version? I have the BT, non-LTE version and hitting the button goes back one screen depending on where I am in the app. Swiping down to go back one screen was never a way I used the watch, so I can't help there. Again, hitting the top button will exit you from the "long press" and even if the bezel has turned, pressing the button returns you to the watch face with the watch face you had selected, not the one that is highlighted.

Anyone in the UK got this? no sign of it for me

Hey @bigmsoke79 My Gear S3 classic updated yesterday, it updated the Gear phone application first. HOWEVER battery drain is drastic, I lost 10% in an hour!!! Set it up to charge overnight and woke to a message saying charging stopped due to battery heat too, with only 61% took it off to take a look at settings etc and it dropped to 50% :/ Looks like a reset maybe in order.

OK resetting my gear, it is consistently overheating, to the point it shut the watch down, when charging and exhibiting unexpected battery drain after the 3.0 update. Will report back if this resolves it.

Update factory reset didn't work I know have an overheating watch, Tizen 3 has basically close to bust my Gear as far as battery life i concerned.

And now my S3 is a brick and won't charge at all, nice one Samsung way to waste almost £300 :/ I would advise caution in updating your S3 to Tizen 3,0

Thanks Samsung, battery life was fine until the latest update, then watch suddenly starts dying overnight THEN this morning i charged to 45% and it was dead 3 hours later.
So according to others the problem appears to be the updated weather app draining the battery rapidly. There is a bug in their software code which causes the watch to constantly use your GPS antenna, which burns the cpu, thus killing the battery on the watch. Thanks for nothing Samsung, what a joke.
This is what you need to do:
1) uninstall every gear and samsung health app off your phone.
2) reset your watch to factory defaults.
3) reinstall samsung gear on your phone.
4) soon, your phone will tell u there are updates for your gear s3. ONLY update samsung health for gear. DO NOT UPDATE THE WEATHER APP! EVER!
5) Your watch should be back at only dropping 1 to 2% an hour.

I have at&t model (In the U.S) and it keeps saying the newest update is already installed when I have Tizen 2.3 not the new Tizen 3.0

Just got my Christmas present from AT&T a day late. Tizen 3.0.0.1 for the gear S3.

Unbelievable that Tizen 3.0 removed the 'swipe down' to 'go back' feature..

I would trade ALL of the new features (and I like them) just to have the 'swipe down to go back' feature again.
Android Central Newsletter
Get the best of Android Central in in your inbox, every day!
Thank you for signing up to Android Central. You will receive a verification email shortly.
There was a problem. Please refresh the page and try again.