GameKlip helps merge your Android phone and a PS3 controller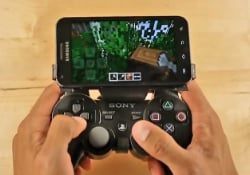 Using a Playstation 3 SixAxis controller with an Android device is nothing new. There have been methods around for a long old time on pairing the two devices for some all out Android gaming action. An app even exists in the Play Store nowadays to make the process even simpler. One aspect remains largely unchanged however, the phone is usually having to lie flat on a surface, or be propped up against something while you're playing. And that's not great.
We saw not all that long ago, a home-made solution designed for a Galaxy Note. It worked like a charm, but making stuff isn't for everyone. That's where GameKlip comes in, with their solution for a variety of Android phones. The GameKlip is simply a clip that allows you to secure your phone to the top of the your SixAxis controller for some gaming fun.
Oh, and as an added bonus, if you own a Samsung Galaxy S 3, it seems that you can use a GameKlip with a wired connection out of the box. No rooting, no third party apps, just plug and play. It should be easy enough to try out on other phones too, since essentially all you need is a USB OTG cable, and the USB cable that came with your PS3 controller. Says the official website:
The GameKlip is available in wired ($23.00 / £15.99) and wireless ($15.00 / £10.49) play versions, and note that no software is included, it's just the clip. If your phone is lucky enough to work with a wired connection out of the box, then fantastic! For the rest of you, the old ways of connecting will still be required. Custom fitted for individual phones, the below are supported by GameKlip:
Galaxy SIII (All Variants)
Galaxy SII (Epic 4G Touch, Sprint)
Galaxy SII (Skyrocket, AT&T)
Galaxy SII (International)
Galaxy Nexus (HSPA+)
Galaxy Nexus (LTE)
Galaxy Note (AT&T)
HTC Evo 4G LTE (Sprint)
HTC One X (All Variants)
And, there's one more thing. The guy behind all this is working on a version for 7-inch tablets. That, we'd love to see. Pre-orders are open now, and there is international shipping available. So, if this is something that appeals, head over to the source link below for the full rundown.
Source: GameKlip via Pocket Gamer
Android Central Newsletter
Get instant access to breaking news, the hottest reviews, great deals and helpful tips
So 23$ for a plastic clip & no software?
I'll pass...I'll stick with my dual-Zeemotes

So"supported" devices means, devices that fit in the clip, not, known supported for wired devices. I will have to try wiring my Verizon GN to a remote and see if it works. Already rooted my N7 to get it to work wirelessly.

I'm still waiting for an add-on gamepad like the one featured in the wikipad. That's when I'll bite on a gaming add-on (for the N7, that is)

This is interesting, but I agree it's probably more than I'm willing to pay for this convenience (as cool as it is). Also, my device isn't "supported". I've heard people mention using PS3 and Gamecube remotes but I'd want a more substantial controller. Would the PS3 or Wii Classic Controller be a better choice?

Who wants to start Kick starter project to develop a true universal Android gamepad. Anyone care to join me.

There already is one... It's called the WikiPad http://www.engadget.com/2012/07/31/wikipad-specs-get-real-10-1-inch-1-28...

https://www.androidcentral.com/e?link=https2F2F... Works just fine on the HTC Evo 4g LTE and the Acer Iconia A200. Alot cheaper than $20 bucks. =p

Really cool, but the pricing for just one piece of plastic is a bit much... though I understand this is a niche specialty item and it's really cool! One for the Nexus 7, I just may get it!

So my phone is not
rooted i can still play right? But not wireless...
Android Central Newsletter
Get instant access to breaking news, the hottest reviews, great deals and helpful tips
Thank you for signing up to Android Central. You will receive a verification email shortly.
There was a problem. Please refresh the page and try again.