Buy a Galaxy S8, LG G6 or LG V20 and get one free with this special deal from T-Mobile and Android Central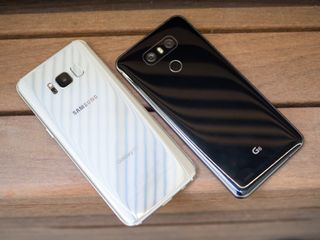 T-Mobile and Android Central are ready to give you a free phone! This deal for the Samsung Galaxy S8, Samsung Galaxy S8+, LG G6 or LG V20 gets you a free phone when you buy one and set up service at T-Mobile. Who doesn't love free phones — especially ones this great!
Here are the details:
This deal is only available on the installment plan with T-Mobile.
If you're a brand new customer, you can take advantage of this BOGO deal by purchasing both phones on the Equipment Installment Plan and activating on T-Mobile ONE.
If you're an existing customer, just choose your phone on the Equipment Installment Plan (EIP). Next, you'll have to add one voice line + unlimited data to this plan.
Finally, the big money payback on this BOGO deal comes when you submit a rebate online. You get the refund on a prepaid MasterCard for the device of lesser value. So, up to $500 if you go for the LG device and up to $790 if you grab the Samsung Galaxy.
How to get the rebate
Purchase your phones and activate them per the rules above.
Complete the rebate online and enter the promo code 17JUNESAMBOGO and supply the information necessary. You need to do this within 30 days of activation, though.
You should have your money within 6-8 weeks. Cha-Ching!
The fine print
There are taxes on any device you go with and you'll have to pay that up front regardless of the plan or phone.
If you get on the EIP deal, you have 24 months to pay the device off.
Rebate on the second device will take up to 8 weeks so be sure to fill out your rebate form as soon as you activate your new phone!
Get the Android Central Newsletter
Instant access to breaking news, the hottest reviews, great deals and helpful tips.
This whole add-a-line nonsense sucks.I would have hopped on one of these deals in a heartbeat if they didn't require that.

Every time I see a deal that relies on the subscriber adding a new line, I imagine the carrier saying: "We'll make more money on a new line of service if we give the phone away rather than discounting one device to 50% off." If the cost of service is 60 per month for 1 line, then its $1,440 of service for 24 months. Split that in half and the device gets paid for, and the subscriber pays the carrier for $700 for 24 months of service.

You only have to keep the new line for 3 months and you're free you cancel the line as long as you pay off the phone attached to the line. You can use your BOGO rebate card to pay the phone off if you wish.