With the Galaxy Z Fold 3, foldables are finally ready for the mainstream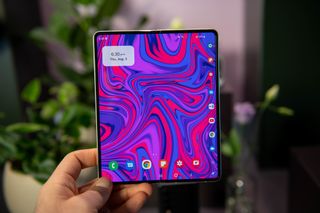 (Image credit: Daniel Bader / Android Central)
It is already nearing two years following the launch of Samsung's first foldable phone, the Galaxy Fold. The phone was a technical marvel thanks to the hinge and the fold-out screen, but it wasn't very practical; dust got into the hinge way too easily, and the screen had a noticeable crease down the middle.
Samsung took the learnings from the Fold and made several key changes to the Galaxy Z Fold 2. Last year's foldable had better build quality and a more durable hinge, brighter screens, and better battery life. The Galaxy Z Fold 2 was at the cusp of breaking through to the mainstream, but it was still missing that final bit of polish that distinguishes a great phone from a good one.
With the Galaxy Z Fold 3, Samsung is taking foldables mainstream. Samsung isn't reinventing the wheel here; the Z Fold 3 shares the same overall design as its predecessor, but there are a lot of under-the-hood changes. Both the outer and inner screens now feature 120Hz refresh rate, the phone has IPX8 water resistance — a much-needed addition — there's a new plastic coating over the screen that mimics the feel of glass, and it now works with the S Pen. It has the makings of one of the best Android phones of 2021.
Simply put, the Galaxy Z Fold 3 feels like a mainstream product you can reliably use daily, and not just a tech showcase. Samsung clearly thinks the same; after all, it is launching the Z Fold 3 in lieu of the Note series, and while the Note portfolio never sold as well as Galaxy S phones, it was still a huge category for Samsung.
So the move to ditch the Note series and go all-in on foldables shows how confident Samsung is in its latest products. Samsung had two years now to refine the design and fix reliability issues, and it has managed to do just that with the Galaxy Z Fold 3. We can easily draw parallels between the foldable and the Galaxy S3 from 2012; while the Galaxy S and S II were great in their own right, they lacked finesse. That changed with the introduction of the Galaxy S3, and the phone went on to sell over 70 million units globally.
Samsung followed a similar trajectory with the Galaxy Note series a year later. The Galaxy Note 3 introduced a large 5.7-inch 1080p display and a new design with a faux leather back, paving the way for phablets. Eight years later, Samsung is trying to achieve something similar with the Galaxy Z Fold 3.
IDC Research Director Navkendar Singh agrees with this reasoning. "We have seen several times in tech products that version 3.0 is generally the finished product. This is when all limitations are addressed, all consumer feedback is solicited, and interactions with the product come together."
Singh points out that foldables will deliver the next wave of innovation in the smartphone segment, and as use cases evolve, fold-out screens will be the differentiator: "As use cases see multiplication, more content is consumed and created on the phone, big screens will come in handy and consumers are looking forward to it."
While it's unreasonable to assume that the Z Fold 3 will come anywhere close to the sales figures of the Galaxy S3 or the Note 3, it should allow Samsung to build a sizeable lead in the foldable category. For one thing, the lack of a Galaxy Note device and the addition of S Pen make the device the ideal choice for those looking to upgrade their phones, and while it is still prohibitively costly at $1,800, it is debuting for $200 less than its predecessor.
Combine that with a generous trade-in program and carrier partnerships, and you're not looking at spending too much more monthly for the Z Fold 3 versus the Galaxy S21 Ultra, OnePlus 9 Pro, or other flagships.
What ultimately makes the Z Fold 3 an enticing option for me is the fact that I can use it with the S Pen, the smoother hinge mechanism, and the new plastic layer on the screen. The hinge on the Z Fold 2 felt stiff, and the TPU plastic layer over the screen was prone to scratches and wasn't particularly great to see. With Samsung fixing these issues and adding 120Hz panels for both the inner and outer screens, it has delivered a foldable that I'm finally interested in using as a daily driver. Samsung will be hoping that millions of users feel the same way.
A new era
(opens in new tab)
The ultimate phone for 2021
The Galaxy Z Fold 3 features a more durable design, 120Hz panels for the inner and outer screens, a smoother hinge, and IPX8 water resistance. This is no longer a tech showcase, but a consumer product that's reliable for day-to-day use. The S Pen integration means now is as good a time as any to make the switch to a foldable.
Get the Android Central Newsletter
Instant access to breaking news, the hottest reviews, great deals and helpful tips.
Harish Jonnalagadda is a Senior Editor overseeing Asia at Android Central. He leads the site's coverage of Chinese phone brands, contributing to reviews, features, and buying guides. He also writes about storage servers, audio products, and the semiconductor industry. Contact him on Twitter at @chunkynerd.
Mainstream at $1800??!! You and Samsung are smoking crack. That or both of you have no clue what mainstream means. The biggest factor in making something mainstream is cost. Most phone buyers spend ~$500 or even less on their phones.

So you'd expect to pay $500 for a Z Fold 3? Who's smoking crack again? lol

Too expensive rather put that money to a better investment ill see what the pixel brings to the table not going to pay over 1000 for a phone.

Yeah this is a hard no! far too expensive for a phone as nice as it is. If their long-term plan is to move Note fans over to this they have to really really work on the pricing.

Features. They really need to work on features. The Fold lacks the convenience of the Note, the battery life of the Note, the SD card of the Note, and the cameras of the Note. It will NEVER replace the Note, and Samsung is kidding itself for even thinking it could.

Only folks with money to burn are going to shell out that crazy price.

I traded in 2 phones (Galaxy Note 10 Plus and Galaxy Note 9 cracked) and bought the Galaxy Z Fold 3 5G 512GB for $996.12. I also got the Galaxy Buds2, Graphite, Galaxy Z Fold3 5G Flip Cover with S Pen, Blackand 35W Power Adapter Duo. The total for everything, Z Fold 3 plus accessories, was $1,143.38 financed at $31.96 a month. The price of everything, even the monthly financing, is cheaper than my iPhone 12 Pro Max 512GB and Surface Duo 256GB. The key to getting any expensive phone for the price of a cheaper phone is trading in your current phone and possibly an additional older phone if you have one. While $1,000+ isn't cheap, neither is an extra $32 a month, it isn't as expensive as the initial sticker shock of $1799 for just the 256GB Z Fold 3 without trade ins.

No micro sd slot for that much money and being touted for multi media and power users- Pass. Note 20 Ultra is was cheaper and has a micro sd slot.

So you've traded in two phones you paid Samsung loads for and then spent some extra money on more Samsung stuff? Wow!.
It would take 36 months to pay off that amount at the rate you gave if it was 0% interest, which of course it isn't. Just how long have to commited to paying for this? And what is your final total?
There's absolutely no way this is worth it, 3+ years paying for a device that will be outdated and probably scruffy at best by the end of year 1 is crackers.

it actually is interest free. Also having the option to pay it in spans of 36 months doesnt mean one will take that long. i took the 36 months no interest also paied around 980 after taxes. traded in a old note 10 and a broken s10 that my brother was going to throw away. i will pay off th phone in one payment if i want but i will probably just make a few payments instead of just dropping 1000

I don't see the value, either. Especially reading there's no SD slot... I left the Apple ecosystem because of overpriced hardware...If Sammy priced this closer to 1000, maybe, MAYBE...

I'm not saying people should be paying $1800 for these phones. But, $1800 isn't exactly an unreasonable price for the phones. The phones just cost more to produce, and there is a lot of R&D going into the screen. Further, even if there was price parity with other flagship phones.. it wouldn't be the most popular device on the market yet. That means they have to make more on each sale to keep ahead.

Given all that seems reasonable, why does Samsung even bother to make them?

Maybe they see a future that we don't yet. They were right about the Note when everyone else was scratching their heads. I can see the Z Fold selling out...

Selling out of what? I know plenty of Note users but have never seen a Z fold except in the stores. Maybe you will be right however to each his own.

At the beginning though, I heard the same sorts of things about the Note. But of course everyone has a short memory, and thinks the early Notes weren't mocked and laughed at as overpriced, oversized and useless.

i bought the first note and thought this is the future. i can see the fold being the future and the next note series. people made fun of my huge ass phone but now all those who made fun of me forget they made fun of it and are enjoying their notes or iphones plus what ever it called with those huge screens.

Eighteen hundred bucks for less than 0.4" of extra display over a Huawei Mate 20X?
Of course it's not worth it or anywhere near mainstream, foldables are utterly pointless.
And yes, somebody will come up with a reason to justify this but spending that much on so little when it requires added fragility due to extra points of failure, is ridiculous.

The six people that fit the audience for these phones probably ordered one yesterday. Meanwhile the Note folks that are clamoring for an upgrade are pissed. Samsung just gave a gift to Apple and Google.

Why would they be pissed? Most Note fans already own one.

no one is pissed because Samsung already said they were skipping this note due to chip shortage. people with notes are happy i for one am going to try the new fold ive had every note except the 7 im going to try this and if i dont like it i will get the new note next year.

I've been taking advantage of AT&T 's NextUp plan to trade in both the original Fold and Fold 2 after making 15 payments. I should receive the Fold 3 on 8/26. The 15 payments result in about a $1000 investment per phone. IMHO the Fold 2 is a great device and very durable. I've used mine as my daily driver, as it is my only phone. Recently, I've noticed some fatigue wear on the crease but it has not degraded the viewing of content or operation of the phone in any way. I'm sure all phones show some wear and tear after constant use too. It seems like the Fold 3 with S Pen compatibility should create more sales. I'm pretty sure that once people experience using the Fold 3 as their daily driver; they will have a hard time going back to a slab phone.

Sorry, might be a nice phone, but $1800 isn't mainstream.

after trade ins the phone isn't 1800

No way are foldables are ready for mainstream at their current high prices.