Galaxy S8: What's the difference between U.S. unlocked and carrier versions?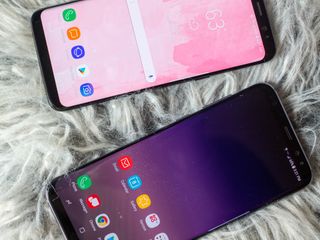 Now that it's officially available to purchase, there are plenty of reasons you should consider paying the full price for the unlocked Galaxy S8 over a subsidized one from your carrier. Not only are you freeing yourself from the relative shackles of a contract with a carrier, but you're also signing up for an easier experience. Having a carrier loom over your device means that it's also included its own stuff right out of the box. By virtue, the unlocked Galaxy S8 is simply pain-free.
Here are the main differences between an unlocked Galaxy S8 and a Verizon model.
A bloat-free setup
By far, the unlocked and untouched version of the Galaxy S8 offers the quickest setup process of any of the carrier models. In this version, you'll only have to walk through the Google account login screen for Android, and then once more to log in to a Samsung account. On a carrier-branded version of the device, however, there is usually a third login screen added on, typically towards an account associated with the carrier. On both T-Mobile and Verizon variants of the Galaxy S8, for instance, I was asked to log in or sign up for an account with their respective online account services. I opted out both times.
Some people like what their carrier has to offer. Verizon, for instance, will bundle in the NFL Mobile app on the Galaxy S8 — and keep it there. If you're truly a fan of American football, however, this sort of forced inclusion probably isn't an issue. But in most cases, it feels like mandatory advertisement living in the app drawer.
Opting out of logging in with your carrier won't opt you out of the carrier's apps either, and that's another mark in favor of the unlocked Galaxy S8. I was almost awestruck at the relative lack of bloatware in the app drawer right after logging in. There is very little that required tinkering with after the fact, save for a lone Facebook icon that will never leave the smartphone. Sorry to say, but paying full price for the Galaxy S8 without a carrier contract won't pay for a wall between you and Facebook. The app can be disabled, at least, but it can't be deleted without some trickery. At the very least, it's only a mere 12KB of annoyance (since it's not actually downloaded until you tap on the icon for the first time).
The Galaxy S8+'s app drawer on Verizon (left) versus the Galaxy S8 unlocked (right).
There are also Samsung's apps to contend with, though if you're staying on the Samsung wagon perhaps you should consider leaning into the company's ecosystem. The Samsung Gear app, for example, comes pre-included so that the phone is ready to go with the Gear 360 right out of the box, while Smart Switch is exceptionally helpful at migrating data from the old phone into the new one. When you're done with either of the apps, you can delete them entirely to reclaim that space.
The apps you can't delete from the unlocked Galaxy S8 are the Samsung browser app, the Galaxy Apps store, an included file browser, and Samsung Connect. You can't disable them, either, as they're effectively a major part of the Samsung experience. The My Files file browser app is at least useful for finding files lost deep in the abyss of the smartphone's file system, or dealing with external storage. Dupes still exist here, too; in addition to the two app stores that come preloaded, the unlocked Galaxy S8 comes with two unremovable email clients and two browsers.
Free to be you
Perhaps the best reason for buying an unlocked smartphone is that you're nearly truly free — free to be on any network you choose, anywhere in the world. All the major U.S. networks are supported on the unlocked variant of the Galaxy S8 and S8+, including Verizon, AT&T, T-Mobile, Sprint, and many of their related MVNOs. The device will work overseas in different countries, too, and you won't have to worry about calling anyone about your device before getting on the plane.
Update anxiety
The only downside is that if you're a person who is consistently concerned about receiving timely software updates, there's still some doubt concerning whether the Galaxy S8 will be on frequent schedule. Last year's unlocked Galaxy S7 and S7 edge variants in the U.S. were severely behind the major carriers on the update calendar.
The price gap
Still, if a bloat-free Samsung smartphone is one of your goals in life, the unlocked Galaxy S8 or S8+ is worth the entirety of the cash it requires to purchase. If you're suffering from sticker shock, however, and are still considering purchasing the device through your carrier for the discount, consider the fact that stores like Best Buy and Samsung's online shop offer similar monthly financing.
See at Best Buy (opens in new tab)
Android Central Newsletter
Get instant access to breaking news, the hottest reviews, great deals and helpful tips
Florence Ion was formerly an editor and columnist at Android Central. She writes about Android-powered devices of all types and explores their usefulness in her everyday life. You can follow her on Twitter or watch her Tuesday nights on All About Android.
Should make an article on why your buying the wrong version of gs8/+

One will get slow carrier updates, the other will get updates months later, if at all? :)

Meanwhile you're buying useless bargain basement low budget handsets to save money cause you can't afford the best.

I just ordered the unlocked GS8 from Samsung's website, and one thing you didn't quite mention is that it's actually cheaper than the carrier versions, and you may be able to get a better trade in offer through Samsung versus your carrier. Ended up paying around $580 for mine, and was still able to finance through Samsung.

Difference is the carrier version will get monthly updates and the unlocked version will always get updates last. Since samsung has a deal with the carriers. Supposedly all the major carriers have to sign off before Samsung can release the unlocked firmwares. hence why the s7 unlocked got nougat about 3 months later than the carrier versions...

Ok what about the international version differences? Exynos...

Exynos destroys the sd835 version

You are obviously lost. The Snapdragon 835 has better battery life and plays games better than Exynos version.

I had to get the AT&T version to get WiFi calling and texting. That is another difference between uocked and carrier based.

On att yes. Not t mobile. Those features work on t mobile with unlocked devices if they are capable of it.

This, same experience here on several unlocked phones when tmo

This is the first year in 10 years I will not buy an android phone; carrier or unlocked that is not a Nexus or Pixel. Updates are a priority to me, and it just saves on the frustration. I will only buy Pixel and iPhone going forward. The S8 has really not tempted me, which was a bit surprising to me.

My sentiments exactly. And I've always bought Samsung before... 170+ days to get the Nougat update for my 7 Edge - just sealed the deal on me going in another direction.

Ditto. I still have a year before I can get a new phone, but my S7 edge is my last Samsung.

Completely agree with @planoman & @Windsailor. Sent from my iPhone 7 plus or Pixel XL.

Yes, it should work out of the box with phones that support it. It's not that AT&T is just refusing to enable support for these phones - they are specifically blocking these devices.
You can see this by putting your SIM in an iPhone or AT&T branded phone, then moving it back to your unbranded phone. You'll see the "enhanced calling" settings in the Android settings (which includes the VoLTE toggle) for a few minutes until the network realizes your IEMI is non-AT&T branded and disables VoLTE. i am in same situation,maybe att is going to change the rules or using 2 carrier.

Biggest difference is unlocked s8 does not work with gear vr

For folks on T-Mobile, I'd strongly recommend avoiding the unlocked one. Some things from my own experience that were not mentioned that make the T-Mobile version much better. 1. T-Mobile has the least amount of bloatware included, and frankly you can disable any of it with Package Disabler Pro for Samsung.
2. The unlocked versions of the S7 Edge was not well tuned for Band 12. It picked up other, weaker bands and latched onto them. This resulted in slower speeds, and terrible battery life along with a very hot phone. Number 2 above happened to me with 2 separate unlocked versions of the S7 Edge.

Good to know... Feedback like this - also pushes me toward the Pixel line for my next phone. Or to Apple - which I really don't want to leave Android. Nobody is perfect - but to deliberately modify the hardware between the locked and unlocked versions​ - is strongly debatable... I'll leave it at that.

I hear you, although I don't think it's intentional. In this case, T-Mobile bet big in Voice over LTE ahead of other carriers in the world. Instead of fixing their GSM network coverage, they invested heavily in Band 12 LTE in the US. The result is that they get better results when they tweak their phones to look for Band 12 first in most major cities. I tried the iPhone 7 Plus on T-Mobile, and it is a great phone in many ways, but because all iPhones are essentially identical, and not tweaked to any specific LTE preference, in my area, 90% of the time, the iPhone 7 Plus would latch onto a weaker GSM signal of it found it first instead of Band 12. I ultimately returned the iPhone because of that. I simply couldn't get it to work well even with extensive support from both T-Mobile and Apple. For what it's worth, I had no such problems with the Pixel XL when I tried that. It worked very well regardless of location, and it clearly also wasn't specifically tweaked to T-Mobile. I just felt it didn't have enough for it's cost at the time, and was very unimpressed with the hardware, the ease with which the back glass scratched etc.

This is great feedback, just understand not all unlocked phones are created equally. Ie none of the issues described affected me on a mate 9 or one plus 3. YMMV

Completely agree. I have also used a Mate 9 and OnePlus 3t, and both worked flawlessly on T-Mobile in the same exact locations where I had problems with both the unlocked S7 edge and iPhone.

No one ever mentions in the reviews, but does the FM radio work in the unlocked version? My last two Verizon phones (Galaxy S4 and Moto Z Force) are both locked down. I'm guessing that lockdown is done by Verizon. Maybe Samsung and other manufacturers also lock it? I think it'd be nice to use the NextRadio app, but can't with my current phone.
Android Central Newsletter
Get instant access to breaking news, the hottest reviews, great deals and helpful tips
Thank you for signing up to Android Central. You will receive a verification email shortly.
There was a problem. Please refresh the page and try again.