Nougat is now available for the Note 5 on all major U.S. carriers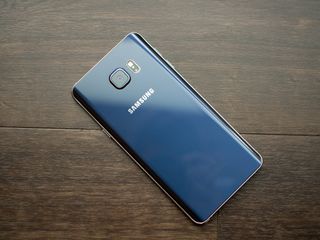 Update, April 24: It looks like T-Mobile has rolled out Android 7.0 Nougat to its Galaxy Note 5 units, too! Go get it!
Three of the four big U.S. carriers are rolling out Android 7.0 Nougat to the Galaxy S6, S6 edge, S6 edge+ and Note 5 over the week, much to the delight of impatient users everywhere.
Sprint and Verizon were first out of the gate to bring Samsung's 2015 suite of phones to its latest version of the Samsung Experience, which improves the design of the UI and upgrades things like notifications and multitasking. AT&T followed shortly thereafter. Here's a look at what to expect, as seen on the Galaxy S7.
Here are the phones that have received updates so far:
Galaxy S6: Sprint
Galaxy S6 edge: Sprint
Galaxy S6 edge+: AT&T, Verizon
Galaxy Note 5: Sprint, Verizon, AT&T, T-Mobile
No word on when the T-Mobile variants will get Nougat.
Daniel Bader was a former Android Central Editor-in-Chief and Executive Editor for iMore and Windows Central.
Unlocked snapdragon s7 is still stagnating as hell.

Yeah, that is so weird. Really makes you think twice about buying an unlocked Samsung phone.

Actually, I won't think about it at all anymore. I'm generally patient waiting for these things, but this is just insulting treatment by Samsung.

Just switched from a Verizon s7 to an unlocked s7 edge... missing nougat but that phone had significant battery drain issues, Gs7 edge FTW.

Never it seems. My Note 5 is still sitting on October security even. No more Sammy for me. That's beyond crazy.

For Fido, Nougat, end of April for S6 according to their site.

I got nougat update on my Telus Note 5 about a week ago. That also changed my security update from November to March.

Got the update on Friday from rogers

My Note 5 Verizon updated last night, Love It!!

Note 5 on verizon? Must be anybody else's but not me.

A staggered release. Try rebooting your device and then checking for update.

Kicked the system update in the butt. Now I have updated to an already outdated Android version, hahaha! But all looks good and it's cool! 👍

Nougat is the most recent release. Would you *really* prefer a bug-filled O?

7.1.2 I want. 7.0. we got. And March security, where it probably will stay for the rest of its life!

I remember when Verizon used to be the slowest in getting updates

Got mines with AT&T last night...

Which phone? I'm still waiting for AT&T S6.

The update makes the S6 feel so much more smoother. And battery management is definitely better. I got more storage back, and I'm loving the new emojis. Overall it was worth the wait for me at least. :)

I'm alittle disappointed in TMobile for the fact they have the least amount of bloat on Thier devices and yet have the longest wait for an update..I can only imagine it has something to do with WiFi calling

I wonder if some of that is because Samsung is catering to the other carriers first? I'm annoyed by this as well. Last check on the update page for the Note5 on TMo it is still in manufacture and not even to carrier testing. EDIT: I stand corrected; the TMo page has updated to "T-Mobile Testing" so it is getting close!

Note 5 Verizon downloading right now!

They announced the S6 getting it in the UK a month ago, and still no sign of it for me! Still on 6.0.1...

I pushed the official OTA to my ATT S6 Edge via ADB about a month ago. (Thanks XDA!) The update makes the phone feel fresh again for sure. It made me hesitate on preordering the S8. I was convinced ATT wouldnt push this until after the S8 was available. Haha.

Still no Nougat for the ATT regular S6... I'm not second guessing pre ordering the S8.

Please where did you download it from

Upgraded my GS6+ on Sprint last week.

Anybody got it on the Verizon regular s6 yet?

Yeah I don't understand why the Edge got it and not the regular for Verizon.

That isn't the S6 Edge. It's the S6 Edge+ which is a different phone. The S6 Edge on Verizon doesn't have it yet.

Why do you keep saying that?

AT&T Note 5 update was waiting for me when I woke up this morning.

T-Mobile update page says Nougat 7.0 https://support.t-mobile.com/community/phones-tablets-devices/software-u...

Was hoping my Note 4 would've mysteriously appeared on there, but it hasnt

Ahh the Note 4... the last good Samsung phone!

T-Mobile Galaxy Note 5 Nougat update is now available through smart switch on PC.

TMobile will release just before the Note 8 is scheduled to be released. Ridiculously long wait time on this forgotten device.

Still waiting for the US version of the unlocked S7/S7E. This has gotten utterly ridiculous. WTF, Samsung?

No updates for S7 edge in Canada. Bullshit!

http://forums.androidcentral.com/samsung-galaxy-s7/777698-telus-canadian...

Got it. Love it. Phone runs much much smoother. For now.

Downloaded on my Note5 a few days ago. Currently downloading as I type this on my wife's S6. Both on Sprint.

Some positive news for those of us with a T-Mobile Note 5. The Software update page indicates that Nougat is now in carrier testing for T-Mo. Yesterday it was still "Manufacturer" so that is a step forward. We must be close to finally getting some tasty Nougat.

T-Mobile Galaxy Note 5 Nougat update is now available through smart switch on PC.
Downloading now

My wife's Note 5 is still waiting for T-Mo to get on board.

T-Mobile Galaxy Note 5 Nougat update is now available through smart switch on PC

Note 5 AT&T updated this morning an hour after I preordered s8+.

What do you think of the update on the Note 5? Still feel worth keeping your preorder for the S8+?

Wish Tmo would hurry up. Already not happy with them being the only carrier not offering the S8+ with 0 down.

Surely the ' UnCarrier ' would have been first out the gate o_0 - Google REALLY needs to COPY Apple in terms of software, I am so bored with Android stagnant software ' updates ' - if Apple wasn't so corny and filibusterer , no if Apple wasn't so Rotten, if Apple didn't mean something to people 'status quo' I kinda prefer their approach to software unison ....but I just can't do it

I'm using a note 5 on Total Wireless (Verizon MVNO). Will I receive the nougat update wirelessly or must I wait for a usb updating package?

You can flash the Verison firmware manually via PC. TW wont be releasing anything.

Digging the new "giff maker" option on stock video player.

Got it last week on my Sprint Note 5. It was a little buggy, but after a factory reset its fantastic. Significant improvement to battery life.

Nougat received a couple days ago on Note 5 (Verizon) with March 1 security patch. So far so good.

Runs well on my AT&T Note 5, The device seems to handle it well. I had not seen any issues with performance or Apps. Cheers,
BR

PLEASE EDIT THE TITLE..... STILL NOT AVAILABLE ON T-MOBILE........ COMING THIS WEEK... BUT NOT YET..........

Download and install Samsung Smart Switch and plug your Note 5 into your computer... it'll prompt you to install the update. It's been out since Friday. https://www.androidcentral.com/e?link=https2F2Flink...

It's available through smart switch as the other person said for T-Mobile, had it running over the weekend, I tip AC about it but I didn't see any post.

I have just noticed since I got Nougat update from AT&T that the Samsung keyboard has commas on both sides of the space bar (rather than a comma on one side and period on the other). Anyone else seeing this? Very annoying for typing in addresses.

Never mind, I figured it out.

People still care about Samsung updates?

Yep. 90% of the Android world!

The wife's VZW Note 5 got the Nougat, last weekend. The battery life has improved, which was very quick draining, all of a sudden and the sensors returned to operation.
Just prior to the Nougat getting to her Note 5, the auto brightness and screen rotation stopped working.

Well tried to use the smart switch for my Tmobile N5... It says the update is available but will not download...

Got my update on TMO Tuesday morning. Running pretty smooth.
Android Central Newsletter
Get the best of Android Central in in your inbox, every day!
Thank you for signing up to Android Central. You will receive a verification email shortly.
There was a problem. Please refresh the page and try again.