Gadgets of the week: Neato BotVac, Merge VR Goggles, and more!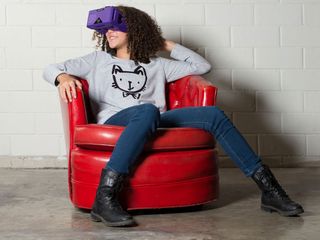 This edition of Gadgets of the week includes some enticing products that include the Misfit Shine 2 wearable, Neato's Wi-Fi robot vacuum that's controlled from the Neato app on your Android device, the Ditter U32 Android TV Box that supports 4K ultra high-def video, Merge VR Goggles that offer 360-degree video, and a brand new charging dock for the 2nd gen Moto 360. Let's dive in, shall we?
Merge VR Goggles
These soft, flexible foam goggles are designed to fit comfortably on your face and work with most Android and iOS devices up to approximately 6.22-inches. Download any VR-compatible apps to use with the Merge Goggles and enjoy the immersive world that this headset provides. On top of the headset are left and right buttons that allow you perform actions like run, jump, or steer. These goggles can take a beating too, thanks to the rugged foam unibody design.
Pre-order for $79 at Amazon (opens in new tab)
Misfit Shine 2
The new Shine 2 wearable from Misfit is an upgrade from its predecessor featuring a 3-axis accelerometer and magnetometer sensor that allows it to more accurately track your daily activities. Using Bluetooth 4.0, the Shine 2 syncs to your Android device and uses a feature called Misfit Move that notifies you when you've been inactive for an extended amount of time. The design of this new model is slightly thinner than the original yet doesn't skimp on the battery life — which lasts an impressive 6 months. The colored ring of LED's on the face allow you to tell time, and the type of notification by what color lights up.
Pre-order for $99.99 from Misfit (opens in new tab)
Neato 945-0205 BotVac Wi-Fi Robot Vacuum
If you're all about robot vacuums, the new Neato BotVac is one to check out. This Wi-Fi enabled device connects to your Android smartphone and uses SLAM technology to avoid obstacles, navigate from room to room, and vacuum in methodical patterns rather than just bumping around — returning to its charging base when needed. Users can control the Neato BotVac straight from their device, directing as you desire, or activate the unit remotely while you're away at work to start cleaning before you get home. A handy piece of tech to have around the house, but it definitely comes at a steep price.
Pre-order for $699.99 at Amazon (opens in new tab)
Ditter U32 Android TV Box
The U32 TV Box runs on Android 5.1 Lollipop and is powered by an Intel Bay Trail CR Z3735F chipset that features an octa-core CPU and PowerCR G6110 graphics. It supports 4K ultra HD video and packs 1GB of DDR3 RAM with 8GB of storage. Whether you're browsing the web, streaming video, or gaming, the Ditter U32 TV Box can handle it without a hitch. Best of all, it's reasonably priced at just over $57.
$57.50 at GearBest (opens in new tab)
2nd Gen Moto 360 Charging Dock
If you need an extra charging dock for your 2nd gen Moto 360, you can now grab one straight from the Google Store. This wireless charging cradle is designed exclusively for all sizes of the 2nd gen Moto 360 watches and automatically turns your display into a clock while it juices up. Included with the charging dock is a USB charging cable for connecting to a charging block or USB port.
$39.99 at Google Store (opens in new tab)
What's your favorite Android gadget?
Have an Android-friendly gadget you're particularly fond of that's up for grabs this week? Share it with us in the comments below or let us know which gadget we've listed you're most excited about.
Ha, I was hoping to find some suggestions in here. Posted via the Android Central App

That android TV box... 4K UHD with 1 GB of RAM? Browsing the web and streaming video sure, but I don't think it'll hold up to much gaming. Posted via the Android Central App

I'm just so weird about android TV right now I've almost bought one like three times but from what I've seen its slower to cast to, and my ps4 does Netflix great as well, what I want from Android TV is Hdmi pass through so I can plug my directv box into it then I'm sold. Posted from my Nexus 6/Nexus 7 2013/Surface Pro 3

I don't think that's an Android TV box. It's a TV box running base Android, not the Android TV OS with leanback launcher.

Will that TV box stream content from my downstairs pc? My WD TVLive is giving me all kinds of problems and was looking for a replacement. Price is right and I do love Android. Posted via the Android Central App

Would love some good wireless Bluetooth speakers find inexpensive head phones and boxes that give you the most bang for your buck.
Android Central Newsletter
Get the best of Android Central in in your inbox, every day!
Thank you for signing up to Android Central. You will receive a verification email shortly.
There was a problem. Please refresh the page and try again.