Fox Sports Go now available on Amazon Fire TV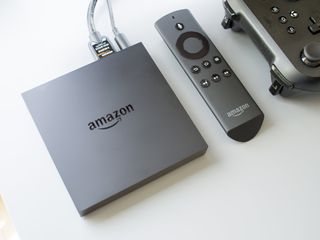 Sports fans will be happy to hear that Fox Sports Go is now available for download on your Amazon Fire TV and Amazon Fire TV Stick. With it you can catch live NFL, MLB, NBA, NASCAR, UFC, college football, college hoops, and UEFA Champions League soccer, provided you also have a supporting cable package.
The announcement lines up with the upcoming divisional playoff livestreams of the Panthers vs. Seahawks game on Saturday and Cowboys vs Packers on Sunday.
Anyone with an Amazon Fire TV can download the new Fox Sports Go from the Appstore here (opens in new tab).
Source: Fox
Simon has been covering mobile since before the first iPhone came out. After producing news articles, podcasts, review videos, and everything in between, he's now helping industry partners get the word about their latest products. Get in touch with him at simon@futurenet.com.
What's the point of having this on a set-top box if you have to be a cable subscriber? I get why it would be nice to have on the phone/tablet or laptop. But it seems to me that if you already have the cable subscription, your TV would already have the channel/content that the Prime TV would offer. Posted via the Android Central App

I have such boxes connected to TVs that don't have a cable box attached, thus saving some $ in monthly rentals.

Good point. Posted via the Android Central App

Depends on the provider. i know a few years back with Charter as long as you had their internet you had streaming access to ESPN3, TNT, TBS and a couple other selects. They might not do that now. I know AT&T requires that you have TV service and a select tier package in order to.

1- TWC is charging $13 bucks a month for a box for your TV. I assume that other cable companies and satellite providers are similarly priced. The FireTV stick pays for itself quickly in this situation. 2- I don't need to run a cable to the TV. I don't do this a lot, but I do it regularly. 3- This travels- I can bring my FireTV stick with my to a house that doesn't have cable and watch there.

It's even worse with DirecTV. It's closer to $20 or $30 Posted via the Android Central App

Your maybe right, but if you are like me, i create a user with my sister cable and use all the benefits that she pay. I have WatchESPN, FoxNow, HBO Go, Showtime Anytime.

Can someone get this app on there fire tv then pull the app? I Want to run it on my nexus player

Would be lovely if Sky could do the same in the UK and help save me multi room subscriptions. Never going to happen though, for that reason I expect!

hope this eventually comes to Roku

This just made my fire stick well worth the $20. Posted via the Android Central App

This isn't cord cutting at all. A real news would be a separate package for non cable subscribers. Posted via the Android Central App

Meanwhile Amazon data centre is on fire. No really, it is. LoL! Posted via Android Central App

Don't bother installing on your Fire TV box if your cable provider is Comcast/Xfinity. Fox Sports Go does NOT support them. Typical....

I would think that would be coming pretty soon, since the sponsor one of the NASCAR series. Posted via Android Central App

Sigh...
No Nexus Player owners love...
No NHL? Pointless... I gotta have my hockey

didn't have any lag. but its also not showing in HD either. Posted via the Android Central App
Android Central Newsletter
Thank you for signing up to Android Central. You will receive a verification email shortly.
There was a problem. Please refresh the page and try again.