4 reasons to buy the Galaxy Note 9 over the Galaxy S9+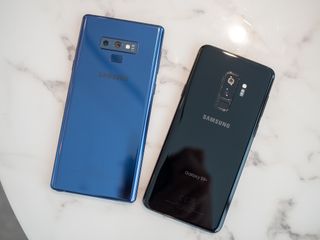 (Image credit: Andrew Martonik / Android Central)
Though very similar, the Galaxy Note 9's plus-sized battery, and the ability to take notes using the exceptional S Pen, make it worth the extra money over the Galaxy S9+.
A great, big phone: Samsung Galaxy Note 9 (opens in new tab) ($1000 at Amazon)
S Pen
A Galaxy Note just wouldn't be right without the S Pen. Samsung's unique stylus has always been a highlight of the Note series, allowing users to jot down memos and draw with up to 4096 levels of pressure sensitivity. It's useful off the screen, too; hovering the S Pen over the display creates a floating cursor, which is great for quickly highlighting text and even scrolling through web pages, and the button on the S Pen opens a menu of shortcuts to various apps.
With the Note 9, the S Pen has been further improved with a supercapacitor that allows for remote use through Bluetooth. You can use the button on the S Pen to trigger functions from a distance, ranging from taking photos to controlling media playback, and much more.
Bigger battery
The Galaxy S9+ already has a pretty sizable battery at 3500mAh, but it's no match for the Galaxy Note 9's larger 4000mAh cell. While 500mAh may not sound like much at first, the Note 9 has much better endurance than its Galaxy S counterpart, easily lasting through a full day and into the next.
Higher storage options
Another big reason to invest the Note 9 is its higher capacity options for internal storage. Sure, you can add a microSD card to either phone, but sometimes even that isn't enough to hold all of your data. There's still a $200 price between 128GB models of the S9+ and Note 9, but the former maxes out at 256GB for $860.
The Note 9, on the other hand, starts off at 128GB for $1000, and moves all the way up to a baffling 512GB of internal storage for $1250, doubling the maximum capacity of the S9+. Combine that with a microSD card and you can reach all the way up to a terabyte of storage in the palm of your hand. That storage upgrade also includes a bump from 6 to 8GB of RAM, for what it's worth, though you likely won't notice that increase in most situations…
A better DeX experience
… That is, unless you launch into DeX. While the majority of consumers may not care about this feature, Samsung has put a lot of focus on improving the DeX desktop experience on the Note 9. You don't have to buy a specific DeX dock anymore; plugging in any USB-C to HDMI adapter will launch the Note 9 into desktop mode.
You don't need peripherals like a keyboard or mouse anymore, either — though they're still good to have. The Note 9 can function as a trackpad for the desktop monitor, and you can even use the phone in mirrored mode or as a secondary display. DeX is becoming much more flexible and, in turn, more useful for more people.
A Great Big Phone
(opens in new tab)
An incredible phone with a huge price to match.
The Galaxy S9+ is great, but the Note 9 is even greater. It does everything the GS9+ does, but adds in a larger screen, more storage, longer battery life and an S Pen stylus.
Hayato was a product reviewer and video editor for Android Central.
You mean 3, not even 1% has used Dex or will.

That is definitely true. Hardly anyone uses dex

And you know this how??? I plan on using Dex with my note 9 and the ease of merely using a cable is one of the factors that made me jump from my note 8. As Dex continues to mature, a ton of people are going to start using it, and figuring out that it can be incredibly useful. It's a power users dream, and the note is for power users.

See with DEX I have the Galaxy s8+ am I able to just plug a cable in it so I need the dock

Now if only Samsung gets the 512GB out in better quantities so folks like me can actual get one that would be awesome. The Ocean Blue 512GB is backordered. Ordered mine on 08/11 and nothing, nada yet. 🙁

I rarely hear Samsung having supply issues.

When the Galaxy S6 Edge and Galaxy S7 edge were released, Samsung had issues keeping up with demand for those phones. That's why they all have edge screens now.

So does that mean the Note 10 will all be 512GB in dark colors? ;)

I'm in the same boat. Waiting, waiting, waiting, sucks. I pre-ordered mine early so I wouldn't have a problem but Best Buy messed something up and made me pre-order again the last day of the pre-order and I'm still waiting.

I think if I could choose any phone I'd like with price as no object I'd choose the S9+. Of course the LG G7 ThinQ would be next in line. However, without going the carrier route it will never happen. So it will never happen.

The Note 9 is the only Samsung device that interests me. It's too expensive, but it still interests me.

Those are hardly considered reasons i mean the s pen i usles you'll barely even use it once , phone battery is bigger but s9+ is no slouch and as for storage even the 64 gb version will cover you even if you are someone that makes thousands of photos you still have options and 3 cloud services on top of that (samsung cloud,google photos,one drive) dex is alsow available so i see no reason to upgrade from the s9+ to the note 9

Huh? S-Pen is useless and you'd barely ever use it? Pfft! I use my S-Pen all the time! In fact, the rare occasions where I set my S-Pen aside and can't locate it immediately, I go in to frantic mode akin to a couch potato that can't locate the TV remote. I absolutely LOVE my S-Pen, and I'm still rockin the Note 5. Heck, my S-Pen gets used at least half a dozen times a day just from jotting notes alone to the standby screen, and that's not taking into account other uses. Nothing better than automatically taking a screenshot when ejecting the pen and annotating it with the S-Pen before saving. Not to mention the superior copy/paste/translate functions.

You buy cheaper one then just buy the 512gb save you money

I wish they would just make a note the size of a small ipad were i can use it as a tablet and phone. Im handicap and have to carry both. For years they have promised the disabled for a combo. I can phone with my ipad only threw my iphone. I still run my note 5 because of the pen.when apple wakes up and puts a pen in a phone the note might be dead. I understan you have a deal with the didgatizer screen maker. But my apple 6 plus is a better phone. It got bricked because it was stolen and they tryed to crack it so its wifi only. Please make a combo.

The main reason I consider the Galaxy Note series my favourite phone IS THE S PEN. Once I pick up my Note with one hand, the other automatically teaches for the pen (unless taking a phone call ) .

I got the Verizon version of the Note9 from Samsung itself, in part, to be on the faster US update schedule vs their US unlocked models, Lol. Also, WiFi calling, which is not allowed on the unlocked models using Verizon. However, the main reason I got it is because the battery life on my unlocked S9 Plus took a nosedive after it received it's one and only update to this point, that being the June security patch in late June, after shipping with the February security patch in mid-March, Lol. Oh well, it's all good, this really is a damn smokin' phone.

« easily lasting through a full day and into the next » It's not that useful anyway as you will charge it at noght to not run out of battery the next day /)
Android Central Newsletter
Thank you for signing up to Android Central. You will receive a verification email shortly.
There was a problem. Please refresh the page and try again.