Five camera tips and tricks for the Sony Xperia Z5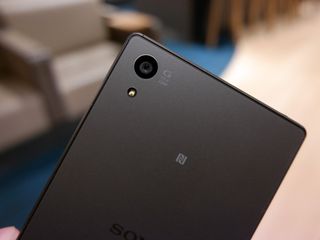 The Japanese manufacturer finally made a few changes to its camera hardware for the Xperia Z5 and Xperia Z5 Compact but the software will still be somewhat familiar to anyone who's owned a previous model.
But, whether you're new or not, here are a few tips to get you rolling in the right direction with the Xperia Z5 camera.
Read now: Five Xperia Z5 camera tips and tricks
Superior Auto and oversampling makes for some great, easy snaps
The camera on the back of the Xperia Z5 says 23MP right next to it but the default shooting mode will be set to just 8MP. Why, might you ask? Because Sony uses oversampling techniques to create better quality 8MP images from the 23MP sensor.
Use this in conjunction with the Superior Auto shooting mode and what you've got is a great quality point and shoot camera in your pocket. Outdoors it's particularly strong, and even when the sun goes down you can get some great snaps if you've got a decent light source.
Manual doesn't just mean what you think it means
Manual mode is best used with the full 23MP images because it gives you greater creative control over the photos you're taking. Some might be put off because of what it is. Or what they think it is.
In truth manual isn't all about manual controls, though you do have some of those. It actually contains a whole bunch of scenes, preset to help you take better pictures depending on your situation. A few examples are night scenes, pets, landscape and anti-motion blur.
You can get to Manual mode by tapping the circle in the bottom right hand side and then the "Manual" box on the top row. To access the different scenes tap on "SCN" in the top left and for manual controls you'll need the three column slider icon just below it.
Make use of the physical camera button
Sony spoils us by adding a physical camera button to the Xperia Z5 phones, something not seen in many places in the Android space. It's a great way to take your pictures, too.
If you're just pointing and shooting it keeps your fingers away from the screen and around the frame of the phone. This helps to steady it before you snap as well as being just a more natural way to hold and use a camera.
There are a couple of other great things about it, too. Half pressing it will focus the shot before a full depression takes the picture. And if you need to take a picture quickly, whipping the phone from your pocket and holding this button down will launch you straight into the camera app.
Consider not using AR effects and 4K video
While the fancy AR effects and shooting in 4K video sound impressive, on paper they're not necessarily something you need to be using your Xperia Z5 for. The AR layering cutesy images over your real world settings is fun but it's also a major performance drain. It's janky and slow at the best of times and probably isn't worth the effort, frankly.
The same can be said of 4K video. While we've already decided here that heat isn't really a big issue on the Xperia Z5, 4K video is still one of the features that will bring it on. The files are massive so it's easy to fill up your internal storage or microSD card without realizing and it's a fantastic way to destroy your battery life. Unless you really need that resolution, stick to 1080p. You'll still get good quality videos with the added bonus of being able to use your phone a little longer during the day.
Smile for your selfies
We've talked a little bit about the rear camera for stills and video, but what about your selfies. The 5MP camera on the front is decent but it's not the easiest thing to do to shoot selfies on a larger phone these days.
If you'd rather perfect your positioning than worry about how you're going to actually hit the button, turn on Smile Shutter.
Hit the three dots icon and scroll down in the first tab until you see the option. You then get a selection of smiles to choose from to trigger the shutter. When you're taking your selfies you'll get a blue bar to the left of your face that acts as a visual indicator on whether you need to smile more.
Go on, say cheese!
So, that's just a few of our tips to get you motoring with the camera on your new Sony Xperia Z5. If you've got any you want to share be sure to hit the comments below.
Be an expert in 5 minutes
Get the latest news from Android Central, your trusted companion in the world of Android