Five camera tips and tricks for the Sony Xperia Z5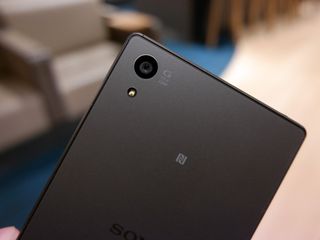 The Japanese manufacturer finally made a few changes to its camera hardware for the Xperia Z5 and Xperia Z5 Compact but the software will still be somewhat familiar to anyone who's owned a previous model.
But, whether you're new or not, here are a few tips to get you rolling in the right direction with the Xperia Z5 camera.
Read now: Five Xperia Z5 camera tips and tricks
Superior Auto and oversampling makes for some great, easy snaps
The camera on the back of the Xperia Z5 says 23MP right next to it but the default shooting mode will be set to just 8MP. Why, might you ask? Because Sony uses oversampling techniques to create better quality 8MP images from the 23MP sensor.
Use this in conjunction with the Superior Auto shooting mode and what you've got is a great quality point and shoot camera in your pocket. Outdoors it's particularly strong, and even when the sun goes down you can get some great snaps if you've got a decent light source.
Manual doesn't just mean what you think it means
Manual mode is best used with the full 23MP images because it gives you greater creative control over the photos you're taking. Some might be put off because of what it is. Or what they think it is.
In truth manual isn't all about manual controls, though you do have some of those. It actually contains a whole bunch of scenes, preset to help you take better pictures depending on your situation. A few examples are night scenes, pets, landscape and anti-motion blur.
You can get to Manual mode by tapping the circle in the bottom right hand side and then the "Manual" box on the top row. To access the different scenes tap on "SCN" in the top left and for manual controls you'll need the three column slider icon just below it.
Make use of the physical camera button
Sony spoils us by adding a physical camera button to the Xperia Z5 phones, something not seen in many places in the Android space. It's a great way to take your pictures, too.
If you're just pointing and shooting it keeps your fingers away from the screen and around the frame of the phone. This helps to steady it before you snap as well as being just a more natural way to hold and use a camera.
There are a couple of other great things about it, too. Half pressing it will focus the shot before a full depression takes the picture. And if you need to take a picture quickly, whipping the phone from your pocket and holding this button down will launch you straight into the camera app.
Consider not using AR effects and 4K video
While the fancy AR effects and shooting in 4K video sound impressive, on paper they're not necessarily something you need to be using your Xperia Z5 for. The AR layering cutesy images over your real world settings is fun but it's also a major performance drain. It's janky and slow at the best of times and probably isn't worth the effort, frankly.
The same can be said of 4K video. While we've already decided here that heat isn't really a big issue on the Xperia Z5, 4K video is still one of the features that will bring it on. The files are massive so it's easy to fill up your internal storage or microSD card without realizing and it's a fantastic way to destroy your battery life. Unless you really need that resolution, stick to 1080p. You'll still get good quality videos with the added bonus of being able to use your phone a little longer during the day.
Smile for your selfies
We've talked a little bit about the rear camera for stills and video, but what about your selfies. The 5MP camera on the front is decent but it's not the easiest thing to do to shoot selfies on a larger phone these days.
If you'd rather perfect your positioning than worry about how you're going to actually hit the button, turn on Smile Shutter.
Hit the three dots icon and scroll down in the first tab until you see the option. You then get a selection of smiles to choose from to trigger the shutter. When you're taking your selfies you'll get a blue bar to the left of your face that acts as a visual indicator on whether you need to smile more.
Go on, say cheese!
So, that's just a few of our tips to get you motoring with the camera on your new Sony Xperia Z5. If you've got any you want to share be sure to hit the comments below.
"In truth manual isn't all about manual controls" Which is why Sony probably should consider calling it something else because what they offer isn't really a manual mode. It's more of a...let's call it...Expanded Superior Auto. As for tips and tricks, my main advise if you pick up an Xperia is to buy a small fold-able tripod or always try to rest the camera on something to take a photo. Because the camera unforgivably keeps lacking OIS, unless you're the Thing, your photos will always come out less sharp than they should because of the human body's natural tendency for trembling. It's annoying, yeah, but then again, I hope that, if by now you bought an Xperia, it wasn't because you were looking for the best camera on Android. Because you ain't getting it here, that's for sure.

Sony's manual mode might not be quite as good as Samsung or LG, but it does offer exposure, ISO, focus, white blance and metering controls. There's not much more you would want. Posted via the Android Central App

How about adjustable noise reduction and sharpening, preferably with the option of switching these off completely?

Unfortunately not. At least not on my Z3, I don't know of they have added it on the Z5 though. Posted via the Android Central App

Except the most important ones:
1 - shutter speed control
2 - manual focus. Both of them essential to prevent the OIS-less camera on any Xperia from sucking in low light ;) (Sony's manual mode is not as good as Nokia's 2012 manual mode. If LG and Samsung were already late to the game, Sony is stubbornly falling behind. Because I'm pretty sure Sony knows more about photography than LG or Samsung)

Fully agreed.
It makes me mad that now that I am about to replace my battered 808, the Xperia Z5 I had been looking forward to does not solve any of its shortcomings (hardware: no OIS; software: no manual shutter speed control, no manual focus), but introduces some new ones as well (e.g., software: lack of control on sharpening; hardware: corner softness on the lenses).
On a side note, the 808 used to slightly distort straight lines, but had incredibly sharp optics. On my 808 it has retained its original sharpness even now, more than three years later, after uncountable drops one of which broke the digitizer. Best camera phone ever – but I hoped there would be something to replace it with at this point.
I have seen smudgefest on many Z5 photos [http://www.eprice.com.tw/mobile/talk/4523/4953454/1/rv/sony-xperia-z5-co....
I reallly wanted to love Z5, but I fear I will be better off with an LG G4 or even a Note 4 (despite not liking their design at all).

Where do you see the exposure time if i may ask because i want to take some nice night pics with trails from car lights and i need like a 15 sec exposure time for things like that but cant seem to find that option.

What you're asking about is for the shutter speed controls which they don't give you ;)

We get it bro. You've had a bad experience with Sony phones. I am with you but I otherwise love my Z3. The camera experience was truly a letdown but far from terrible. They just require more thought and a little post processing. Sometimes I do get amazing results shooting on the Z3 but that just reminds me of how Sony missed an opportunity to produce those results every time instead of once in a while. Posted via the Android Central App

Oh mate, my bad experience with the Z3C has just been severely aggravated when the phone simply died after a year and for no reason whatsoever. So now, not only do I know Xperia cameras s*ck, I'm questioning the quality and durability of the phones themselves. It seems to me much of the problems Sony is facing on mobile are coming from the fact that they're more "Ericsson" than "Sony".

Good for you Sony phones come with double the warranty of any other phone I'm aware of so you have a brand new waiting for you. They overnighted my replacement Z3. Posted via the Android Central App

Couple of things: 1 - I'm European. All phones come with 2 years of legal warranty. OEMs like Apple hate it but tough titty, it's the law ;P 2 - Sony's customer support in my country is non-existent. They have "certified" companies to do the repair for them but *I* had to ship the phone to them (because the company in question decided the best place to have their offices was 350km away from the capital of the country) and *I* had to pay for that. Of course, I will be going after Sony for this as I expect a refund on the expenses I had for them to fulfil their legal obligations. But it's the worst customer service I've seen so far.
Even Microsoft's is better and they too don't have local repair shops. But at least they provide UPS forms that we can print and have UPS pick up to take the devices for repair/replacement.

LOL that Smile Shutter is hilarious.

But it works and also for the rear camera when you wanna take better selfie. :) Posted via the Android Central App

It'd be nice if Sony US was selling this phone Posted via the Android Central App

Just buy it from an exporter? Sony Xperia Z2
Nvidia Shield
Xperia Z3 Tablet Compact

Half pressing also measure the exposure, so half pressing when pointed in a dark /bright area can help get better photos when dealing with tricky light.

That's what I love about my Z2. The camera button is so useful, especially with that half click to lock the exposure and focus. It's so much more intuitive than touch screen based controls. Sony Xperia Z2
Nvidia Shield
Xperia Z3 Tablet Compact

Sony's manual mode might not be quite as good as Samsung or LG, but it does offer exposure, ISO, focus, white blance and metering controls. There's not much more you would want. Posted via the Android Central App

Manual focus at least would've helped though. Especially when the camera doesn't recognize a macro shot or focus on something in the foreground when there's a lot going on in the background. Posted via the Android Central App

How about giving us a review of the bloody phone already?

C'mon, it really needs a 'duck face' auto shutter, doesn't it?

I found when using my Z3 that the superior auto was always better than going to manual mode to use the full megapixels. It was almost as if the sensor really couldn't handle the full 20 megapixels. I wonder if the new sensor on the Z5 is the same

Coming to Android from Windows Phone recently I can say having a physical camera button is really nice.

I have a Sony experia and am using a selfie stick, have downloaded camera 360 app and have no troubles using bluetooth click to take a photo. I can't work out how to use the bluetooth for video, it only seems to want to take photo. Can you help? By the way love the phone it takes great photos.
Android Central Newsletter
Get the best of Android Central in in your inbox, every day!
Thank you for signing up to Android Central. You will receive a verification email shortly.
There was a problem. Please refresh the page and try again.