Does the Sony Xperia Z5 get too hot?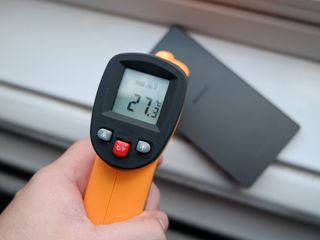 It's fair to say the Qualcomm Snapdragon 810 has led a life of criticism, sometimes warranted, when it comes to getting a little hot under the collar. But it's also at the top end of the CPU spectrum for smartphones and so new high-end devices are still using it.
Not all Snapdragon 810s behave in the same way, as pointed out by our own Russell Holly recently when examining the Nexus 6P. But thanks to the Internet and bad experiences elsewhere, heat remains a question on everyones fingertips.
So what about the Sony Xperia Z5? It has an 810 and a predecessor that got a bit too hot. Since I have one in for review it's something people are asking about and I've not had a definitive answer.
So I grabbed an infrared thermometer to see how hot the back of the phone was getting. This is neither as glamorous or extensive as our previous look at heat on the Nexus 6P and other devices ⸺ because I don't have a fancy thermal camera. But it does at least give some idea on how hot it gets.
During the test I started with the phone just sat after first boot up and it was giving a reading of 25.1C (77.1F). One of the biggest offenders in making the Z5 heat up at all is shooting 4K video and using the AR effects in the camera.
After 2 minutes of shooting 4K the temperature on the back of the phone had risen to 31C (87.8F). After 5 minutes it was up to 35C (95F), a rise of 10C in 5 minutes. Importantly it's also tolerable to actually hold.
So I just left the phone for around 25 minutes in a moderately cool room with 4K video shooting. I'm actually amazed that it recorded a 25 minute clip without closing the app ⸺ it actually shut down because it had drained the last 25 percent of battery in that time. At this point is the hottest I've been able to get it and the thermometer was reading 40.5C (105F). I wouldn't be holding it too long at this temperature, but it also wasn't burning my skin.
My initial reaction to the Z5 was much worse than this. My first experiences of the phone were while roaming in Asia, and a combination of this and 4K video shooting seemed to make the temperature rise much quicker. I'm also not seeing too much heat on the back of the phone when it's charging, either. It warms up a little, but not a massive amount.
So, does the Xperia Z5 get too hot? Not in my opinion. It does heat up on the rear between the camera and the Sony logo, but it does take some seriously intensive use over a prolonged period to get things to that point. It gets a little hotter perhaps than some other phones, but it's not necessarily horrific. Most of the time the phone only seems to be using 5 cores, too, shutting down to 4 when things start to get a little warm.
So if heat was a fear of yours, don't worry about it too much. It's fine.
Get the Android Central Newsletter
Instant access to breaking news, the hottest reviews, great deals and helpful tips.