Fitbit Ionic smartwatch releasing worldwide Oct. 1 for $299.95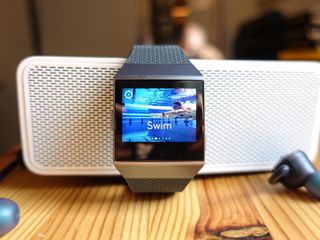 For the past couple of weeks, I've been wearing a new wearable, and while it looks a little bit like something I've worn before, it's quite different — and a lot more ambitious. No, I'm not talking about some new Android Wear watch but the Fitbit Ionic, Fitbit's first smartwatch and an honest-to-goodness hit.
The reason for its success will inevitably be the five-day battery life which exists despite a very capable operating system, bright LCD display, and plenty of fitness-tracking features.
While the so-called App Gallery will be sparse at launch, with just a handful of apps including Starbucks, Strava, Pandora, and Weather Channel, there will be plenty of others by year's end, thanks to the upcoming Fitbit SDK.
Fitbit Ionic will be available on October 1 at Amazon, Best Buy, Dick's Sporting Goods, Kohl's, Macy's, REI, Target and Verizon for $299.95.
See at Fitbit (opens in new tab)
Fitbit is also releasing its first Bluetooth headphones, the Ionic, on the same day. The $129.95 headphones are sweat-proof and highly customizable, and in my short time with them have proven very capable.
See at Fitbit (opens in new tab)
Android Central Newsletter
Get instant access to breaking news, the hottest reviews, great deals and helpful tips
Daniel Bader was a former Android Central Editor-in-Chief and Executive Editor for iMore and Windows Central.
Looks like my old samsung gear watch was a fan then, but nothing reminds me more of a real watch like my gear s3 can't wait for the gear s4 ...maybe next year

It's just not an attractive watch and at $299, it should be more than functional. It needs to be visually appealing.

It will still sell by the bucket load despite anyone's criticism

Huh...I don't see that happening with this $300 basket CASE of a watch

I am most interested in it's NFC payment capabilities but the info on that is very sparse

It would be nice if we could change the band to a standard band.

Yes. This. I'm on my 2nd Fitbit Surge and on both I've had to resort to putting super glue under where the band attaches to the watch because it starts to rip away from the watch. VERY annoying "feature" of this watch.

You can swap out the bands. On the website they offer different colors as well as a leather strap. Pretty pricey but I'm sure there will be a plethora of them on Amazon in no time. I've been thinking about retiring my charge 2 and gear s2 and upgrading to this one. I I have some credits at best buy so I also wouldn't be paying full price for it. I don't use my gear s2 for much anymore except for notifications and the battery is done 7p on most days. I like the gold and blue version.

Fail. This looks an Armitron digital watch from the 80's with a color screen.

My very first thought was the Sony wrist TV circa 1983. I was into that sort of watch (never did buy one) and had a watch in '85 that had a perpetual calendar. I still have that calendar watch but have so cleverly hidden it from myself.

It's ugly, and I doubt that it'll ever have many apps. I'll pass.

It's pretty clear that the designer needs to be fired haha . There's like so many more better looking watches on the market . Most people today don't need a watch with there smartphone. So it better look good first an for most (gear s3) only Apple can sell a ugly watch an get away with it lol

i'll stick with my Pebble Time and Time Round

I might be interested if it had spotify on it so I could download my playlists. I wish someone would make a watch as nice as the apple watch. Love that design style and the nike+ version is sweet. But I could never do an iphone so no dice.
Android Central Newsletter
Get instant access to breaking news, the hottest reviews, great deals and helpful tips
Thank you for signing up to Android Central. You will receive a verification email shortly.
There was a problem. Please refresh the page and try again.