Fitbit Versa hands-on: Fitbit's finally getting serious about smartwatches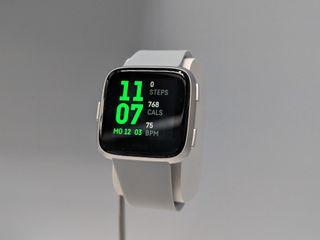 I've been wearing a Fitbit Ionic (opens in new tab) since January, and it's quickly become one of my favorite smartwatches. I like the way it looks, it keeps me motivated to stay active, and its feature-set works great for what I want in a wearable. Unfortunately, most everyone else doesn't feel the same way.
Fitbit reported less-than-favorable sales for the Ionic during its latest earnings call, and along with this, promised investors it was working on a new "mass appeal" smartwatch that would draw in more customers. A couple leaks gave us a good idea as to what this gadget would bring to the table, but now we officially know what's going on.
Ladies and gentlemen, meet the Fitbit Versa (opens in new tab).
The Fitbit Versa is a very different-looking watch compared to the Ionic, and I think most people will agree that all of the changes here have been made for the better. Fitbit says the Versa is the "lightest metal smartwatch you can buy in the U.S.", and while I never had a problem with the weight of my Ionic, the Versa is noticeably lighter.
You'll find three buttons on the Versa (one on the left and two on the right), and the screen is taller and less wide compared to the Ionic. Fitbit's going for a "squircle" design and one that's not so masculine, and it hopes this will help put an impact on the smartwatch market that males currently dominate by 60%.
However, don't let the Versa's smaller size fool you. The watch still tracks your steps, calories burned, your quality of sleep, distance walked, heart-rate, has 50M of water-proofing, can store 300 songs for offline listening, offers 4+ days of battery life, and plenty more.
The Versa looks and feels great in person, and it'll be available in three main colors — black, silver, and rose gold.
Just like the Ionic, FitbitOS is what powers the Versa. However, you'll find a lot more features and polish thanks to the 2.0 update that's live on the Versa out of the box. The Ionic will receive a free update that brings all of the new software features found on the Versa, and there's a lot of great stuff to be found.
First and foremost, Fitbit's finally letting you reply to texts. You'll be able to choose from five pre-made responses, and you can customize these to say whatever you'd like (up to 60 characters per response). The inability to interact with text messages is one of my biggest annoyances on the Ionic, so it's great to see Fitbit adding it. This feature is currently limited to just Android users, but Fitbit notes it's working on a way to bring it over to iOS, too.
FitbitOS 2.0 also ushers in a refined user interface. As it stands with FitbitOS 1.2, gestures work as follows:
Swipe up to see notifications
Swipe down to see music controls
Hold left button to open Fitbit Pay
With FitbitOS 2.0, things now work like this:
Swipe up to see health stats (steps, heart-rate, past workouts, personalized health tips, etc.)
Swipe down to see notifications
Hold left button to open quick settings, music controls, and Fitbit Pay
Also new is the ability to save songs for offline listening on the Versa and Ionic using Deezer. Fitbit announced Deezer support back in December, and just like the Pandora app, you'll need to pay for Deezer Premium+ in order to take advantage of this feature. If you're not currently a Deezer subscriber and want to check it out, the streaming service is offering a free 3-month trial just for Fitbit users.
Fitbit Coach is gaining the ability to rate your workouts and edit which ones are on your Versa/Ionic, the Today app will offer health insights and reminders to drink more water, take more steps to complete a challenge, etc., and the whole user experience of FitbitOS 2.0 feels smoother, more polished, and is what should have been on the Ionic from day one.
Pre-orders for the Fitbit Versa begin today for just $199.95 (opens in new tab). That's an entire $100 less than the Ionic, and it should make it a much easier sell. Fitbit's also selling a special edition Versa for $229.95 that comes with your choice of two fabric bands, and in the U.S., this is the only model that has NFC for Fitbit Pay. The base version of the Versa will come equipped with NFC in Asia and Europe, and Fitbit says this is due to greater adoption of the tech in those markets.
The Ionic will live on as Fitbit's flagship smartwatch, but it really is commendable just how much the Versa brings to the table. Whether you're already invested in Fitbit's ecosystem or are simply looking to finally replace your Pebble Time, the Versa offers tremendous value at either of its two price tags.
See at Fitbit (opens in new tab)
Android Central Newsletter
Get instant access to breaking news, the hottest reviews, great deals and helpful tips
Joe Maring was a Senior Editor for Android Central between 2017 and 2021. You can reach him on Twitter at @JoeMaring1.
I'm still rocking my Pebble watches. I have tried every smartwatch on the market, but always come back to Pebble. I wish Fitbit would make a watch like the Pebble, with the E-ink display and 4 buttons. The new Versa looks pretty good to me, but I don't care for touch screens on watches, or the bright colorful screens.

I run Strava on my phone which I place in a cradle on my bike during rides. I just want a wearable that feeds heart rate data to Strava as well for more accuracy regarding my level of exertion. For that, it seems all data points to Garmin products. I have a Fitbit Alta HR. It gets points for comfort and battery life, but that's about it.

The Garmin Fenix 5 is a great looking watch, and the fitness tracking is the best. Great choice.

As far as I know Garmin is the only one that let's you sync up with external devices in general

Garmin is doing a ton of things right, but I cannot understand why they haven't found a way to make a watch with offline music capability that doesn't require you to manually load files. .MP3's are a close to ancient technology in the age of streaming services. Edit: I guess the 645 Music allows iHeartRadio playlists. A curious streaming partner, to say the least, but a step in the right direction. I thought you had to add the music files.

Interesting, and disappointing that they need to drop the GPS to keep the price down. I have the Samsung Gear Fit, and originally I couldn't have cared less about GPS but now I wouldn't buy a smartwatch that's pretty much a dedicated fitness tracker without GPS inside.

I'm wondering why you say you couldn't imagine buying a watch now without GPS. I'm asking because I'm thinking about the ionic or vivoactive 3 which has GPS, but when I think about it I personally don't know if I need GPS when I think about the activities I would need GPS for...like I'm not an outdoor runner or cyclist. Are there any other reasons why it could be useful to have?

That's definitely an opinion because as a Pebble Time owner this watch looks beautiful. It's more of a unique look over the now more traditional "traditional" smartwatch look and has a very basic yet refined look as well. I guess we all have different ways of seeing beauty.

I guess so. A watch, to me at least, is first and foremost an accessory. I would never buy a Pebble or this thing because, well, they don't look like watches and aren't particularly aesthetically pleasing in any way to me.

I loved my Ionic but I didn't like not being able to respond to text messages, even canned responses. I definitely welcome this change and will keep my eye on this as it's released.

The ionic will get the same update as what the Versa will come out of the box with, so you'll get the same ability to reply to texts

Looks like the usual crap china OS on all those Gearbest knockoffs. New OS is not the answer. Sell off to Apple or Samsung now while you are still valuable. Otherwise, settle in at a max $99 price tag for any future products you sell.

Google should buy them. It would help reaffirm their unified push to be a hardware company while still maintaining the loyal fan base that FitBit has built up. Just like they did with Nest. I'm surprised that Google hasn't been way more into fitness wearables considering how valuable your health data would be to serving you ads. You could be getting personalized drug and vitamin ads based on your fitness levels.

I guess the best way to get people to like your watch is to make it look like an apple watch. Then again, I have a bulky, rectangular, all black plastic Garmin Vivoactive HR and people still ask me if it's an apple watch. A fitness tracker without GPS is absolutely pointless. Unless your fitness includes walking while listening to music, I guess.

Now if they can just eliminate the "Fitbit" branding on the front of the watch underneath the screen, I might actually consider one. Until then, it's a no go for me.

It sounds like it's a solid watch. I like the look of it much better than the Ionic but I'll wait for reviews.

Does Nissan know about this?

They should have a smaller one called the micra. To match my car.

Looks nice. Currently have the Ionic because I want GPS for biking otherwise new watch looks ok. I guess I am in the minority but I love my ionic and don't see anything wrong with its looks especially when I wear the leather strap while going out. Glad to see Fitbit stepping up with updates and improvements.

I'm looking into getting the ionic, any link the leather strap you have?

I'm interested! I hate Apple watch and Android Wear for 1 reason...battery life is turrible. I've switched back to my fitbit charge and I'm happy with the 4 day battery life. I will definitely be keeping up with this as I'm very interested in getting back into the smart watch game

I have never understood why people need multi day battery life on a smartwatch. I have only recently started using my Gear S3 Frontier for sleep tracking and I still have no issues with battery life.

Mine can last close to 2 days with normal use including sleep tracking and GPS on. I charge it every morning in for 30 minutes and never have to worry about the battery dying.

For one, it's just nice not having to charge something frequently, whether it's a fitness watch or your phone. Secondly, in some ways maybe more important for a fitness wearable because say you're doing a biking trip that goes across multiple states. You're going to want something that'll run with GPS for longer periods of time if that's something you're trying to track.

Lots. If you go camping etc a lot. The extra battery is essential

Interesting... Does it need proprietary watch bands? Or do standard 22 or 24mm bands fit?

It's weird that they had to get rid of the GPS to get it up to four days battery life when my Bip has the same sensors *and* GPS, and an always-on screen, and gets 40 days. I know the FitBit OS does more, but it can't be *that* involved, can it?

They removed GPS to save money and then release a different watch with it included for more money. They should have included it and given users the option to turn it off for additional battery.

Isn't that almost just the ionic? Other than an aesthetics redesign, it's not meant to be an ionic successor.

I should have waited for the Ionic but even so I love my Blaze.

I made the massive mistake if buying a Vivoactive 3. I've never seen such a dumpster fire. Software is pitiful. Data doesn't sync, Bluetooth disconnects and reconnects all day, notifications don't work let alone could you ever respond to anything. Versa here I come!

Wow, that is one hideous looking smartwatch... I'll stick with my Gear S3 Frontier, even if I wish that Samsung would put some effort into mainstream app support...

Can't be too serious when they don't have GPS built in. For less money I can get Android watches that have more features.

Doesn't that just depend on your usage? Not everyone who bikes, runs, or hikes outdoors also want to track them. Or some people don't do those things.

Does this have the ability to set alarms? If so, how many alarms can get set?

Ugly just like the apple watch. I prefer the samsung gear

Looks nice. Might consider picking one up to replace my Gear S2. Loved my Pebble Time. And the design is nice and clean with a touch of modern. And no notch.............. :)

I don't understand why it is so difficult to make a smartwatch with 1) Offline Spotify and 2) GPS. I understand that the Gear Fit 2 Pro fits this bill, but the GPS and OS is lackluster. If Garmin or Fitbit could put out a watch with this, especially given their fitness-minded target demographics (maybe Garmin more than Fitbit), it would be the only option for many people.

I agree, it's so hard to find offline Spotify on a fitness watch. But even reviews I've read on watches that do have it like the Samsung ones seem to show it doesn't work well or there's a lot of bugs and difficult work around. However like you said the software doesn't seem great and the reviews I've read about them seem to shoe they aren't very good fitness watches.

« The Ionic will live on as Fitbit's flagship smartwatch » So what is the versa, with its better design and specs and lower price??
Android Central Newsletter
Get instant access to breaking news, the hottest reviews, great deals and helpful tips
Thank you for signing up to Android Central. You will receive a verification email shortly.
There was a problem. Please refresh the page and try again.