First things to know about the Pixel C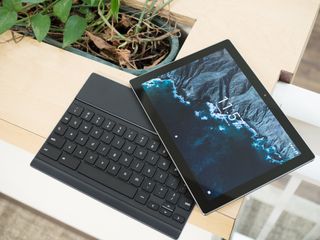 Google's Pixel C — its first completely in-house tablet — is now shipping. And as it's been more than a year since we've had a new Google tablet — the HTC Nexus 9 was the previous one — a lot of folks are looking at this one as their next not-quite-a-laptop solution.
The Pixel C, as you'll recall, is a 10.2-inch tablet with a slightly strange 1:√2 — that's the square root of 2 — aspect ratio. Well, it's odd for tablets, perfectly normal for a standard sheet of paper, which is what Google was going for. (It also means that you have the same aspect ratio when the display is chopped in half, which makes perfect sense for side-by-side windows, which Android doesn't have but eventually will at some point. But we digress.) It's powered by the NVIDIA Tegra X1 processor with a Maxwell GPU and 3GB of RAM, and has a 2560x1800 resolution.
It's an impressive, but also confounding, tablet.
We've been poring over the Pixel C for a bit now and have some initial thoughts. (And a few answers that came from a recent Reddit AMA with the Pixel C team.)
It's a little chunky
The Pixel is not a small tablet. It's obviously bigger than the 9-inch Nexus 9. Larger screens are larger. It's a good bit heavier, too — 517 grams to the N9's 425 grams. But it's also about 1 mm thinner. So it's a big, thin, wee-bit-heavy tablet. It's also got some impeccable build quality. If you're a fan of anodized aluminum — think Apple Macbooks — then you're going to love the Pixel C. It's a pretty stark change from the soft-touch plastic you might be used to. It's maybe not quite as easy to hold long-term. But, damn, it looks nice.
If anything worries us about the Pixel C overall, it's the weight.
The display is gorgeous
Funny what a few more pixels can do. I'm coming from the Nexus 9, which has an 8.9-inch IPS LCD display at 2048x1536 for 281 pixels per inch. The Pixel C is larger at 10.2 inches but packs a 2560x1800 resolution for 308 pixels per inch. And that makes a difference. There's also a pretty decent difference in color temperature compared to the Nexus 9. Everything pops just a little bit more.
The Nexus 9 display isn't bad. The Pixel 's display is just much better.
The keyboards ...
There are two optional keyboards available for the Pixel C. One is a leather-esque folio design, where the tablet connects to a back plate via some strong magnets (seriously, be careful where you leave this thing) and then folds over onto the Bluetooth keyboard when not in use. The "regular" keyboard is a single piece with a built-in hinge and an anodized back. You use the same magnets to attach tablet to keyboard, then pivot to the position you want. It's sounds a little tricky but in practice works just fine.
Both keyboards are charged by the tablet when you close them together. That keeps them from having to deal with a USB port for charging, but really it's just cool as hell. The folio keyboard is a couple millimeters thicker than the "regular" keyboard, and both increase the total weight of what you're carrying by about 75 percent.
Do you need a keyboard? Nope. And at $149 each, neither is inexpensive. But they're also the only official covers for the Pixel C at launch, which is damn near inexcusable.
This is not a Nexus, mostly, sort of ...
You might be tempted to think of the Pixel C as a new Nexus tablet. And in a lot of ways you'd be right. It's "stock" Android 6.0.1 Marshmallow, insofar as the way it looks and feels. No bloatware. There is a good bit of excellent new audio stuff under the hood, though.
It's got the same developer tools you're used to. You can unlock the bootloader, but start tinkering around there and you'll quickly see that there's no traditional bootloader user interface. So it's command line-only. There is, however, a standard-looking recovery. There also are no factory images available like there are for Nexus devices, should you want to roll things back. Tread carefully, for now. Update: And factory images are now available! (And on the Nexus factor images page. Go figure.)
As for updates, the Pixel team said during its AMA that updates should be "on regular cadence lining up with the monthly security updates for Android."
For now, it's very much an Android tablet.
The start of a new tablet UI?
OK, one semi-big change to the user interface is that the on-screen buttons have been split. Back and home are now on the left edge, and the recent apps button is on the right. That's definitely more thumb-friendly. I think I'd like to see that on the Nexus 9.
One thing to remember, though, is that there are plenty of apps out there that don't support landscape orientation. Instagram, for one. So if you're using the keyboard a lot, you're going to run into trouble. Some things change, and some things don't.
And a fun fact: You can still use Smartlock to unlock the tablet, but you can't use trusted devices as one of the ways to do so.
Sign up for Black Friday email alerts!
Get the hottest deals available in your inbox plus news, reviews, opinion, analysis and more from the Android Central team.