Do these 5 things when you get your Google Pixel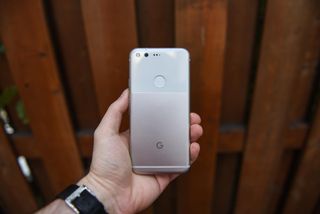 (Image credit: Android Central)
You've done your research, you've read the review and you've placed your order. Now your fresh new Google Pixel or Pixel XL is awaiting your setup and customization. Just like any new phone there's a lot to take in with the Pixels, and we're here to point you in the right direction so you can start things off the right way.
Here are the first things you should do with your new Google Pixel.
Add your fingerprints
If you took your time during the setup process you likely went ahead and enrolled a fingerprint for Pixel Imprint, but before you get too far into setting up your new phone you should enroll your other index finger as well. Head into the Settings, tap on Security and then tap Pixel Imprint to enroll your other finger.
Considering the placement of the sensor on the back of the phone you probably won't want to enroll anything other than your index fingers, but having both sent up from the start means never having to worry about it again. It's simple, secure and takes only a few seconds to add both fingers.
Arrange your quick settings
Android Nougat's notification shade quick settings can be arranged in whatever order works for you, and it only takes a minute to get set up. Pull down your notification shade, swipe a second time to reveal the full set of toggles, then tap the pencil icon at the top of the notification shade to edit them.
Tiles in the top black portion of the shade are active while those lower down in the grey area are inactive. Press and hold the tiles to move them around to whatever order you like. The first nine toggles you put in the quick settings show up on the main page, and additional toggles you add go to a second page that are just a swipe away. The top six toggles are available to be tapped at any time with a single swipe down of the notification shade, so choose the group and ordering wisely!
Configure Google Assistant
Getting started with Google Assistant is also part of the general setup process of the phone, but there's plenty more to configure after you've made it to the phone. To configure Google Assistant, press and hold the home button, then tap on the overflow menu button in the top-right corner of the Assistant interface and tap Settings.
Not only can you do the basics like turning on/off the Assistant and choosing which Google Account to use, but you can also configure the "OK Google" detection to train it to your voice, choose which news sources are included in the narrated news ticker, and manage input and output languages. You can also see your recent activity with Google Assistant, and configure the personal information that Assistant has access to.
Though Google Assistant is smart, going through a bit of setup to give it a head start absolutely helps you get the best possible experience out of this new feature.
Using Verizon? Check your network settings
If you bought your Pixel unlocked and put a Verizon SIM in it, everything should work out of the box. But chances are you can make a couple tweaks to the network settings to make it work at tip-top performance. First, open up your Settings, tap on More under Wireless & networks and then tap on Wi-Fi Calling to configure the feature. You'll have to accept some terms and provide your E-911 address, but then you'll be able to make Wi-Fi calls. Unfortunately you won't have any further configuration options, but WI-Fi calling will be enabled and ready to go.
Going a step further, tap on Cellular networks to make sure that "Advanced Calling" features are turned on. This will make sure that your Pixel connects to VoLTE for HD Voice calls and simultaneous voice and data. Finally, tap on Preferred network type and switch it over to the simple "LTE / CDMA" for local use. If you plan on traveling abroad the phone will automatically switch back to "Global" mode to use other networks, but when you're in the U.S. you'll want to keep things on the standard LTE/CDMA mode.
Get the camera interface set up just right
The Pixel has a pretty simple camera interface, but out of the box there are a few configuration options you can hit from the start so you don't have to fumble with them later while you're trying to take a time-sensitive photo. When you open up the camera, in the top-right corner of the viewfinder you'll see an option for grid lines in the middle of the five icons — consider turning on the grid to help you line up your shots perfectly. While you're there, tap the flash icon on the right to turn off auto flashing — nobody needs that.
After that, tap the menu button on the lefthand side and tap into the settings for some more advanced options. If you take panoramas, tap the Panorama resolution settings to set it to "High" for the best quality. Then tap on Back camera video resolution to up things to 4K if you want the highest resolution possible, and double check that "Video stabilization" is also turned on for the smoothest shots.
Finally, if you want to save the location of photos and videos for future searching and remembering exactly where your best shots were taken, you can turn that on at the very top of the settings — you'll have to approve the permission from the system when you do so.
Join the forums!
As you'd expect, you're definitely not the only one who got a Pixel or Pixel XL in the mail. Thousands of Android Central members are going through the experience of setting up their Pixels right now as well, and the AC forums are the place to go whether you want to share your experience or get help with a question.
This post was originally published in October, 2016. It was recently updated in November 2016 with some updated information.
Android Central Newsletter
Get instant access to breaking news, the hottest reviews, great deals and helpful tips
Andrew was an Executive Editor, U.S. at Android Central between 2012 and 2020.
1st thing I'd do is get a second job to pay for the thing.

$30/m... C'mon stop being so dramatic.

I know, right? His wife should be working the second job to pay for it.

I think what he is saying is that the phone is overpriced. I would agree, this phone is missing major features to be considered top tier. And personally from holding the phone I don't feel that it feels very premium. At Nexus prices it would have been great, at its current price I hold it to a higher measure. All my opinion though

No, just sell your kidney ..... according to Google prices start at $1k so should cover Pixel XL

No.6 install Nova launcher and a custom icon pack that looks a little more premium.. like the rrp..

I've become so accustomed to Nova, I don't think I can use anything else.

I have used Nova on every phone I have ever had (well I sometimes switch to Action Launcher), I see no need to replace Pixel Launcher at this time. Looks great to me (wtf does "look more premium" even mean?) and is super fast.

I hate when people say that something looks premium because that is so subjective. Also how does a launcher look like that? The design of a phone, I can get even though I don't always agree with that. A launcher though?!

wtf applies to the inconsistent mess that's the stock app drawer..

Going to throw this out there. BlackBerry Launcher. Can add icon packs. Love how it handles widgets. Not as much customization as Nova. I have both installed, but have been using BB the last few days.

Best Buy and VZW stores did not have the 128GB available yesterday. VZW estimating 11/18/2016. Not a good start!

Yeah, that was announced the day before (on 10/19). I didn't even see the 128 on Best Buy's pre-order page.

This was widely reported on the 19th, sometimes phones sell out at release.

From what I was told, none of the Verizon stores were going to stick the 128gb version - online order only. But take that how you will. Lol

yeah those things sold out during the pre-order period.

Yeah sometimes they sell quickly and easily moto x was like this

If I got a Pixel XL, I'd be doing the same thing I've done on other phones to it. Nova Prime

Any idea if Nova has an option to configure like the stock Pixel launcher? I think I read somewhere that Acton Launcher has adopted it as an option.

It does. There's the Pill widget and the sliding app drawer. It won't work exactly like Action and the actual Pixel launcher (I used the Nova setup on my now-returned Note 7 and Action 3 on my old One M7), but it should give you some familiarity.

Wait, where do you turn on the sliding app drawer in Nova? I can't find it. That's the one thing I actually like about the Pixel launcher since it frees up an extra spot on the dock.

In settings, go to Gestures and Inputs. Set the swipe up gesture to be app drawer.

If you have Nova Beta, there's an option (idk if it's on stable build) in the App and Widget drawers where you can toggle Swipe to Open. With that you'll be able to just swipe up in the dock to go to the drawer enabling you to have the swipe up gesture to itself!

Are there water droplets on the phone in the picture of the finger print scanner? Also, you turn off auto flash Andrew? Thirdly, do the Pixels shoot.in 1080p 60 fps?

Phone camera flashes are horrible

That's what I hear I also heard the camera will shake vibrate causing you to get off focus

I am not sure why you couldn't look up the specs of the Pixel but you can shoot up to 120fps at 1080p. https://madeby.google.com/phone/specs/

Yes there are. Yes, phone flashes are horrible — in the rare case that I want the flash, I turn it on fully. I never want the phone automatically choosing to use the flash, because it's most likely to choose wrong. The video camera can do 1080p or 4K, which should default to 30 fps. You can then choose 120 or 240 fps slo-mo if you want.

give me a Pixel already haha

For those of you Nexus owners that downloaded the Dev Preview for 7.1, you'll have a new camera app. Check your settings!

Soo...my phone isn't set to ship until nov 18-20 and I bought directly from Google for tmo..so is it safe to assume whoever has a pixel now is on Verizon?

I ordered through Google and mine should be on my doorstep when I get home tonight. I'm in Canada, so that might be the difference.

Lots of people who pre-ordered through Google and Project Fi have them already. My Day 1 order arrived yesterday.

Might have just been slow to the punch. I ordered day of announcement. Google store and T-Mobile service(not that it matters). Expected delivery date is Oct. 26-28 like most folks.

Might have just been slow to the punch. I ordered day of announcement. Google store and T-Mobile service(not that it matters). Expected delivery date is Oct. 26-28 like most folks.

I'm typing from my brand new Pixel, which I received on the 20th. I'm loving every single minute of it.

I had a family member and a friend each order a silver 32GB pixel several days after pre-orders went live, and they both just received them on Friday. Keep an eye out!

Their estimates are super conservative, I would have two Pixels already if my orders didn't keep getting cancelled at the processing stage over a stupid error that took 8 service reps and a whole month to figure out... But I digress, my launch day order (placed late in the afternoon on the 4th) was all set to ship out two weeks later, and the order I placed on the 24th was set to ship out last Friday (11th, so a couple days over the two week mark). I was ordering Silver 128GB Pixels tho, from what I've seen demand for the XL is far far greater, and demand for the 32GB models is a little softer... Right now you get an ETA of Nov 22 on 32GB models, barely a week of wait time. So very much YMMV. Notice for anyone ordering to Puerto Rico and/or possibly other U.S. territories: DON'T include a free Fi SIM with your order, even if it lets you after the zip code check and even if you know people on Fi. The Ingram Micro distribution center will cancel it automatically and you'll never get it. It's retarded, should've had my phone by now.

Buy the time I get mine, I'll probably want something else. Over a month wait??

1st thing should say unlock bootloader

Only if you plan to root and ROM and aren't concerned about security. otherwise your data is much safer with the bootloader locked

Security?! The Pixel, running the latest patch / software, was pwned in under a minute at pwnfest 2016.

So? One thing doesn't have anything to do with the other....

Stupid question time, what is the point of the gridlines? Always wondered that. I know nothing about photography other than point and shoot, and tap to focus lol :)

The rule of thirds. Pictures tend to look better when the main object is not centered but at 1/3 the way from one of the edges.

Ah OK , so align the subject along one of the lines, thanks for indulging my curiosity :-)

1. Return it.
2.....no need to go further

Why the **** are you even in this thread??? Surely you have better things to do, like robbing little kids for halloween bags.

Oh, so my reply gets deleted but your inbred garbage is ok. Anyhow, my advice was to have someone buy and explain a calendar to you....that will keep you occupied for a few years instead of policing free speech.

If the pixel came with wireless charging and was waterproof ... I'd ditch my galaxy S6E+ in a hearbeat. Instead, I'll be waiting for the galaxy S8

That and the looks of the damn thing.

THANK YOU!
I thought something was wrong with my EYES!
And yes, waiting for the Galaxy S8 is a much better idea.

Unless you want a buttery smooth phone. Because that wont be the s8.

Are you psychic? Do you work for I can't believe it's not butter?

I was told when I get this phone I'm supposed to stand on my head for 20 minutes to get the pixels to work does anybody know if that's true truly old man was just messing with me

So excited to test out the Pixel. illl never be able to afford one but can still play on them in stores. :P lol

Download Light manager Pro

I wish the HDR+ would stay on permanently, but as soon as you close the camera app then go back into it, it goes back to auto.. ><!!!@

Why? I could understand not wanting either on, but isn't HDR+ Auto generally seamless and instant whereas forcing it on eschews some of the newer speed tricks and falls back on a slower capture method? Maybe I've misunderstood some of the reviews...

Got to play with my Dad's new pixel this weekend. Fantastic phone, my Nexus 6P and I are quite jealous.

The link to the AC Forum for the Pixel doesn't work for me. And the first thing I will do is stare at it in awe of how pretty it is (have a blue XL on order)

The blue does look nice if you hold your phone backwards and don't put a case on it.

i noticed when i put my verizon sim in and started downloading all my apps it included verizon bloatware BS apps i didnt have installed. I know when you come from a phone with that crap preinstalled it may install it on your new devices but i was coming from a nexus and bought my pixel through google play store yet vz navigator, messages+, my verizon, and some media app were installed without my permission.

YMMV, I've had good luck turning in the phone for the 1st time without a SIM. I configure my Google account and DL my Play apps. Once that's done I insert the SIM and the carrier apps don't install.

You can uninstall all of the Verizon bloatware apps. I just got my pixel today and it let me uninstall everyone of them.

Step 1: trade it in and get a better phone.

Why would I waste my time to get another Pixel? =)

First thing I'd do, if I received one for Christmas is send it back. Get a ZTE axon 7. Better phone and save 3 hundred bucks.

If audio is your main priority then that's a good choice. For me, I want a good camera, display, smooth performance, and latest/quickest updates. I also didn't mind coughing up the money.

I bought myself one for Christmas, an XL 128 GB model. Coming from a Nexus 6P, I didn't think it would be much different, but it really is different. I really like it. It's only been 24 hours, but this thing is even smoother than my 6P was. No wifi issues and no connection issues. Not sure if it's worth the money, but it is definitely a step up.
Android Central Newsletter
Get instant access to breaking news, the hottest reviews, great deals and helpful tips
Thank you for signing up to Android Central. You will receive a verification email shortly.
There was a problem. Please refresh the page and try again.