First look: New Google+ update with all new photos app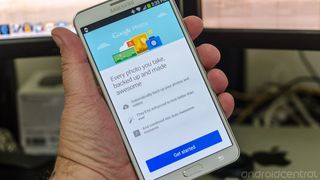 The new Google+ app is out in the wild (ask a friend with a soon-to-be-released phone for a copy) and along with comes an all new Google Photos app. It's the one we saw earlier in the Google+ mini event, and they new layout is pretty darn slick.
The Google+ part itself seems mostly unchanged, with everything as we're used to from the last version. You can choose the Google account you would like to use and manage a page right from the slide-out menu, check on your communities, perform a search and do everything else you would want to do on Google's social network. There is a new shortcut in the menu to Hangouts, which is handy.
The big news, and the most fun news, is in the new Google Photos app. Hit the break, let's have a look.
Open the new Google Photos app (with a spiffy new icon) and you've got an all new, bright and happy layout. You can see pictures from your phone as well as what you've uploaded to Google+, and everything is nice and functional. The navigation can be set to folder views as well, and it's easy to choose a picture for sharing, editing, or deletion.
The sharing interface has received a big overhaul, with the addition of Android intents to the standard Google+ sharing from the old app. With a photo selected, you can share to your circles, or share to any app that allows you to open a photo. This is a pretty big addition, and makes the Google Photos app a nice stock gallery replacement if you want to roll that way.
The editor itself has changed, with a new UI that allows you to choose a filter-set then apply one of four different variants. There's a button for a quick look at the original for comparison purposes as well. Finally, there are a slew of frames to add to your picture if you want that extra touch. The edited images are saved separately, so you won't overwrite your original.
Of course, we can't forget about the new auto-awesome tools. Unfortunately, With this version we aren't seeing any of the new effects that Gundotra and company talked about earlier today. This could be an Android version thing, or maybe the back-end isn't quite ready. We should know more soon (we hope).
While the auto-awesome tools not working is a bit of a bummer, the update as a whole still seems very nicely done. We'll be playing with this one, and trying to see what other goodies we can come up with.
Jerry is an amateur woodworker and struggling shade tree mechanic. There's nothing he can't take apart, but many things he can't reassemble. You'll find him writing and speaking his loud opinion on Android Central and occasionally on Twitter.
Wait so now the auto awesome happens right in the gallery on your phone? Posted via Glade Air Freshener

No, you still have to have auto-upload enabled. It's done on Google servers. the interface is part of the Google photos app.

Ah makes sense, thanks Jerry. Posted via Glade Air Freshener

So, do you think the new Auto Awesome features will be available to the web interface also?

Ummm... Apk PLEASEEEEEE Posted via Android Central App

AC never (or hardly ever at least) post a direct link to the apk. I bet if you put your thinking cap on you can figure out where it is though!

Off to Xda I go... Thinking cap on... Posted via Android Central App

Also Phandroid has it, that's usually my go to place. If I see a post like this on AC I usually jump over to Phandroid or Android Police to download the apk.

I can't. If and when I can, I'll link to all the apps I can get from 4.4. Sorry, but i don't have the phone here. If i did, everyone would have a full dump.

Full dump of Nexus 5????
Eeekkkk Posted via Android Central App

That a boy Jerry!!!!! :-)

Dammit....Now my OCD is kicking in. I keep trying to update through Google Play.

Get the apk - it's all over internet. Go to androidpolice.com

Jerry is that your note 3? how are you like it with google services? thinking nexus 5 or note 3 with google making things so openly available now as an app or api?

http://www.androidfilehost.com/?fid=23203820527943762 APK download

I got it now, thx. It seems to have the slide feature enabled. koolio!

Come on were is apk for hangouts and others from today? I keep checking playstore and nothing yet... I WANT SMS MESSAGING

Same! Posted via Android Central App

Hangouts apk from the magic phone won't parse or install on 4.3. Not gonna get a look at that one I'm afraid. Same goes for launcher, keyboard and some other Google apps.

why won't it install on 4.3? you won't be able to set it as default messaging app on 4.3?

How about a setting for auto upload only when connected to power. That's been needed for a long time and basically why I leave the setting turned off. Has it been added?

That's setting's been in there pretty much forever - I've always had it set that way (auto upload only over wifi, and only when charging).

snip... "The new Google+ app is out in the wild (ask a friend with a soon-to-be-released phone for a copy" Are you my friend? :-)

FYI — the version that is available on the internet seems to be the same version as this one. That's good news if it's really rolling out and someone else just didn't have a friend yank it off a N5.

Still prefer Dropbox as you can share a photo out to anyone via a link without Google+.

Wow does this mean that they actually didn't f up the camera on the Nexus 5? ----------------------------------------------------
My S-Pen went through hell to deliver this important message to you

nothing about sms in this update that I can see.

The SMS functionality is in hangouts, not Google+ Posted via Android Central App

Please send the new hangouts to me: mrdivanyc@gmail.com Love you...love u..love u.. thx,
BBM: 7B725FA9

Just click the link ----------------------------------------------------
My S-Pen went through hell to deliver this important message to you

There is two of them in the comments section ----------------------------------------------------
My S-Pen went through hell to deliver this important message to you

I got it now. Version: 4.2.0.55778941. Did yall ad me on BBM yet? 7B725FA9

I haven't gotten yet. Sent from my Note 3 rockin Jelly Bean 4.3

All of the photo features are in the new Snapseed app, no?

Does location sharing and Google Now work? In previous versions this feature never worked.

Great news now that the news the NSA has hacked all of our Google accounts! Posted via Android Central App
Android Central Newsletter
Get the best of Android Central in in your inbox, every day!
Thank you for signing up to Android Central. You will receive a verification email shortly.
There was a problem. Please refresh the page and try again.