First-gen Pixel phones aren't receiving SMS messages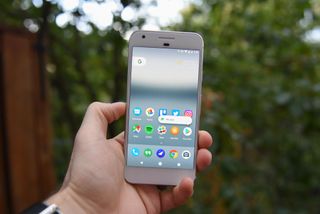 Google's Pixel 2 is finally here, and while it's a worthy upgrade from last year's model, we don't blame those that want to hold onto their 2016 Pixel for a bit longer. The first-generation Pixel and Pixel XL are still great phones, but a bug has popped up that's preventing some users of the devices from receiving SMS text messages.
This is an issue that's apparently been going on for some time now, and our own Daniel Bader has been affected by it as well. Basically, if you have a Pixel or Pixel XL, there's a chance you won't receive text messages that are sent to you.
That's a bug that could prove to be extremely annoying, and unfortunately, there doesn't seem to be any specific reason for it happening. A lot of users on Google's product forums report that they're having the issue with Pixels on Verizon, but others are using the phone on Big Red without any issues at all. Others also claim that the bug first popped up after updating to Android 8.0 Oreo, but then again, another person says that they had the issue prior to the Oreo update.
Thankfully, a manager from the Pixel User Community responded to these complaints with the following message:
Some people report that they started to receive texts once again after a simple reboot, but for the majority of people (including Daniel), a full factory reset is required. It's good to know that Google is aware of the problem at hand and working on a proper fix, but we can only hope that that resolution comes sooner rather than later with a problem as serious as this.
Joe Maring was a Senior Editor for Android Central between 2017 and 2021. You can reach him on Twitter at @JoeMaring1.
My wife has had this happen to her before Oreo and after few times already. This and the crappy reception with the phone, we probably wont be buying another pixel again. It stinks because we like the phone otherwise.

That's a shame that you're having those troubles. I understand why those issues would turn you off, but I think it's also important to remember that Google has been aware of all of the issues of the first generation for several months now and it seems like they've taken care to design those issues out of the second generation. Just something to consider.

It may not just be Pixels. My wife has been having the problem with her Nexus 5X for a couple of months too. She finally got Oreo last week and is still having problems. Fi support had her try clearing the cache on the Fi app but it didn't really help and she's rebooted several times.

I'm having this problem too on my Nexus 5X. I doesn't happen all the time, but I noticed it because I have Cortana on my phone and SMS notification sync enabled with my PC. The notifications pop up on my PC, but when I go to my phone I can't find the notification or the SMS. The last time it happen was yesterday.

I kinda have the reverse of this issue. I can only receive SMS through Hangouts and certain messages through the Google messaging app. The benefit is that when I'm connected on WiFi, I can receive and reply using any device that is connected to WiFi.

Maybe it's not just a Pixel issue but an Android issue. I been having the same issue with my S8. People keep telling me I never responded to their messages which I never received.

Isn't this the same kind of issue that has affected Samsung S8 devices? I have suspected and now suspect with even more confidence that this is carrier related.

It has only been happening to me this month with a Pixel running on EE in the UK. I had assumed EE was the culprit.

I was having the same issue with a galaxy s8 (nougat) . Adding 'Messenger' app in list of unmonitored apps in device /battery settings seems to have resolved the problem.

Mine is working fine. Just got 3 SMS.

Mine too. All nexus prior and current Pixel, all receiving sms as normal.

Glad I stayed on Nougat. I can't wait to get rid of this phone. Never buying a "Google" phone again. Buggy pieces of ****.

What bugs have you encountered personally?

That's such a weird problem to have but it does sound very frustrating.

This bug is also not apparently tied to just the hardware. I have no idea how to fix it/what the root cause is, but I can explain some steps I took to try and resolve. I was using a Pixel that I had enrolled in the Oreo Beta program, but never actually upgraded to Oreo. I purchased an S8 and moved my SIM over to it, and my wife now uses the Pixel. We factory reset and she signed into her Google account on the Pixel. The day we upgraded to Pixel to Oreo, I stopped receiving texts on my S8 from all contacts. If a contact messages 3-4 times in a row, eventually the latter messages made it through, but the first ones never did. If a contact messaged just once, it never came through. Oddly, my wife could send/receive messages just fine, except to me. A reboot DID NOT fix, and we didn't want to factory reset yet. I Force Stopped, Cleared Cache, and Cleared Data from the Messages App on her Pixel, and then my messages started coming back in on my S8. Having used iPhones, Androids, and WPs for many many years (switch usually 2x a year), I'm well familiar with Apple stealing iMessages. This was NOT the issue, and this was the first time I ever saw this weird behavior. I could log into AT&T and view my usage. The carrier was reporting that the messages were received. So the original sender was routing correctly as an SMS, AT&T acknowledged receipt, but it was not being received by the device after being pushed from the carrier. Oddly, throughout this debacle, MMS seemed unaffected. From what I can tell, I think Google must have been storing a device IMEI tied to an ICCID or the phone number and in the upgrade to Oreo, something is breaking a connection that allows the device to receive the SMS from the carrier.

wow, that's a huge issue! sorry to hear that.

Come to think of it, one of my family members experienced this same issue on a BlackBerry KeyOne about a month back. Magically a few days later, it all resolved itself.

This is an issue on my wife's Nexus 5x as well. Happened on Nougat and we were on the Oreo beta from day one hoping it would be better, but it's still an intermittent issue. My 6P seems to be fine...

What a pile of crap phone, how can Google release a phone and software with such a basic issue. Unacceptable so glad I didn't pre-order this phone.

This is in the first gen Pixels, not the new ones.

This is totally not on. Glad I didn't get the Pixel. I'd have missed out plenty Domino weekly promotions...!!

I have been having this issue with my Moto G5 Plus on Verizon. I called them and they said the messages are going through on their end that it was something with my phone or messaging app.

Probably not related, but for what it's worth, my S8+ on AT&T started missing random incoming texts. When I uninstalled Android Messages and switched to the default app, I noticed around 75 unread messages from a span of 2 weeks or so. It was a bummer because I really like the Android Messages app.

I had this issue, as well as not receiving phone calls when I updated to 8.0. After a factory reset, problem gone.

This happened with my BlackBerry Priv as well. I discovered the issue was a slightly loose SIM card. This was fixed by taking a tiny piece of masking tape and carefully affixing it to the SIM card tray and sliding it back into the the SIM card slot. The problem with intermittent SMS dropouts went away.

Galaxy S8 users are experiencing the same issues.

Happening on my Nexus 6 as well...

My wife has been dealing with this on her original Pixel for the last couple weeks. No solution as of this morning from Google or VZW. HOWEVER....With todays, Nov. 5 security patch, SMS is not WORKING!!!!! Spread the word, go update ASAP for all those suffering.
Android Central Newsletter
Get the best of Android Central in in your inbox, every day!
Thank you for signing up to Android Central. You will receive a verification email shortly.
There was a problem. Please refresh the page and try again.