Firmware update brings better accuracy to Fitbit Surge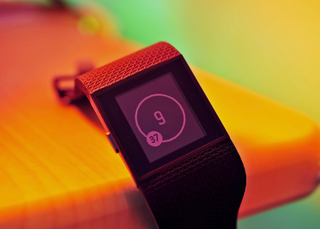 Fibit has announced a new firmware update for its latest Surge, which the company describes as a "superwatch." With the latest version 9.2 firmware, the Fitbit Surge gains better accuracy with step counts, battery level indicator, and also GPS tracking. Additionally, runs that are being tracked at midnight, for all the night owls who sport a Surge, will now be tracked correctly.
Here is what will be fixed with the latest firmware update:
Fixed an issue where runs or exercises being tracked at midnight (when the tracker resets) weren't displaying correctly.
Fixed an issue with inflated steps and calories during runs.
Improved GPS stability.
Improved battery-level accuracy.
Fixed an issue where occasionally the tracker wasn't turning on after a shutdown.
You can download and install the firmware from the Fitbit Android app.
Source: Fitbit (opens in new tab)
This watch is not available to the public at this point. Posted via Android Central App

I've seen that it's live on the REI webstore for order. http://www.rei.com/product/881900/fitbit-surge-gps-watch-heart-rate-monitor But the shipping cost has me holding off a little longer till wider avalability.

Mine will be here tomorrow per UPS. Ordered from REI.

you just got to know where to look ;)

available at Wal-mart here in Canada, came in a week ago.

I thought it was great and convenient. desired clocks will be developed in the future.
http://www.kizi2gaming.com

Saw this at Target today. Posted via the Android Central App

MESO-Rx est la source officielle de renseignements sur les stéroïdes et les sources de stéroïdes. Experts compétents répondre à vos questions stéroïdes.
<a href="http://fr.thinksteroids.com/">Viagra Medicine</a>
<a href="http://fr.thinksteroids.com/">Sexaul Diesease</a>
<a href="http://fr.thinksteroids.com/">Free Loans</a>

There is an update for the charge hr as well that I got

Can you tell us how well the charge HR tracks your heart rate while working out (if you have worn it while working out)?

Too bad notifications for calls and texts ONLY work on phones with Lollipop. Pretty stupid limitation, given how few models actually have the newest version of Android.
Android Central Newsletter
Get the best of Android Central in in your inbox, every day!
Thank you for signing up to Android Central. You will receive a verification email shortly.
There was a problem. Please refresh the page and try again.