Amazon Fire TV Stick 4K vs. Fire TV Cube: Which should you buy?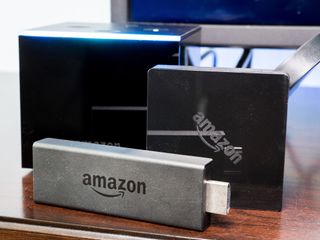 Amazon Fire TV Stick 4K
It's actually pretty hard to find something bad to say about the Amazon Fire TV Stick 4K. It's got all the specs you want to see — 4K resolution, HDR10, Dolby Atmos and Dolby Vision. It has access to nearly every streaming service you could want, and the vast Amazon App Store. All that's missing is native support for YouTube and YouTube TV.
Amazon Fire TV Stick 4K
The specs you need at a great price
Hits all the specs you want
Great price
Improved remote control
Doesn't have every streaming app
Amazon Fire TV Cube
The Fire TV Cube adds a microphone array for hands-free Amazon Alexa voice control. But it does so at a 142 percent markup, and that's a pretty high price to stomach — especially since it's lacking support for Dolby Vision.
Amazon Fire TV Cube
It's like if Fire TV and Amazon Echo had a baby
Has hands-free Amazon Alexa
Same great Fire TV experience
That hands-free Alexa support is expensive
Lacks Dolby Vision HDR support
It's an easy decision — how badly do you want hands-free Alexa support build into a Fire TV? (And how much do you want to pay for it?)
Don't overthink this one
For all intents and purposes, the Amazon Fire TV Stick 4K and the Amazon Fire TV Cube do the same thing. They turn your TV into a portal for Amazon Prime Video, along with apps and games and music — pretty much everything you'd want in a smart TV box, right?
Both of these devices have support for 4K UHD resolutions. That's important for pretty much any new TV you buy today. They differ a bit when it comes to other features, though.
The Fire TV Stick 4K is the first (and for now, only) Fire TV device that supports Dolby Vision for HDR. (That's high dynamic range, and it basically makes your video look better. Colors are brighter and pop more, and darks are darker.) The Fire TV Cube does HDR with the open-source HDR 10 standard, and it's OK. But it's not as good as Dolby Vision.
The Fire TV Cube's differentiator is that it's got a microphone array built in, for hands-free access to Amazon Alexa. (The Fire TV Stick 4K also talks to Alexa, but first you'll have to hit a button on its remote control.) That's a big deal if you just have to have Fire TV and Alexa built into the same box. But it comes at a pretty big premium — $119, versus $49 for the Fire TV Stick 4K. And, in fact, you can bundle a Fire TV Stick 4K with a current-generation Amazon Echo Dot for just $79, making the Fire TV Cube that much of a tougher sell.
Both devices are shipping with the new-and-improved Fire TV voice remote.
The right choice
Get this if you don't like wasting money
The Amazon Fire TV Stick 4K has all the features and specs that you need, and none of the stuff you don't. And it still costs less than $50.
More expensive, less good
If you just have to have hands-free Alexa
The Fire TV Cube is more than twice as expensive, lacks Dolby Vision for HDR, but has hands-free Alexa built in. But you can do better for less with an Echo Dot.
Sign up for Black Friday email alerts!
Get the hottest deals available in your inbox plus news, reviews, opinion, analysis and more from the Android Central team.