February 2018 security patches for Pixel and Nexus are here; Factory images are up and OTAs are coming shortly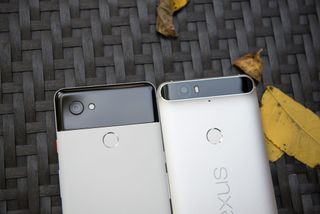 Factory images for the Pixel and Pixel 2 family, the Pixel C, the Nexus 6P, and Nexus 5X are available at the Google Developer site and can be manually installed today, and OTA updates are expected to begin shortly.
Along with the security update and patches that apply to every Android device, some bug fixes and software improvements are inbound for Google's family of devices. These range from the boring (but still important) things like improved RSA key parsing to more visual and user-facing fixes like better settings icons and improved call quality over Bluetooth. A handy chart is in order.
As always, it's recommended that everyone with a supported Nexus or Pixel product accept the update when it arrives. Improved device security and functionality is well worth it. If you would rather not wait for the over the air update you can flash the factory image right now.
We've covered flashing a factory image in depth and it's where to start if this is your first time.
How to manually update your Pixel or Nexus
Android Central Newsletter
Get instant access to breaking news, the hottest reviews, great deals and helpful tips
Senior Editor — Google Ecosystem
Jerry is an amateur woodworker and struggling shade tree mechanic. There's nothing he can't take apart, but many things he can't reassemble. You'll find him writing and speaking his loud opinion on Android Central and occasionally on Twitter.
why am i still on November patch? running Oreo 8.1 beta and i cant get any updates at all. I am not confident enough to unlock boot loader and do the ADB thing

You have to exit the beta program. It won't wipe your device, don't worry. Your updates should be waiting for you after you do that.

Get out of beta. Happened to me. Soon as I exited, update came.

I have unenrolled from the program, I can't even sign into it now Just noticed when I switch phone on I get a message saying I am still enrolled in the beta program but there seems no way I cannot opt out

There is no Beta right now.

Now that you've unenrolled from the beta, just go to settings and check for an update. The non-beta OTA should hit your device soon.

I've tried for months but no update is available

You should be able to be sideload the December update from there I believe.

Anybody getting a strange message when sideloading the update on a Pixel C? At the end there was some kind of fail message but it shows that I have the latest patch when I check after rebooting it.

Mine is finally auto updating without having to even do anything. I checked for the update and it was already doing it in background.

I see the OTA file is out there.... But don't bother mashing that "Update" button.... It's clear that it ain't fixed yet...

Strangely, pushing it actually worked for me today. Opened System Update, it said no updates available, told it to check, and, a few seconds later, it started pulling it down.

Nexus 6P shows an OPM3 and OPM5 update, whats the difference?

Is it just me, or did this update remove the always on display feature on the pixel 2 XL? I can't find it in the settings anywhere. Someone please tell me I'm taking crazy pills!

Settings > Battery > Ambient Display

Thanks, but this takes me to the same screen from the display settings. The only three options it gives me are double tap to check phone, lift to check phone, and new notifications.

I have it here: https://drive.google.com/file/d/1qPH7TSeSQUKNmAMpRbkqwrpOU5rOXX_t/view?u...

Okay so I'm not crazy. It definitely was there, and it definitely isn't now. I don't know why it is different for me now. https://photos.app.goo.gl/aJoDWTJ17it7eZuF2

That's really odd. What build does yours show?

Yeah it is odd. It isn't bothering me too much since I didn't really use that feature, but it's just weird that it isn't there anymore. It must be something unrelated but I don't know what it would be. Here is a link to a screenshot of my build. https://photos.app.goo.gl/imLxwCbSedMwGs4n1

I'm on the same build but my screen looks easy different.

Yeah, I can't figure it out. I thought it might have been because I side-loaded the OTA manually. So last night I wiped my phone and installed the build by flashing it from scratch. But nothing has changed. I still don't have it and I can't figure it out. Like I said not a big deal for me but it is bothering me because I don't know why.

Already got the OTA update on my unlocked Pixel 2 XL in the UK, it was 53MB.

Weird, I haven't received a notification nor is it available when I check for the update. Verizon Pixel 2 XL.

Mine got it when I checked. Verizon Pixel 2 XL here.

Got the OTA instantly. Fingerprint scanner is faster again. And the gram can take good photos. Happy days.

Visual Core is all fired up now

Has swiping away notifications from the lockscreen got any easier?

Just as easy as it was before. Non issue for me.

Just checked for OTA (on Verizon for the 2XL), and it's there. It's downloading in the background right now! :-)

So I had heard that in 8.1 the check for update button was supposed to work and actually check for an update. Pixel2XL on Google Fi, not happening for me.

Update button did not work for me either. Google support gave me the same generic answer they do for all their product updates. Told me it rolls out slowly and that I just have to wait.
For the phone it wan't a big deal but with their WiFi I am having issues and hoping to try the stability improvements before my return window is up.
I did end up side loading the OTA rather then wait for their slow rollout.

Since this update I have wifi connecting issues with 5 GHz band. It connects/disconnects every 0.5 sec. Only thing that helps is to restart the router. After restarting it connects one time and stays connected. But once disconnected the problem is back. In 2,4 GHz band it works ok. I opened I ticket but Google wants to test in an other network. Anyone else with that issue?

Hi I got similar issue with my google pixel XL. Very frustrating, i have done several actions: restart to safe mode, network resetting, clear google play cache, but the problem still there. Bcs it is connect/disconnect all the time, the phone is warmer than normal. Any solution?
Android Central Newsletter
Get instant access to breaking news, the hottest reviews, great deals and helpful tips
Thank you for signing up to Android Central. You will receive a verification email shortly.
There was a problem. Please refresh the page and try again.