Falcon Twitter client hits token limit again, new update resets keys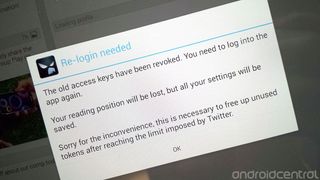 Just months after first hitting the Twitter token max, Falcon Pro must once again sidestep the limit
Falcon Pro, one of the leading third-party Twitter apps for Android, has once again hit the 100,000 active user token limit. The token limit is imposed by Twitter on all third-party clients with which it doesn't have a direct partnership, and it's not the first time Falcon has fallen run up against this particular wall. The app first hit 100,000 tokens back in late February, and the solution today is the same one employed back then -- revoke the original tokens and require everyone to sign in again, thus resetting the counter for a few more months.
It's a temporary workaround, and far from an ideal solution, but for smaller third-party apps like Falcon it's the only real option available. In a Twitter post, developer Joaquim Vergès describes it as "the least dodgy solution." If you're a Falcon Pro user, there's a new update to the app going out now that'll require you to log in again once it's installed. If you've yet to give it a try, you can pick it up from Google Play using the button above.
Source: @falcon_android
Android Central Newsletter
Get instant access to breaking news, the hottest reviews, great deals and helpful tips
Alex was with Android Central for over a decade, producing written and video content for the site, and served as global Executive Editor from 2016 to 2022.
Pretty ingenious solution to a stupid problem not of their making.

Idk why these devs dont just make another twitter app thats identical with a different name. Call it "hawk pro". Or maybe twitter wont allow a dev more than one app? Posted via Android Central App

I was thinking the the same thing but like in generations not whole different name falcon pro gen1 falcon pro gen2 and so on

I believe this will be in violation of Twitter's T&Cs.

Twitter needs to realize that their app is awful and learn from the third party developers that are trying to improve it. But that isn't going to happen. Posted from my Samsung Galaxy S3 via Android Central App

Love me some FP (new icon ftw). I remember on the latest podcast Phil said nobody really complained of the new API changes, but it broke "interaction" notifications in Falcon Pro which he's working to fix - really stinks I mean I had 3 internet semi-celebrities favorite my tweets and I didn't even know! ;)

Twitter should wonder why there's so many 3rd party clients and actually fix the problems with its incredibly lacking app

I downloaded the new version and now I can't login. I'm guessing someone got to my token before me. I was only using falcon as a backup for plume problems anyway. Now I'm using a blacked out Twitter for android for backup. Posted via Android Central App

I re-authed just a minute ago so there are still tokens available

I will sell you a token for $500, I have 3 to offer.

I'm going to try Falcon. I use the official app which is not bad but I want to see what all the buzz is...

I just updated and am now locked out. It was working fine. What happens to those that don`t update? Does it keep working for them down the line? I loved Falcon...

Bad news is Twitter shut down Access for Falcon Pro, SAD indeed.
Android Central Newsletter
Get instant access to breaking news, the hottest reviews, great deals and helpful tips
Thank you for signing up to Android Central. You will receive a verification email shortly.
There was a problem. Please refresh the page and try again.