Facebook's $19 billion deal to buy WhatsApp is approved by the EU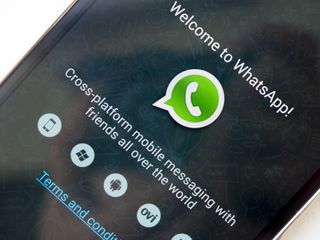 (Image credit: Android Central)
Facebook has received approval from the European Union for its $19 billion purchase of WhatsApp. The main concern over the deal in Europe was that the deal would harm communication in the telecom market. The European Commission said that the acquisition would not impede competition, according to Re/code:
The purchase was previously given the go-ahead by the United States back in April. Facebook announced its intention to acquire WhatsApp back in February of this year.
Do you feel that the EU was right to approve the acquisiton? Sound off in the comments.
Source: Re/code
I don't use either so I don't really care about the aquisition. Posted via Galaxy Tab 3 on Sprint

I'm with you on this one Posted via the Android Central App

Well worth posting a comment then....... Posted via Android Central App

My thoughts exactly Posted via Android Central App

I'm with you cuz you with him in this one

I'm not with either of you so I don't really care about these comments.

I am not with you on this one as I use neither and have no opinion on the acquisition but still wish to comment.

But you haven't commented... Posted via Android Central App

My only concern is if facebook f**k with whatsapp to the point it's not use able. We certainly don't need it riddled with BS adds and I for one don't want to see it needing full facebook integration to use it like most apps. Posted via Android Central App on the behemoth that is the note 3

Good deal for Whatsapp shareholders. Posted via the Android Central App on a BlackBerry Z30

That's a shitload of money Posted via the Android Central App

Still seems ridiculously overpriced. Was it a cash deal? Posted via the Android Central App

Then why do I still pay to use whatsapp? Instead of $0.99 a year, should be free ninety nine if facebook owns it.

Hope you like ads because that's how they'll be generating revenue in that case. Nothing is ever truly free.

I don't mind paying so long as whatsapp works (facebook sucks, ad infested, and the website hardly ever works.) It's small and relatively inexpensive and is a lot cheaper if you buy the 5 year plan. For 5 years, it's $3.98. Who knows if whatsapp will even be around by then or if people will still use whatsapp.

I have a lifetime membership on my iPhone. There better not be any ads or FB integration. It would definitely stop me from putting it on my Android and having to pay the subscription there

Not looking forward to reading the new permissions that will come with future update.... Posted via Android Central App

I have been and probably always will be fine with the built in SMS functionality if the phones I purchase. Couldn't care less who owns and/or screws up any other messenger apps.

Yea coz it's free. Not for us. Posted via Android Central App

Not free. I pay for an unlimited plan.

Since it was announced that Facefuck was going to buy WhatsApp I switched to Telegram, which I find actually much better and very secure. Posted via the Android Central App

Really $19 Billion, is it gonna text for me? Since when Does an app cost as much as a small country? Posted via the Android Central App

If you think that's funny, CyanogenMod is trying to get a valuation of $1bn, even though their net profits to this point have probably been less than my annual salary.

After this, Facebook will require everyone to have an fb account to use whatsapp. Fuck it. Posted via my Nexus 5.. only one that matters

Wow facebook is so dumb, can't believe they got scammed like this! I downloaded the app FOR FREE jesus, how dumb can Zuckerburg be.. More like Suckerburg, AMIRITE? /s But seriously, that is a fuckn rediculous amount of money to spend on an app acquisition, I understand Whatsapp has 100 Million+ Downloads but I don't know if that is worth $19B for a messaging service, when there are 50+ services just like it. If Whatsapp is worth 19B. Instagram/Twitter must be worth $100+ Billion.

Assuming 100million actual users (which is probably high) that's $190 per user.

Many of these comments are so laughable. First, if you foolhardy use either than get out of here, nobody cares to hear an opinion based on zero experience. Quit wasting our time. Second, I have little doubt that anybody posting here has a CLUE how WA was evaluated and what thoughts FB had in mind when they made the offer. Sounds like a lot but our initials aren't MZ. I do use both apps and Whats App has long been my favorite messaging app. Works great and uses data rather than being charged per text, as does I . WA is free day, easy to use and tells me when my message has been delivered and when the person is typing a response so I don't have to sit there and wait not having a clue what is going on with the receiver. I preferred that WA remained independent but that's not the way of the world these days. And I won't hypothesize on things I am clueless about, unlike some here.

It's called free speech. Suck it up.

Oh, believe me, it does not bother me though I find it disappointing when people embarrass themselves.

I already removed watsapp since the fb purchase. Using Telegram and Viber now and happy. Posted via Android Central App

Ah f.... Looks like I'll soon have to convince the family to start using a different service to communicate. Posted via Android Central App

I didn't even think people still used messaging apps, unlimited texting is so common now anyways that I thought messaging apps were practically obsolete, and to the people complaining about ads on Facebook, its called adblock, get with the program.

It was reported earlier this year that daily message traffic carried by WhatsApp exceeded the total daily SMS message traffic for all worldwide carriers combined.

I dream of the day WhatsApp update the Android app so it isn't one of the ugliest looking apps in existence. I love the functionality of WhatsApp but damn it's grim to look at.
Android Central Newsletter
Get the best of Android Central in in your inbox, every day!
Thank you for signing up to Android Central. You will receive a verification email shortly.
There was a problem. Please refresh the page and try again.