Facebook Messenger update adds quick voice message option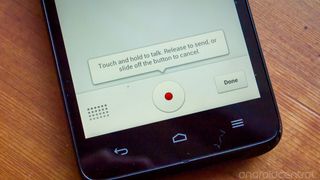 Facebook's popular Messenger service, which has its own standalone app, is getting a voice message feature in its latest update. The service has relied on the combination of text and picture messages, as is the case with most instant messaging platforms, but is now aiming itself squarely at the likes of Voxer and other voice messaging apps out there with this latest addition.
You can send short messages back and forth quickly, and the UI is very simple. The feature is accessed from the "plus" button on the side of the text box, the same way you add pictures and smilies. Just press and hold the record button to start talking, then release it to let the message send. It wouldn't have been a bad idea to let you cancel a message if you happen to have misspoke, but you can see why Facebook made it auto-send to keep the "walkie talkie" type of feel.
The app is free at the Google Play link above if you're interested, and it's something fun to play around with even for a little while until the novelty wears off.
Andrew was an Executive Editor, U.S. at Android Central between 2012 and 2020.
Why not just call the person?

It says "Slide off the button to cancel"

Heh I know right? It even says so right in AC's own image...

how to "Slide off the button to cancel"

I cannot wait till facebook integrates voip....everyone already uses it more so than skype, etc. This way I could just use facebook to make phone calls to whoever, where ever, and not use those worthless minutes unless for business.

It might say slide off to cancel, but it sure isn't working for me. Maybe there is some secret way to slide off the button. You can press and hold the sent message to delete your copy of the message. Figured it out! You have to do a quite deliberate slide to above that top line to cancel the message.

If you go to the verge they have a nice article explaining this.

Am I the only one that is bothered by that piece of thread that is just to the left of the menu button?

Does anyone know how this works if the other person isn't using the messenger app but using the actual Facebook website? (Do people actually use that anymore or is everyone just on mobile devices these days?)

"It wouldn't have been a bad idea to let you cancel a message if you happen to have misspoke..." Exactly. Have they suddenly, magically perfected speech-to-text? I can't see ever using a feature that doesn't give me a chance to verify that the phone has understood me.

Doesn't work on Samsung Galaxy Note Pro.... least not on mine... any tips anyone?
Android Central Newsletter
Get the best of Android Central in in your inbox, every day!
Thank you for signing up to Android Central. You will receive a verification email shortly.
There was a problem. Please refresh the page and try again.