Latest Facebook update is all about live video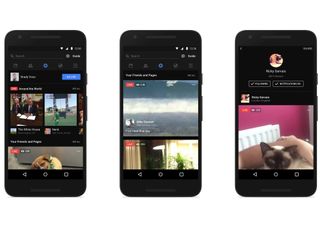 Facebook is going all-in on the current live video trend. It is rolling out a new update to its Android and iOS apps that adds new ways to livestream video from the social network, along with additional ways to share and interact with those videos.
The update adds support for livestreaming within Facebook Groups and Facebook Events. The company states:
If people want to offer their opinions on the video as it is being streamed, they can do so with the new Live Reactions emoji:
Users can also pick from one of five video filters to change the look of the video, and Facebook says that a future update will allow users to draw and doodle directly on the stream. A new icon will be added to invite friends to join users to watch live video together, and a dedicated section of the app will be added to showcase trending live and non-live video streams.
All of these features will be rolled out "over the coming weeks" to the Facebook app in Google Play (opens in new tab), so they may not appear immediately.
Still waiting on the HD Photo upload option being activated even though it's supposedly been out for a while. Posted via the Android Central App

I still do not have Facebook messenger material design yet I it came to everyone else I think I will never get it Posted from my Moto X 2nd gen and my Nexus 9 both on Android Marshmallow

What am I seeing there - dark Facebook???! Where can I get my hands on that!?

I was wondering the same...

It's just the Live interface, I got excited too.

I hope youtube and Periscope have something to compete with this. Posted via the Android Central App

I'd rather see an improvement on power consumption. Posted via the Android Central App

@Booboolala2000 - that goes without saying - I just want to have a pleasant viewing experience if I decide to re-install this piece of junk. Dark would make things much more pleasant. I know about the stupid site wrappers - I don't want those...I want the real app but black.

Damn. Now my sister's gonna suck up the bandwidth even more.

For Facebook Live. Can't seem to run it on a samsung galaxy s4. Anyone know how much of an upgrade I need to run Facebook Live?

I have S7 edge also cannot live stream to fb

I have a new LG phone.... not to mention android tablets.... I have uninstalled and reinstalled Facebook. It absolutely will NOT allow me to have the Facebook live option... Is anyone else having this problem?

Forgive me! I went to like your comment because I'm having the same issue, and I clicked report on accident! So sorry

Same here! US Verizon LG V10 running OTA Marshmallow and according to Google Play, the "most recent" version of Facebook. I still have the old status screen with NO live option. Considering uninstalling until they get with the program.

I am still waiting for Go Live on my status messenge on Facebook Samsung S7 I am from Australia too most of my friends have the Go Live option but I don't I have been waiting for months
Android Central Newsletter
Get the best of Android Central in in your inbox, every day!
Thank you for signing up to Android Central. You will receive a verification email shortly.
There was a problem. Please refresh the page and try again.