Expect your $50 Google Play credit to arrive about a day after your new Nexus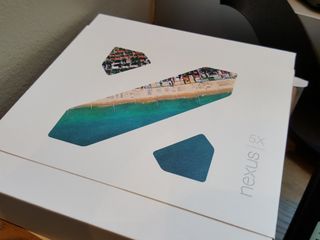 Those who got in early with a Nexus 6P or Nexus 5X order from the Google Store were promised a $50 Google Play gift card — but it's a tad confusing when it doesn't come in the box with the phone. Fear not, because you'll be getting an email from the Google Store a day or two after your new phone arrives with a code to deposit $50 into your account.
You can redeem the $50 of credit directly from the email with a link, but also note that the email contains a regular Google Play code that can actually be applied to any Google account. So if you'd like to spread the love a bit and give the $50 as a gift to someone, just send them that one-time use code and have them add it to their account through Google Play (just click "Redeem" in the sidebar).
No matter where it's going, make sure you redeem your $50 by the end of 2015, and spend it by the end of October 2016.
Haven't yet pulled the trigger on a new Nexus? You have until October 25 to order from Google and still get the Play Store credit.
Andrew was an Executive Editor, U.S. at Android Central between 2012 and 2020.
Of course, your options for those that want a Nexus 6P is rather thin if you want to get said credit. I wish Google extended this offer to those buying it from Huawei directly.

Unless you live outside the US. In which case, expect it never. Posted via the Android Central App

Would using a US based VPN work in those situations if you only live in say Canada? I guess I've never not been in the US when I've ordered something so I don't know if the site would ship outside of the country but its a thought I guess?

lol. sorry that was funny. i do feel bad for you though :(

+1 Canadians get no love !

Awesome !! Even more incentive to buy the best that Android has to offer

That's funny, I didn't receive one with my Note 5? Posted via the Android Central App

Sorry... I'm just jealous, want a 6P, and wanted to start another war. Lol
I shall have one eventually. Posted via the Android Central App

Mine arrived the same day (yesterday) along with the 50% coupon code for an Adopted protective case that I got for ordering through Fi.

Yeah it was a nice surprise Posted via the Android Central App

I received my $50 credit today, phone shipped yesterday!

Ugh... I'm still waiting to purchase mine. Come on Google! Posted via the Android Central App

Well, I got it today and my phone arrives next Tuesday...

I got it yesterday and my phone is scheduled to be delivered next week.

Just got mine a day after my Nexus 5X arrived. Good to see all that money in my Google Play account. Posted via the Android Central App

So it expires at the end of 2016? I never knew what to spend my Google Play money on, especially $50 worth... Posted via the Android Central App

Your favorite movies and music. Posted via the Android Central App

What happens if you return the device?

Same question....I got the emailed credit, but haven't used it and just initiated a return on the 5x today...not sure if they are going to refund full purchase price or minus the $50...?

Just got the phone in today with the physical gift card inside the box. Providence, RI and pre-ordered on launch via Project Fi Posted via the Android Central App

Users can use this credit, and any other accumulated Play Store credit, towards devices as well correct? Would be nice to use this as $50 off whatever Nexus device(s) they release next year. Just not a whole lot I can think of right now I need to get. But I'd like to get a new Chromecast soon and this may be how I get one without spending out of pocket for one. Via the Nexus 6 and new AC app

According to the fine print Google play store credit cannot be applied to devices, only apps, books, movies, and music.

Got the $50 promotional code today along with 6p shipment email. Posted via the Android Central App

What happens if you return the device?

Good question! Posted via the Android Central App

I wonder what, if anything Huawei is doing for the people that bought theirs there? Posted via the Android Central App

Unless you don't live in one specific country in the world. Posted via the Android Central App

Got my phone on Thursday and I'm still waiting on my $50 credit

Mine came with my shipping notification and 50% off case offer (project FI order). Credit is already in my store account and my phone doesn't arrive till Tuesday...

No love for Canada from Google.

Never got my 50 bucks last year from getting the Nexus 6.... Posted via the Android Central App

I got my phone on Monday and it's awesome but still haven't received email with $50 of credit and i ordered it through the Google store

Just as a heads up. I spoke with Google about not receiving my $50 credit today. I had ordered the phone on September 29th. Apparently there were some "technical issues" for phones ordered "around that time." I completely forgot about the credit until I went to pay for something just now and realized I had never received the credit. They said they would honor the credit and I should have it in the next 48 hours. If anyone else has forgotten, make sure you contact Google! Happy holidays and upcoming New Year!
Android Central Newsletter
Get the best of Android Central in in your inbox, every day!
Thank you for signing up to Android Central. You will receive a verification email shortly.
There was a problem. Please refresh the page and try again.