European HTC Sensation gets first over-the-air update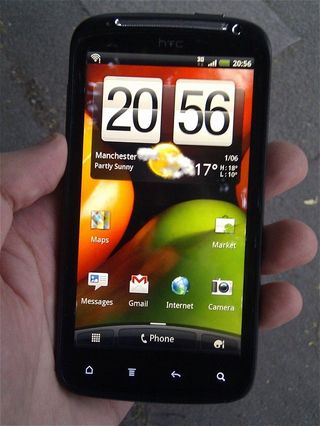 HTC is now pushing out its first over-the-air update for unbranded European Sensations, according to reports from users in several European countries. The update package reportedly weighs just under 27MB, and brings the Sensation up to software version 1.35.401.1 -- the exact same version which leaked last week in the form of an RUU (ROM update utility).
The general consensus seems to be that this is a small, incremental update consisting mostly of bug fixes and the like. The new software is still based on Android 2.3.3, and there's no sign that the bootloader has been unlocked in accordance with HTC's new bootloader policy. However, there are unconfirmed reports that the new software remedies some of the lag that users have been experiencing in the Sensation's homescreen launcher which, if true, would be very welcome indeed.
If you've got an unbranded European HTC Sensation, head over to 'Settings' -> 'About phone' -> 'Check for updates' to grab the new firmware, and report back to us in the comments if you notice any changes.
Source: XDA
Alex was with Android Central for over a decade, producing written and video content for the site, and served as global Executive Editor from 2016 to 2022.
Confirmed by a friend who owns it, it's now about (if not exactly) as fast as the Evo 3D was in that speed comparison video. I guess there's no reason for me not to buy it once it's available through my carrier, then.

Confirmed by me! I updated my Sensation as soon as i saw this news. No problem so far. By the way, i bought it from London (Carphone Warehouse) as sim-free, and using it here in Turkey.

Does the Sense homescreen launcher seem any faster than before?

According to my friend, it does.

I can confirm that the Scandinavian Sensation got it too

Come on! Now I'm jealous I want the update for the T-Mobile Sensation :-( I had sense 3.0 working on my Evo 4g and it ran faster then what's. Currently on the Sensation. Hope to get it soon I liked Sense 3.0 cause even Launcherpro and ADW are running like crap right now.

I was also hoping for the unlocked bootloader that they are taking forever to release a update for. HTC I'm waiting patiently *fingers crossed*

I work at a Carphone Warehouse and I can say my Vodafone Sensation got that update some days ago, and it seems to have a better and more fluid transition between screens and right now it look similar to the EVO 3D

The last post http://www.androidcentral.com/htc-sensation-about-get-update said it was a 368MB file. Now it's down to 27MB??? That's quite a different update seemingly.

The reason it's smaller is that it only contains files changed from the old version to the new one, whereas the RUU contains everything. Both files are 1.35.401.1

Did they fixed the lines in the widgets or the issue of app's icons being replaced by standard android icon?

Wow @soleil you must have some really bad luck or something cause I don't have any where close to the issue you are having just primarily little stutter here and there. I believe the update will fix this with us as it did with the European models even with its issues it a awesome phone.
Android Central Newsletter
Get the best of Android Central in in your inbox, every day!
Thank you for signing up to Android Central. You will receive a verification email shortly.
There was a problem. Please refresh the page and try again.