Energizer is coming to MWC 2019 with a total of 26 new phones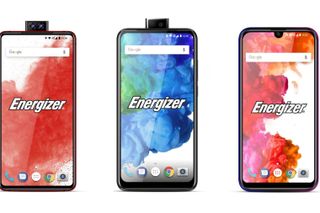 Energizer has released quite a few phones over the years, but at MWC 2019, we'll be getting a look at what appear to be the company's most impressive offerings yet. 26 of them, to be exact.
On its official Twitter account, Energizer announced that it'll be attending Mobile World Congress this month to reveal a total of 26 new phones. While a lot of them will be generic feature phones, Energizer notes that one will include a whopping 18,000 mAh battery and another will feature a foldable design.
I can't even begin to fathom what kind of battery life you'll be able to eke out with 18,000 mAh, but seeing as how this is coming from Energizer — the battery company — I suppose it's not all that surprising.
What is interesting is the fact that we'll be getting a foldable phone, in addition to ones with waterdrop notches and pop-out cameras.
To be clear, Energizer isn't the one making these phones. The Energizer brand is simply slapped onto phones manufactured by a France-based entity called Avenir Telecom.
Even though most folks probably won't be going out and buying an Energizer phone anytime soon, it is pretty fascinating to see devices of this caliber from a brand like Energizer. Foldable designs and pop-out cameras are still pretty new trends in the industry, so it's kind of crazy to see these coming from Energizer of all companies.
Are you looking forward to learning more about these phones at MWC?
How I saved hundreds of dollars a year getting rid of zombie subscriptions
Joe Maring was a Senior Editor for Android Central between 2017 and 2021. You can reach him on Twitter at @JoeMaring1.
Wut. I didn't even know they made anything other than batteries.

They don't. Someone else is going the phone for them. You would know who if you read the article 😉

Very smart of Energizer sitting back listening to everybody and what their plans are wow there strategizing! I will definitely look into their phone? Great post?😎

What's next, Duracell launching a new phone too? If the Energizer phones are bad, then it will hurt their brand.

Oh look Energizer makes crappy phones. Boohoo Nobody will care if that happens. They are known as a battery company not a phone company, if they fail nobody will buy their phones and they will break their contract with that French company and that they will still be selling billions of batteries and that will be that.

With Android One !!!!! If so I will get it

This is very interesting 18000 mAh is fckin crazy.

Interesting. I didn't know they had their own brand of phones.

18,000 mAh?!? Wow! Insanity.

Intrigued to see what they bring to the show. I like the idea of the 17000 mAh battery. Thing's gotta be a beast, though. Will have to tighten the belt on my pants as the phone must weigh a ton. Hopefully they put a good camera in these phones.

Typical large manufacturer marketing ploy. Buy up a subpar company and slap your label brand on it.
A pig is still a pig no matter how you dress it up.
Android Central Newsletter
Get the best of Android Central in in your inbox, every day!
Thank you for signing up to Android Central. You will receive a verification email shortly.
There was a problem. Please refresh the page and try again.