Ematic FunTab is the 7-inch tablet for your kids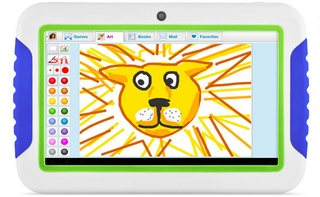 We're always thinking about what tablet is best in sleek design and top-notch specs, but we're not always considering that not every age group should have its hands on a full-featured device. For the younger set, Ematic is creating a tablet experience that caters to them with this, the FunTab. It's running Android 4.0 and has mid-range specs, but that's not what's important. What is important is this tablet is rugged and easy to hold, and is pre-loaded with popular games like Angry Birds, Where's My Water, Cut the Rope and Fruit Ninja. Ematic is also partnering to put a popular childrens app, Zoodles, on the device that helps keep kids safe and allows parents to check in on their progress separately.
The Ematic FunTab is coming to Walmart for just $119.99, a great price for this type of device. Once the kids grow up though, do them a favor and get them a Nexus 7, will ya?
Ematic Introduces the FunTab; its Newest 7" Android 4.0 Tablet Ideal for Children's Entertainment and Education
Preloaded with Zoodles Kid ModeTM for a Safe Online Experience, Packed with Features and Apps including Video Mail, Angry Birds and more
LOS ANGELES- November 20, 2012- Ematic, a leader in value tablets, launches the FunTab, a 7" Android 4.0 tablet, for children. It is an intuitive, touchscreen device that teaches your child about various subjects, sparks their creativity, and simply keeps them entertained for hours with access to thousands of popular, parent-approved apps and features.
Designed for comfort, the FunTab sports a durable and rubberized texture for easy gripping. This impressive tablet is the result of a collaboration between Ematic and Zoodles, an award-winning app for kids. It guarantees a safe online environment, and offers parents peace of mind with total access to the content available for their child, and a parent dashboard to track educational progress.
Preloaded with today's most popular apps, the FunTab bundles an assortment of fun games such as Angry Birds, Where's My Water, Cut the Rope, Fruit Ninja and more. Child-specific features include Art Studio which is a creative platform that allows your child to trigger their inner artist. Parents can view the child's art in the program gallery, and use gold stars to mark their favorite designs. Also, Video Mail is a unique, interactive way for children to keep in touch with their family and classmates from Zoodles.com. Users can record short video messages with the FunTab's front camera.
Safety was Ematic's top priority when designing the FunTab. By joining forces with Zoodles, parents have the ability to monitor the online content their child is exposed to, and even customize lists of "safe" websites. Adults can access Zoodles.com from any computer to track their child's activities, and read detailed reports showcasing educational progress, artwork, video messages and more.
Specifications
• Android 4.0 Operating System
• 7" 800x480 capacitive multi-touch screen
• 1.2 GHz Processor with 400MHz GPU
• 512MB RAM
• MicroSD card slot adds an extra 32GB of storage
• Built-in 3-axis gyroscope for advanced motion sensing
• Ematic Kids App Mall
• Front and back cameras
• Battery allows 5 hours of continuous playtime
The FunTab is available in blue/green and pink/purple. It retails for $119.99 at Walmart.com.
About Ematic:
Ematic is a leader in portable media and value tablets offering high quality consumer electronics at an affordable price. Founded in 1985, the company offers a variety of technology ranging from designer headphones to MP3 players and tablets. Ematic prides itself on offering the latest in advanced technology that has undergone rigorous testing for quality, sturdiness and reliability.
About Zoodles:
Zoodles is comprised of a team of talented engineers, educational experts, and creative designers who build simple interfaces for kids. The product offers a fun and educational online experience for kids that also gives parents the information and control they want. It's a safe way to access the Web so a child can independently play and learn online.
Android Central Newsletter
Get instant access to breaking news, the hottest reviews, great deals and helpful tips
Andrew was an Executive Editor, U.S. at Android Central between 2012 and 2020.
I don't have kids (that's expected considering I myself am a kid), but that looks like a pretty sweet device for the price and age group.

I got one for my 4 year old. Ive been in the basement playing with it for the past hr. Its perfect for him!! Anyone who would pay more than around 100 dollars for something like this for a 4 year old (I might add). Has either more money than they know what to do with or... has never had a 4 year old!! lol. I have 3 kids and this is perfect for the age. :)

Looks too much like the iPad mini. I see lawsuits coming... ;)

HONESTLY i got something similar for my nephew from toys r us with the same specs and it was a huge waste.. i got it refunded.. walmart has better tables around 70-90$ that are better than something like this. Yes i know he isnt going to be customizing like i would but it still has to be something decent. Tablets like this dont even include the play store and when i tried installing it, i would get force close

Don't waste your time with cheap tablets! I just got my 5yr old the 16gb nexus 7 for $218 shipped. Works great! And when she's not using it, you know I am!

Instead, I just picked up a used 8GB Nexus 7 for $120 on Craigslist. Much better resolution and specs. I will look into Zoodles, though.

Me and my wife are getting our 4 year old a tablet for christmas, but it won't be one of these jokes. We are either getting him a nexus 7 or a Galaxy Tab 2 if we can score one at Best Buy for $180 on black friday. He plays on our Android phones all the time and on the ipad my wife brings home from school so we feel he can handle an actual tablet, plus I can steal it when I want to use it :)

You might not think all this the first time it is dropped on a hard surface :) I can see the market for a "ruggedized" children's tablet.

I agree. I could not imagine how the Nexus or an Ipad would react at falling down the stairs. My child currently has the InnoTab and it is great but bought this for more flexability and the games would cost less than the games for the Innotab. I ordered it Thursday and it arrived today, it's very thin and has a rubberized coating. Perfect design for a child. Setup was simple and easy. It's currently $89 at Walmart.

We have a Nabi 2 tablet for our kid. He loves it! Heck, I like playing on it too. Funny thing is my son calls it his Nexus. It's close but no quite a Nexus. It is a great kids tablet though. And hopefully soon will be able to use the play store. (come on Google, approve it)

I am considering one of these Nabi 2 tabs for my 8 year old daughter. Do you think that it is to childesque for an 8 year old that tends to behave quite a bit older than she really is? I'm really tossed up between this Nabi 2 and a Nexus 7 and would love the input from someone who actually has one. Thanks!

I'm going to pick up the Nabi 2 for my 4yo son, they're going to be $129 on black Friday at Wal Mart, normally $199. You can switch over to Mommy/Daddy mode and use it as a normal tablet as it's running ICS. Nabi has a fan based page that can be accessed from their website that has quite a few good videos from parents on there. With a little time, you can actually put what they're calling the Android market on there so you have access to all of the apps. On the other hand, my 8yo daughter wants a Kindle Fire HD, go figure. I'm in the same boat as you with this one. On one hand I think the Nabi is too "kiddie" for an 8yo but on the other hand, it would probably be fine as you can bypass all of the "kiddie" stuff. The nice thing is that it has an HDMI port and I'm pretty sure it has an SD card slot. If I'm not mistaken, the Nabi has the same Tegra 3 processor as the Nexus 7 but has a lower resolution screen.

Nabi 2 is on sale at Best Buy for $129.99 right now! https://www.androidcentral.com/e?link=https2F2Flink...

I don't care how cheap the tablet is, 800x480 is not a tablet resolution.

A tip for everyone Do not buy this tablet, a piece of cardboard is better.

Probably just gonna grab the Nabi2. It's pretty much the Nexus 7's little brother. It has the same processor and RAM setup. The screen is better on the Nexus, but my kid isn't gonna care. And i'm not concerned about ICS vs JB so long as it doesn't lag horribly like a lot of the cheaper Walmart tabs seem to. The Nabi2 does have a 2MP Front facing versus the Nexus' 1.2MP which is a plus because she loves taking pics of herself and Skype-ing with Daddy.

Kids tablets are difficult since all kids are different and their tastes and preferences are different. I tried the Nabi 2, The Vince and the LeapPad2 from gizmotakeout before choosing. That makes the most sense
Android Central Newsletter
Get instant access to breaking news, the hottest reviews, great deals and helpful tips
Thank you for signing up to Android Central. You will receive a verification email shortly.
There was a problem. Please refresh the page and try again.