Eero vs. Orbi (RBK13): Which mesh router should I buy?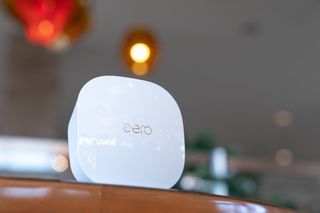 (Image credit: Hayato Huseman / Android Central)
Eero 3-pack
The eero's subtle design makes all of its competitors look more rustic. Eero isn't too keen on releasing all of its tech specs but for most people, its dual-band Wi-FI 5 speeds should be enough. You can even expand your Eero mesh with any other Eero products.
Eero 3-pack
Small and attractive design
Great software with a simple app
Works with all other eeros
5,000 square feet of coverage
Ethernet on each node
Eero Secure is extra
You can't choose your Wi-Fi band
Netgear Orbi RBK13
The Netgear Orbi RBK13 is a compact mesh system with enough power and speed for most people. With an AC1200 dual-band connection on each node and Circle parental controls included for free, this is a great choice for families that need a strong connection in the whole house.
Netgear Orbi RBK13
Compact design
Circle parental controls included
Powerful Orbi app
4,500 square feet of coverage
No Ethernet on satellites
Fewer expansion options
There are a ton of Orbis to choose from, whether you need fast Wi-Fi 6 speeds or just something that will get you online and connected. The entry-level Orbi RBK13 won't blow anyone away with its speeds but with a reasonably low price, as well as some included bonuses like Circle parental controls, it's a great option for many people. Eero has taken a similar approach, with its base product offering similar speeds, but it pulls ahead in functionality thanks to having dual Ethernet ports on each node as well as maintaining compatibility with all current and past eeros. The software experience on Eero is second to none with a simple user interface and plenty of advanced settings if you need them.
Eero vs. Orbi RBK13 Wi-Fi 5 is still a good fit for most families
Either of these products can create a strong and reliable mesh network that will keep your devices running well as you move through your home. It's easy to get caught up in the raw speed capabilities of a router but for most people, anything a modern Wi-Fi 5 (802.11AC) router can output will be more than enough. That being said, neither of these systems is going to deliver gigabit speeds so if you need that extra speed, consider something faster like one of the best Wi-Fi 6 mesh systems.
Both of these routers also bring along multi-user, multiple-input, multiple-output (MU-MIMO) technology that keeps the network performing consistently even with a lot of connections.
Swipe to scroll horizontally
| Header Cell - Column 0 | Eero 3-pack | NETGEAR Orbi RBK13 |
| --- | --- | --- |
| Bands | Dual-band | Dual-band |
| MU-MIMO | ✔️ | ✔️ |
| RAM | 512MB | 512MB |
| Storage | 4GB | 128MB |
| Ethernet Ports | 2 per node | 2 |
| Coverage | 1,500 sq ft per unit | 1,500 sq ft per unit |
| Dimensions | 3.86" x 3.86" x 2.36" | 4.1" x 4.1" x 2.6" |
With its speed being more than enough for most usage, Eero sets its sights on simplicity and subtlety. The eeros blend in well with any room's decor so they can be placed in an area with the best signal to the main router. This will keep speeds consistent and useful.
The Orbi RBK13 will offer very similar speeds and coverage to the Eero and while they are slightly larger, still quite capable of fitting in nicely in most homes. It's worth keeping in mind that only the base Orbi has an open Ethernet port so if you were hoping to link up some wired devices to the network with one of your mesh nodes, you'll either need a more expensive Orbi or another brand like eero.
Eero vs. Orbi RBK13 What's up with Eero's speed?
Eero doesn't disclose the exact wireless speeds that any of its routers are capable of but in our testing we have found them to be capable of speeds over 400Mbps, which should be more than enough for standard usage including 4K streaming.
Eero recommends the base Eero product for connections up to 350Mbps and will be capable of delivering this speed with a good mesh connection. The Eero Pro can take that up to 550Mbps thanks to tri-band Wi-Fi but you'll be paying significantly more for it. While speeds over 100Mbps will be enough for pretty much anything you do on your PC or tablet, if you download a lot and want a higher maximum throughput, a wired connection will be your best approach with eero.
Eero vs. Orbi RBK13 How much coverage do you really need?
Orbi lists 1,500 square feet as the approximate amount of coverage you can get with each node in the package. Keep in mind that the satellites will need to talk to the main router so there will be some overlap. If your home has concrete or plaster walls, the signal will be less strong than if you had wood and drywall. The beauty of a mesh system is that you can add more nodes or satellites as needed and with this Orbi, you can add more satellites down the road or even start off with a larger kit if you know you'll need the extra coverage.
Eero makes the choice a little easier, though a bit less flexible. It offers its dual-band eeros and Eero Beacons covering 1,500 and 1,000 square feet respectively, and the tri-band Eero Pro, which covers 1,750 square feet as expansion options. All of these Eero devices will work together but you'll want to keep the fastest router connected to your modem. So if you have an Eero Pro, it should be connected to your modem with the other Eero routers making up the rest of the mesh.
This three-pack of standard eeros covers 5,000 square feet, but you should keep in mind that this measurement isn't perfect. There will be some overlap and other elements like concrete walls and HVAC systems will reduce the total coverage.
It's also worth thinking about if you need a mesh system at all. Meshes are best left to homes with a challenging layout or in a place with a lot of interference. If you just need a speed boost on your wireless devices, you might get more speed benefits by moving to one of the best wireless router instead of a mesh system.
Eero vs. Orbi RBK13 Size and aesthetics
There's no doubt that the Orbi RBK13 system is a great choice for many homes and families with solid coverage and a simple coverage expansion path. It's also a great size compared to some of the previous Orbi products and will easily fit into pretty much any home. However, Eero comes out ahead in a few other areas including wired expansion with dual Ethernet ports on every unit, which not only allows the easy connection of wired devices but the option for a wired mesh connection. Overall, Eero will be a better fit for most people even with a higher average price tag.
Simple and powerful
As easy as possible
The base Eero kit is one of the easiest ways to get a home mesh network up and running with a great app and powerful software.
Simple focused design
A strong focus on WI-Fi only networks
The Orbi RBK13 is the most compact Orbi but still delivers solid Wi-Fi 5 speeds and even comes with Circle parental controls.
Sign up for Black Friday email alerts!
Get the hottest deals available in your inbox plus news, reviews, opinion, analysis and more from the Android Central team.
When Samuel is not writing about networking or 5G at Android Central, he spends most of his time researching computer components and obsessing over what CPU goes into the ultimate Windows 98 computer. It's the Pentium 3.