EE stores getting rebranded in the UK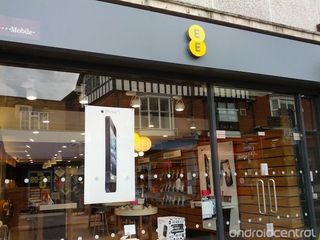 The last couple of weeks have been pretty busy for EE (Everything Everywhere) here in the UK. Formerly Orange and T-Mobile, the company first announced its new EE branding at the launch of its 4G LTE network, and just the other day we saw the the network provider name on some mobiles switch from Orange or T-Mobile over to EE.
This weekend I passed my local Everything Everywhere store and instantly noticed that the sign above the shop had been changed to a new EE one. As you can see above it looks kind of odd, and almost lost, but I suppose it will just take some getting used too. As smartphone geeks many of us Brits will know what to expect when we see the EE logo, but we suspect many members of the public probably won't have a clue.
We should have some more EE (opens in new tab) news for you later in the week, so keep watching. What do you think of the new logo? Share your thoughts in the comments down below.
Everything Everywhere or E²? E² is quicker :-) Doesn't really matter to me, I'll come back to my side of the pond where I simply say... Sprint.

I personally think it looks about a million times better than Tmobile's mark (I live in the US and am a T-Mobile subscriber), but more importantly I bet it'll look way less offensive on any branded device and take up less space than say Verizon's, which they plaster all over the place on their devices for sale here...

That is perhaps the stupidest name and logo I've ever seen for a large telephone company. Looks like a bunch of yellow ecstacy pills or something.
Android Central Newsletter
Get the best of Android Central in in your inbox, every day!
Thank you for signing up to Android Central. You will receive a verification email shortly.
There was a problem. Please refresh the page and try again.