Ecobee4 vs. Nest 3rd Generation: Which should you buy?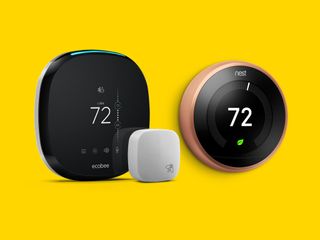 Ecobee4
The Ecobee4 is a great value with its included room sensor, which can be a big help for larger houses. It also has Alexa built in for easy voice controls, and a large touchscreen.
Ecobee4
Comes with a room sensor
Amazon Alexa service built-in
Touchscreen display
No automatic scheduling
No internal battery
Nest Learning Thermostat
You'll have to pay extra for a room sensor, but the Nest Thermostat observes the way you adjust the temperature in your house throughout the day and creates automated schedules for effortless heating and cooling.
Nest Learning Thermostat
Creates schedules based on your habits.
Internal battery keeps it running during power outages.
Power-saving features like Auto Away and Eco Mode
Room sensor is sold separately.
No smart assistant built-in
What are the differences?
Adding a smart thermostat to your house can make it feel like a home from the future — you can set the temperature from your phone, even when you're not home, or just use automated features to let the thermostat control the temperature for you. Ecobee and Nest both make some of the most popular smart thermostats around, but it can be hard choosing the right one for your home.
The most noticeable difference in the Ecobee4 and Nest 3rd Generation is the physical construction. The Ecobee4 is a rounded square with a touchscreen and an LED strip along the top, while the Nest Thermostat is a stainless steel circle with a rotating bezel that clicks to select options on the display — no touchscreen here. The Nest Thermostat also has a small internal battery that keeps it running in the event of a power outage.
Functionally, the two thermostats work a bit differently as well. Nest's product is called the Learning Thermostat for a reason; it observes the temperatures you set, and combined with factors like external temperature and time of day, creates an automatic schedule for your home. It also uses your location to detect when you're not home and turns off automatically (and vice versa), since there's no sense heating and cooling an empty house.
The Ecobee4, on the other hand, doesn't have any kind of behavioral learning. While you can program a schedule through the app or directly on the thermostat's touchscreen, it won't automatically create one for you. Don't count it out just yet, though. Remember the LED strip at the top of the Ecobee4? That comes on to indicate when Alexa is listening, because the Ecobee4 has Amazon's voice assistant built in, along with a loudspeaker for audio confirmations.
That means that even when your phone is out of reach, you can simply call out to the Ecobee to change the temperature — no need to buy an additional Alexa or Google Home speaker. While the Nest 3rd Generation is compatible with both Alexa and Google Assistant, there's no assistant built directly into the hardware. In addition, the Ecobee4 supports Homekit in case anyone in your household owns an iOS device.
In the past, one of the biggest reasons to buy an Ecobee over a Nest thermostat has been the former's room sensor, which allows the thermostat to detect temperatures in other parts of the house and adjust heating and cooling accordingly. Nest has since released its own room sensor, but it's a $55 add-on, whereas Ecobee's is included with the thermostat.
There's really no right answer when it comes to which thermostat to buy — they'll both serve you well and likely trim down on your heating bill. Which one is best for you depends on your priorities. The Ecobee4's included room sensor makes it a great value for multi-story homes, and having Alexa built in is a great added perk. If you already have a smart speaker, however, and you find automatic scheduling and Auto Away detection more useful, the Nest 3rd Generation could be a better buy.
Room sensor included
A bundled, better value
Including a room sensor in the box is a great perk, and the Ecobee4's touchscreen interface feels natural to use. Add in Alexa integration and this is an excellent thermostat.
Learns your behavior
The thermostat that learns your behavior and adjusts accordingly.
Nest may not include a room sensor, but its automatic scheduling means that you'll barely have to adjust it once it starts learning your temperature preferences.
Get the Android Central Newsletter
Instant access to breaking news, the hottest reviews, great deals and helpful tips.
Hayato was a product reviewer and video editor for Android Central.