Dutch Galaxy Note 3 buyers get €125 rebate, free SD card on Nov. 30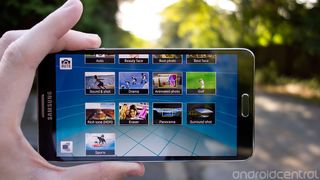 Samsung is hoping to tempt Dutch consumers towards its Galaxy Note 3 handset this weekend, with a one-day promotion giving buyers €125 off the price of the handset (after a mail-in rebate) and a free 64GB microSD card. The offer is valid at participating stores — Phone House, Vodafone, Bell Company and Media Markt — this Saturday, Nov. 30.
Customers will get their SD cards when they buy the device, and the rebate will be given within 15 days when buyers send in a copy of their receipt, IMEI sticker and a completed registration form. Vodafone NL customers picking up a Note 3 on "Red Essentials" contract get the phone for free and a €45 monthly fee, down from €54. More details, including terms and conditions, are can be found at the source link.
Source: Samsung Netherlands (opens in new tab); via: SamMobile (opens in new tab)
Alex was with Android Central for over a decade, producing written and video content for the site, and served as global Executive Editor from 2016 to 2022.
No love for early buyers from the UK?? Posted via Android Central App

Just another reason why Samsung is #1! ....wait a second...I'm not Yarrell! Posted via my thumb(s) and the submit button.

I happen to be Dutch myself, but not interested in Samsung at all.
Nexus all the way for me... ;) Posted via Android Central App, using my LG Nexus 4.

Then why post on a samsung article just to say that your not interested? And that your nexus all the way-the point being? Posted via Android Central App

Just to prove that douchiness is universal ----------------------------------------------------
So where is the competition for the Note 3? Oh right there isn't any...

Yeah. This would have been lovely if offered stateside...

Samsung will find a way to screw their customers out of it. I've spent over 5 hours trying to get the 50 $ play store credit they promised Note 3 owners. They said if I wasn't happy to buy someone else's phone! No more Samsung products for me even though I love my Note 3. Posted via Android Central App

You will always get an arrorgant git in a call centre (jeffery)acting like they run samsung and that is unfortunate, however i would have personally got his name as in recommending a rivals product would be a sackable offence. I dont think this is overall a Samsung issue-just a twat not doing his job and then yes to which Samsung needs to address- you should have recieved your play credit and i would if you feel aggreived take it further. Posted via Android Central App

I went so far as to email the president of customer service. He said due to the fact I bought my phone from US Cellular that they won't honor it because of MEIN ( serial number) is not the right amount of digits that they won't honor it. So I guess if your carrier is US Cellular you don't matter. Total b.s. As far as I'm concerned. I'm a Note 3 owner I should be eligible. Posted via Android Central App

Yes i can agree jeffery but like most of these offers they do have there terms & conditions, im also a Note 3 owner and in the UK so this offer is not applicable to myself. I do think you have reason to be a bit annoyed however. Posted via Android Central App

Thanks Duncan I appreciate your insight. It's been a true pleasure talking with you. If you have any tricks for the Note 3 or the Galaxy Gear please let me know! Posted via Android Central App

Your Welcome just try to read the terms and conditions saves getting pissed off lol I dont yet have the gear although at some point i will, or perhaps the next iteration :-) Tips for the Note 3 hmm my only couple would be to explore and have fun with it, if you dont like they way touchwiz looks and feels then there are various launchers available eg Nova and Smart these two in my own opinion are the most user friendly and provide them all important customization improvements :-) Other than that it just depends on what you like and dislike and trial and error in regards to apps. Android Central forums are here if you have any problems or questions most are friendly and helpful :-) Posted via Android Central App
Android Central Newsletter
Thank you for signing up to Android Central. You will receive a verification email shortly.
There was a problem. Please refresh the page and try again.